Publication Number: FHWA-HRT-07-008
Date: November 2006

ProVAL Paves the Way to Smoother Roads
Build smoother roads with the newest version of the Federal Highway Administration's (FHWA) Pavement Profile Viewing and Analysis (ProVAL) software. ProVAL 2.7 allows users to view and analyze pavement profiles collected by pavement profile measurement equipment. As the equipment produced by various manufacturers can use different data formats and standards, it can often be difficult to compare the profiles. ProVAL is currently the only software application that can read data from numerous pavement profilers and standardize the data using a common format.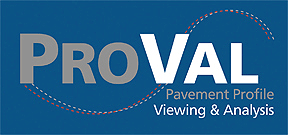 ProVAL Logo
Road profilers use lasers and other technology to measure pavement smoothness, as calculated using indexes such as the International Roughness Index (IRI). Profilers allow highway agencies and contractors to quickly measure the product produced on a job site and spot any problems, so that the problem can be corrected before additional paving is done. Profilers also provide a clearer picture of the shape of the road and a more accurate rating of how the road's smoothness would be perceived by the average driver.
Since ProVAL was introduced in 2001, thousands of users around the world have come to rely on it as a valuable tool for processing and analyzing pavement profile data. The new 2.7 version developed by The Transtec Group, Inc., in Austin, Texas, reflects user requests for new features, including the ability to customize the software to reflect user preferences. Users can change the main screen, for example, so that it displays the features they use and removes those not in use. Users can also customize the data inputs and automate the setup selections, as well as define and save specific settings that comply with agency specifications. "The new version allows State transportation agencies to set up the program so that it matches the way they do things," says Mark Swanlund of FHWA's Office of Pavement Technology.
ProVAL 2.7 also includes a new feature known as the Profile Editor. "With this powerful tool, ProVAL users can now edit and filter data sets instantly and view results immediately. The results can then be exported to other software programs such as spreadsheets," says George Chang of Transtec. Version 2.7 has improved reporting features as well, including the ability to customize reports on the profile data and analysis results. "The new features make ProVAL an essential and practical tool for construction acceptance testing and day-to-day profile analysis," says Swanlund. Agencies can also use ProVAL to identify profiler problems and develop new smoothness specifications.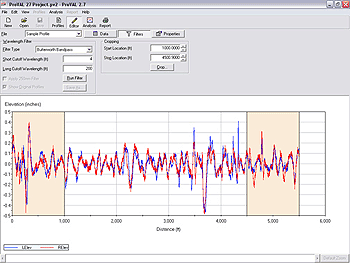 ProVAL 2.7 reflects user requests for new features, including the ability to customize the software to reflect user preferences.
The Ohio Department of Transportation (ODOT) has been using ProVAL since it was first released. During the 2007 construction season, Ohio's contractors will be required to use ProVAL 2.7 to calculate pavement smoothness indices. "This levels the playing field for contractors, as everyone will be using the same program to calculate data," says Brian Schleppi of ODOT. Schleppi notes that the software's smoothness quality assurance and diamond grinding modules have been particularly useful. Ohio is also now using the software to develop a new bridge rideability specification. "We are using it to advance our specifications," says Schleppi. "Everyone is going to benefit from a smoother pavement."
The Colorado Department of Transportation (CDOT) has been using ProVAL for 3 years. CDOT required the use of ProVAL in a pilot smoothness specification last year. The program was used to locate areas of localized pavement roughness that a contractor would then be required to fix before the pavement's acceptance. "The use of ProVAL is now specified in a standard special provision for use on all CDOT asphalt paving projects bid after October 19, 2006," says Eric Prieve of CDOT.
FHWA is sponsoring hands-on ProVAL training workshops so that highway agencies, contractors, consultants, and others can learn more about using the software. Depending on a State's needs, the workshop can provide either introductory training that covers the fundamentals of pavement profiling and the basic features of ProVAL, or advanced training that explores ProVAL in more depth. Workshops are currently scheduled to be held in Washington State in December 2006 and Bismarck, North Dakota, in February 2007.
To download a free copy of ProVAL 2.7 or to learn more about the software and training workshops, visit www.roadprofile.com. The Web site also features a list of frequently asked questions on using ProVAL, resource documents, Web links on pavement profiling, and a user forum. For additional information, contact George Chang at Transtec, 512-451-6233 (email: gkchang@thetranstecgroup.com), or Mark Swanlund at FHWA, 202-366-1323 (email: mark.swanlund@fhwa.dot.gov).