Publication Number: FHWA-HRT-07-007
Date: October 2006

Highway Quality on the Move
by Dave Geiger, Doug Rose and Mark Knight
With a coast-to-coast commemorative caravan, parades, and events in cities large and small, transportation departments, communities, and citizens of all ages celebrated the 50th anniversary of the Interstate this year. The landmark achievement transformed the Nation and brought unprecedented mobility to our daily life. As we celebrate this milestone in 2006, we also look to the future of our highways. How do we address the challenges of population and vehicle growth, aging roadways, and increased traffic congestion while improving safety? And how do we best meet the mobility needs of 21st century drivers?
To meet the challenges and discover the opportunities ahead, join the quality revolution. New partnerships, new initiatives, and an increased emphasis on meeting and exceeding our customer's expectations and sustaining the public trust are defining today's quality movement.
Building a better highway begins with partnerships. From planning and design to construction, operations, and maintenance, excellence is achieved when all parties are working toward the quality goal. On a national level, the National Partnership for Highway Quality (NPHQ) brings together State, Federal, and highway industry leaders to encourage the use of quality practices that will improve safety, product performance, and service for highway users. NPHQ's Fall 2006 Highway Quality Conference, scheduled for November 14-15, 2006, in New Orleans, Louisiana, will focus on "Turning Highway Program Curve Balls into Home Runs." The conference will highlight innovations in keeping and training the evolving highway workforce, lessons learned from responding to Hurricane Katrina, and public-private partnership models. The 2006 NPHQ Making a Difference Award winners will also be announced at the conference, spotlighting projects that are changing the face of transportation in their communities. These projects succeed in motivating employees to achieve excellence while delivering what the customers want, adding up to a winning quality equation.
Building a better highway begins with partnerships.
At the State level, NPHQ, the Federal Highway Administration (FHWA), and the American Association of State Highway and Transportation Officials (AASHTO) are working with transportation departments to encourage the formation of State Quality Partnerships (SQPs). An SQP is a voluntary, active group of transportation stakeholders and professionals who meet regularly and share common goals for the continuous improvement of highways, roads, and bridges. SQP members typically include representatives from the State transportation department, FHWA division office, industry associations, city and county offices, and other stakeholders. NPHQ has launched a new accreditation process for SQPs, with the goal of having an active SQP in every State.
States with active SQPs that are already making a difference every day include Georgia and Maryland. The Georgia Department of Transportation (GDOT) reinvigorated its 12-year-old Georgia Quality Initiative by launching the new intermodal Georgia Partnership for Transportation Quality (GPTQ) in 2004. GPTQ's members range from GDOT and the Georgia Highway Contractor's Association to such new partners as the Georgia Transit Association and the Association of County Commissioners of Georgia. Among the current GPTQ initiatives is workforce training, including holding workshops on reducing utility-related project delays and partnering with the Local Technical Assistance Program to provide classes on mix type design to local governments and their consultants.
The Maryland State Highway Administration (SHA) started its Maryland Quality Initiative in 1992, fostering a collaborative environment that has reduced claims and change orders for projects and encouraged the implementation of context sensitive design and design build contracts. Future plans include strengthening relationships with utilities and continuing to build stakeholder involvement by bringing the State police and environmental and occupational safety and health groups on board.
Ensuring a well-trained and qualified workforce is also crucial to the quality equation. FHWA's Transportation Curriculum Coordination Council (TCCC) has partnered with States, NPHQ, AASHTO, industry associations, and the National Highway Institute to develop more than 40 training courses and a core curriculum for training transportation personnel that States can use in their workforce development plans. The TCCC offerings range from a basic survey course for construction technicians to classes on hot-mix asphalt construction and bridge construction inspection. For further information on course descriptions and availability, please visit the TCCC Web site at www.nhi.fhwa.dot.gov/TCCC.
Sustaining a quality workforce depends upon attracting students and young people to the profession. The Maryland Quality Initiative holds an annual Construction and Engineering Career Day to reach out to high school students and introduce them to engineering and highway construction as a future profession. The third Career Day event was held on April 25, 2006, drawing approximately 500 high school students, teachers, and counselors. Students could attend interactive presentations on each phase of the highway project development process, including planning, surveying, design, traffic, and construction management, as well as visit a simulated construction site and try out such tasks as running a concrete slump test and constructing concrete forms.
Delivering the quality product that our customers are asking for also means getting in, getting out, and staying out. Over the past 3 years, more than one-half of the States have realized the benefits of accelerated highway construction by participating in the Accelerated Construction Technology Transfer (ACTT) program. Started by the Transportation Research Board, AASHTO, and FHWA, ACTT brings State transportation agency staff together with national experts in a range of skill sets for a 3-day workshop. At the workshop, participants identify innovative approaches to reducing time, costs, and congestion for a planned highway project, while improving safety, quality, and roadway performance. These approaches consider everything from addressing environmental concerns to considering new designs, new materials, and innovative construction staging and community relations. As a result of the 28 workshops to date, millions of dollars and years of delays have been shaved off of highway projects, which has a direct impact on increased user satisfaction. More information on ACTT is available at www.fhwa.dot.gov/construction/accelerated.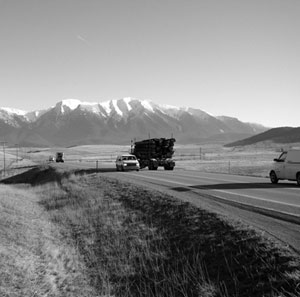 Among the States that have held an ACTT workshop is Montana. The 2004 workshop focused on accelerating the upgrade of US 93 between Evaro and Polson.
Pavement preservation programs are also playing a part in the quality equation by extending the life of this critical asset and contributing to improved highway performance. In 2005, FHWA launched a new Pavement Preservation Technical Assistance Program to partner with highway agencies to develop, expand, or improve preservation programs. Efforts are also underway to encourage the application of timely preservation interventions on structures. To learn more about pavement preservation, visit FHWA's Transportation System Preservation Web site at www.fhwa.dot.gov/preservation or the National Center for Pavement Preservation online at www.pavementpreservation.org.
Quality is a key goal as well for FHWA's Highways for LIFE (HfL) program, which is dedicated to bringing a higher level of innovation and technology to improving the Nation's roadways. The program will include demonstration construction projects, technology transfer, and technology partnerships. To learn more about the HfL initiatives, visit www.fhwa.dot.gov/hfl.
As techniques such as accelerated construction move toward becoming standard practice, rather than for use in special or emergency situations only, and as we emphasize the further development of the transportation workforce and the advances possible through an SQP in every State, partnerships continue to be at the heart of the quality movement. Whether a State transportation department; a contractor, material supplier, or consultant; or the FHWA, only by working together do we achieve the quality results that our customers ask for and the mobility that they depend upon each day. Join us today in keeping America on the move.
Dave Geiger, Doug Rose, and Mark Knight are co-chairmen of the National Partnership for Highway Quality. Geiger is Director of FHWA's Office of Asset Management. Rose is Deputy Administrator and Chief Engineer for Operations of the Maryland State Highway Administration. Knight is the Vice President of Foothill Contracting, Inc., of Webster, South Dakota.
To learn more about NPHQ's 2006 Highway Quality Conference or starting an SQP in your State, visit www.nphq.org, or contact Bob Templeton at NPHQ, 512-301-9899 (email: btemplenphq@aol.com). For more information on FHWA's quality initiatives, contact Ken Jacoby at FHWA, 202-366-6503 (email: ken.jacoby@fhwa.dot.gov).