Publication Number: FHWA-HRT-07-007
Date: October 2006

A Long-Life Future for Concrete Pavements
Coming soon to a concrete pavement near you: Two-lift concrete construction and the use of a pavement design catalog are just some of the practices recommended for implementation in the United States by a scan team of concrete pavement and materials specialists that visited Canada and Europe in May 2006. The goal of the Long-Life Concrete Pavement Scan was to learn more about design philosophies, materials requirements, construction practices, and maintenance strategies used to construct and manage portland cement concrete pavements with long life expectancies. Sponsored by the Federal Highway Administration (FHWA), American Association of State Highway and Transportation Officials (AASHTO), and the Transportation Research Board's National Cooperative Highway Research Program (NCHRP), the scan team included representatives from State transportation departments, FHWA, NCHRP, academia, and industry associations.
"Safety and mitigation of congestion are two of the most important strategic goals of the U.S. highway community," says scan co-chair Dan Dawood of the Pennsylvania Department of Transportation (PennDOT). "Long-life concrete pavements that require less frequent repair, rehabilitation, and reconstruction can help meet those goals."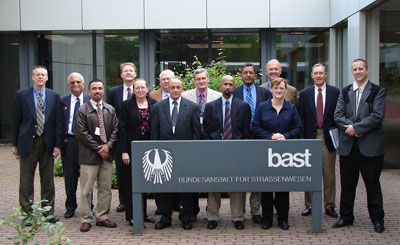 The Long-Life Concrete Pavement Scan team in Germany.
The scan team visited Canada, Germany, Austria, Belgium, the Netherlands, and the United Kingdom, meeting with representatives from Federal and provincial roadway authorities, public-private partnerships for roadway construction and management, the cement and concrete pavement industries, and transportation research laboratories. In all of the countries visited, "concrete pavement" was considered synonymous with "long life." Unlike in the United States, no distinction was made between a long-life concrete pavement and a standard concrete pavement. Pavements in the countries visited typically have a design life of 30 years, but are expected to last up to 40 or 50 years. "Europe is continuously improving its long-life concrete pavement practices," says scan team co-chair Suneel Vanikar of FHWA.
Practices identified by the scan team and recommended for implementation in the United States include two-lift construction.
Practices identified by the scan team and recommended for implementation in the United States include two-lift construction. A two-lift concrete slab paving process allows an agency to use recycled or other more economical materials as aggregate in most of the concrete slab, with the highest-quality aggregate reserved for use in the pavement's upper lift. Austria, Belgium, the Netherlands, Germany, and the United Kingdom are all currently using this practice to economize the use of aggregates, recycle reclaimed paving materials, and construct pavement surfaces that have improved safety and noise characteristics. Two-lift construction can accommodate the use of an exposed aggregate surface to mitigate noise and enhance friction. While two-lift construction is not new to the U.S. concrete paving industry, in recent years it has only been used on an experimental basis. The scanning team plans to develop comparisons of the costs and benefits of using two-lift construction. The team is also forming a technical working group composed of contractor and highway department representatives to examine the benefits of using the two-lift method, develop draft specifications for States and a construction technology plan for contractors, and plan demonstration projects and showcase workshops for 2007 and 2008.
Another practice recommended for U.S. implementation is the use of a design features matrix/catalog. Austria, Germany, and Belgium routinely use a design catalog to select pavement thicknesses and some other pavement features. The catalog features reflect the countries' experiences with materials, climate, and traffic levels. These catalog designs are refined about every 5 years using mechanistic principles, laboratory testing, and field observations. "The use of a catalog for selection of pavement thicknesses and other pavement design features offers obvious advantages in consistency and simplicity, compared to our present practice of custom design of individual pavements using mechanistic-empirical or empirical design procedures," notes the scan team in its preliminary report. The scan team plans to prepare guidelines for developing pavement design catalogs that would complement the AASHTO Mechanistic-Empirical Pavement Design Guide. States could then use these guidelines to develop their own catalogs.
Additional recommendations include conducting a review of State aggregate quality requirements and AASHTO standards compared to European standards,as the team observed that the unbound granular materials used for concrete pavement subbases in Europe are generally better quality materials than those used as select fill and granular subbase in the United States. The team also noted the use of intelligent compaction for concrete pavements in Austria and Germany. Rollers with intelligent compaction capabilities have a measurement and control system that continuously adapts the equipment performance to optimize compaction based on the pavement conditions. FHWA has developed a Strategic Plan for Intelligent Compaction, which proposes a 5-year study of intelligent compaction to develop draft AASHTO construction quality control specifications and assist in implementation of the technology. A new Transportation Pooled Fund project (No. TPF-5(128)) recently launched by FHWA will study the use of intelligent compaction technology for all pavement materials.
The team also observed the use of exposed aggregate surfacing as a solution to concrete pavement noise in Austria and Germany. With this type of surfacing, high-quality and durable aggregates are used in the top course of the concrete slab. A process involving set retardation and abrasion is then used to produce an exposed aggregate surface with good low-noise properties. Exposed aggregate can also increase friction and durability. The team plans to conduct additional testing at sites in Austria to collect noise and texture data and compare it to U.S. data on different types of surface finishes.
For more information on the Long-Life Concrete Pavement Scan, contact Suneel Vanikar in FHWA's Office of Pavement Technology, 202-366-0120 (email: suneel.vanikar@fhwa.dot.gov), Dan Dawood at PennDOT, 717-787-4246 (email: ddawood@state.pa.us), or Hana Maier in FHWA's Office of International Programs, 202-366-6003 (email: hana.maier@fhwa.dot.gov). To learn more about the Transportation Pooled Fund project on intelligent compaction technology, visit www.pooledfund.org (click on "Search" and then enter "TPF-5(128)" as the study number).