Publication Number: FHWA-HRT-06-029
Date: September 2006

EPS Geofoam: Demonstrating a Lightweight Soil Alternative
Accelerating construction at one of the worst bottlenecks in the country is getting a boost with the use of Expanded Polystyrene (EPS) Geofoam. More than 35 Federal, State, and private sector representatives turned out on July 25, 2006, for a demonstration showcase of the technology at the Woodrow Wilson Bridge outside of Washington, DC. The showcase was hosted by the Federal Highway Administration's (FHWA) Resource Center, in conjunction with the Virginia Department of Transportation (VDOT) and the National Local Technical Assistance Program.
The showcase featured classroom presentations on the market-ready technology, followed by an installation demonstration at the intersection of I-95 and U.S. Route 1 at the Woodrow Wilson Bridge construction site in Alexandria, Virginia. A project overview was provided by David Shiells, District Materials Engineer for VDOT, while John Volk, Principal Engineer for the URS Corporation, discussed field applications and experiences. Speakers also included Silas Nichols, FHWA Resource Center Geotechnical Engineer, who gave an overview of geofoam technology.
EPS Geofoam is a lightweight, rigid foam plastic that is used as a fill material in construction projects where the existing soft or loose soil is incapable of supporting increased loads. Weighing only 0.5 to 0.9 kg per cubic m (1 to 2 lb per cubic ft), "EPS Geofoam is an attractive alternative to natural fill materials because it is approximately 100 times lighter than conventional soils and 20 to 30 times lighter than other lightweight fill alternatives," says Silas Nichols of the FHWA Resource Center. This reduces vertical stress on the foundation soils and significantly reduces the potential for settlement. Using the lightweight material eliminates the need for earth moving equipment, which may help to minimize project time and cost. Instead, EPS Geofoam is delivered to construction sites in blocks that can easily be trimmed on site and placed by hand.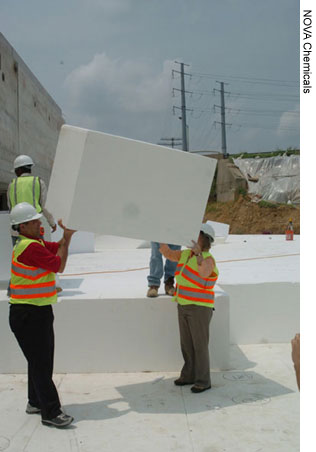 Rudy Maruri (left) of FHWA's Virginia Division Office and Joyce Curtis of the FHWA Resource Center demonstrate the lightness of EPS Geofoam blocks at the July 2006 showcase at the Woodrow Wilson Bridge in Alexandria, VA.
The new 12-lane Woodrow Wilson Bridge will replace the existing 6-lane bridge built in 1961. The bridge and its four surrounding interchanges make up one of the most heavily traveled roads in the country. Built with an anticipated traffic volume of 75,000 vehicles per day, the bridge now carries nearly 200,000 vehicles daily.
"The area of construction around the bridge is characterized by soft foundation soils," says Nichols. "To minimize the potential for settlement, EPS Geofoam is being used instead of traditional fills." Additional advantages of using EPS Geofoam for this project are that the material can be installed quickly in a difficult access area and under any weather conditions. And unlike other fill alternatives, EPS Geofoam can be constructed vertically and faced in areas where right-of-way is limited, reducing the need for lane closures.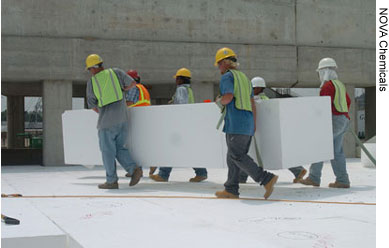 An EPS Geofoam block is placed at the Woodrow Wilson Bridge.
"The material can also be used for reducing lateral load on walls and bridge abutments, repairing slope failure and landslides, and for reducing vertical load on buried features such as culverts and pipes," says Nichols. It can be covered to look like natural sloped embankments or to match or enhance the aesthetics of the surrounding environment.
EPS Geofoam is a lightweight, rigid foam plastic that is used as a fill material in construction projects where the existing soft or loose soil is incapable of supporting increased loads.
EPS Geofoam has been used on roadway projects in more than 20 States to date. The New York State Department of Transportation (NYSDOT), for example, decided to use the technology after years of searching for a permanent solution to a failing slope problem on State Route 23A. By replacing upper sections of the slide area with EPS Geofoam, NYSDOT significantly reduced the driving forces that were causing the slide and successfully rehabilitated the roadway section. The technology was also used to construct large embankment sections for the Central Artery/Tunnel project in Boston, Massachusetts, and Utah's I-15 project. "EPS Geofoam helped the projects maintain extremely tight construction schedules that would not have allowed enough time for conventional embankment construction," says Nichols.
The FHWA Resource Center has developed a half-day seminar on EPS Geofoam, which has been presented in several States to date. To learn more about EPS Geofoam or the Woodrow Wilson Bridge showcase, or to schedule the FHWA seminar, contact Silas Nichols at FHWA, 404-562-3930 (email: silas.nichols@fhwa.dot.gov).