Publication Number: FHWA-HRT-06-029
Date: September 2006

FHWA Announces 2007 Excellence in Utilities Awards Program
The Federal Highway Administration's (FHWA) 2007 Excellence in Utilities Awards Program will honor highway agencies and contractors that excel in streamlining and improving the utility relocation and accommodation process while protecting the rights of property owners. Awards will be given in the categories of Innovation, Leadership, Relocation, Project Management, Value Engineering, Incentive for Utility Relocation, and Outstanding Individual Contributors. Projects will be recognized in two funding categories ($100 million or less and greater than $100 million).
Anyone may nominate a highway project or process, or an individual, contractor, or organization involved in a project, that has used Federal-aid funding to make an outstanding contribution to transportation within the last 3 years (since January 1, 2003).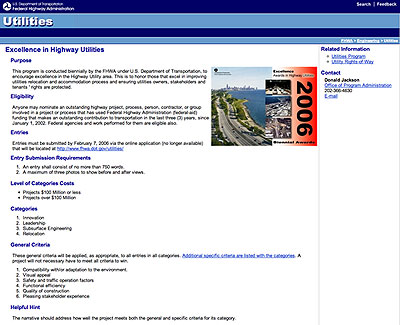 Screenshot of FHWA's Utilities Program website
Entries must be submitted online by February 8, 2007. The online application is available at www.fhwa.dot.gov/utilities/. Award winners will be recognized at the American Association of State Highway and Transportation Officials' Right-of-Way/Utility Conference, to be held in spring 2007 in Orlando, Florida.
For more information on the awards or FHWA's Utilities Program, contact Donald Jackson in FHWA's Office of Program Administration, 202-366-4630 (email: donald.jackson@fhwa.dot.gov). For information on the 2006 Awards Program winners, see the May 2006 Focus.