Publication Number: FHWA-HRT-07-012
Date: April 2007

Tools for Training a Qualified Transportation Workforce
New products and courses available from the Transportation Curriculum Coordination Council (TCCC) are giving State and local transportation departments the tools they need to train today's workforce, while simultaneously saving time and money.
Formed in 2000, the TCCC includes representatives from the Federal Highway Administration (FHWA), State departments of transportation, the American Association of State Highway and Transportation Officials, Associated General Contractors, National Asphalt Pavement Association, and the American Concrete Pavement Association. Also represented are the American Road and Transportation Builders Association and regional training and certification groups. TCCC members work together to identify transportation training needs and opportunities.
"The council's efforts are vital to addressing a serious problem facing today's transportation industry: sharing transportation skills and knowledge," said Pete Rahn, director of the Missouri Department of Transportation. "The TCCC's efforts keep State and local transportation departments from reinventing the wheel, saving time and money, and also help ensure we develop and retain a qualified transportation workforce nationwide."
A new TCCC training database will debut next month. The database will compile information on courses that are available across the country from States, FHWA, industry, and academia. "A highway agency looking for a particular course can see, for example, if another agency has already developed one and is making it available to other States," says Christopher Newman of FHWA's Office of Asset Management. The database will be available on TCCC's revamped Web site, which will also be unveiled in May. The updated site will link with FHWA's National Highway Institute (NHI) Web site, to provide easier access to information about TCCC courses offered through NHI.
TCC members work together to identify transportation training needs and opportunities.
TCCC's training tools include a core curriculum for training transportation personnel that covers five program areas: construction, materials, maintenance, safety, and employee development. The curriculum outlines recommended competencies by four skill levels (ranging from entry level employees to project management/administrator level staff) for various tasks and disciplines within a program area, such as quality assurance or project closeout activities.
The Virginia Department of Transportation (VDOT) has adapted the core curriculum to help determine competencies for its construction inspection staff, including inspector trainees, inspectors, senior inspectors, and construction managers. "It has been useful as a model to use in determining competencies for construction inspection staff and in looking to see if training programs comply with the competencies. In striving to deliver quality maintenance and construction projects, the inspection staff must constantly balance the constraints of time, money, and staffing resources," says Bill Beuter of VDOT. "This is another tool in our tool box."
New TCCC courses include online training on pavement preservation. "A pilot for the course held online in February went very well, with people from all over the country participating," says Newman. The final course will be available this month through NHI. States will also be able to host the course on their own Web sites.
Also offered by NHI is a TCCC course on Bridge Construction Inspection (Course No. FHWA-NHI-130088). This 4 1/2-day course aims to improve quality, ensure uniformity, and establish minimum competencies for bridge construction inspectors.
The Idaho Transportation Department is currently working on obtaining funding to sponsor the Bridge Construction Inspection course for its personnel. Idaho previously used TCCC resources to develop a resident engineer academy for training. The academy brings together resident engineer staff for an intensive 4 weeks of training, with the group meeting 1 week a month for 4 months. Topics covered include traffic control, claims and change orders, environmental issues, materials acceptance, and essentials of management. Idaho also continues to use training material developed jointly by the TCCC and NHI on "Hot-Mix Asphalt (HMA) Construction" and "Drilled Shaft Inspection."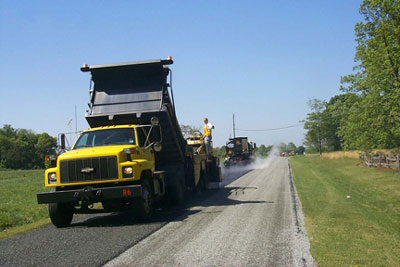 New TCC courses include online training on pavement preservation techniques
Another new TCCC course available from NHI is Construction Inspection, Workmanship, and Quality (Course No. FHWA-NHI-134055). "This 2-day course will help transportation professionals involved in the inspection of highway construction projects improve their understanding of the factors that contribute to high-quality projects," says Newman. Using real-life examples, the course covers legal, liability, and risk issues, as well as quality assurance topics.
TCCC courses currently under development include Inspection of Bridge Rehabilitation Projects, Environmental Factors in Construction, and a 4-week maintenance academy for engineers.
For more information on TCCC's many resources, or how you can partner with TCCC, visit www.nhi.fhwa.dot.gov/tccc/, or contact Christopher Newman at FHWA, 202-366-2023 (email: christopher.newman@fhwa.dot.gov).
TCCC Courses
Bridge Construction Inspection (Course No. FHWA-NHI-130088)
Skills covered in the course include the ability to:
Explain the role of the construction inspector as part of the overall project team.
Interpret drawings and specifications.
Anticipate possible construction and materials problems.
Describe the construction sequence for various bridge systems, such as foundations, substructures, and superstructures, and different bridge types and materials.
Conduct regular systematic inspections of materials and standards of construction.
Explain and perform basic inspection and testing of materials.
Perform accurate surveys and checking of dimensions.
Maintain sufficient records.
The target audience includes construction supervisors; transportation department field inspectors; field, resident, structural, and materials engineers; and other technical personnel involved in the construction inspection of bridges. The course fee is $600 per participant, with a minimum class size of 20 and a maximum of 30.
Construction Inspection, Workmanship, and Quality (Course No. FHWA-NHI-134055)
Participants will learn how to:
Identify the components of workmanship as they relate to highway and bridge construction.
Link different types of specifications to the associated roles and responsibilities of the project inspector, contractor, engineer, and owner.
Identify situations in which legal issues affect the performance of their assignments.
Apply the basic concepts of risk assessment to case study examples.
The course is designed for field personnel, from technicians to engineers, who are involved in all aspects of highway construction. It will also be valuable for project managers and resident engineers. The course fee is $270 per participant, with a minimum class size of 20 and a maximum of 30.
For more information on the courses or to register, visit www.nhi.fhwa.dot.gov/.