Publication Number: FHWA-HRT-07-016
Date: August 2007

A New Focus on Pavements
Working with States and other partners to deliver a national pavement network that is safe, long lasting, cost effective, environmentally sensitive, and effectively maintained remains the goal of the Federal Highway Administration's (FHWA) pavement and materials program. In order to deliver a more strategically effective program, all of the offices responsible for pavements across FHWA are coordinating their efforts within six focus areas. "These focus areas will drive our entire pavements and materials program," says Peter Stephanos, Director of FHWA's Office of Pavement Technology. The six focus areas are:
Pavement design and analysis.
Pavement materials and construction technology.
Pavement management and preservation.
Pavement surface characteristics.
Construction and materials quality assurance.
Environmental stewardship.
The focus areas will guide FHWA in developing and deploying the technologies that highway agencies need to build, preserve, and maintain better pavements and will maximize FHWA resources to achieve improvements in the Nation's pavement network. "States are having to do more with less. We want to work with them to introduce tools and technologies to make their job easier. We also need to strive to develop a more effective partnership with State and local agencies, industry, and academia," says Stephanos. In partnership with States, FHWA will assess the current state of practice nationally for each focus area, recognize best practices that can be advanced, identify gaps where improved technologies or methods can be developed, and define and evaluate existing risks that need to be mitigated. This assessment will be conducted to develop strategies that FHWA will deliver over the next 3 to 5 years to achieve performance objectives for the Nation's pavement network. These strategies will consider all areas of technology advancement and program management, including research, development, implementation, technology transfer, policy, and regulatory actions. FHWA will continue to work closely with State and local highway agencies to deliver the program.
The six focus areas will guide FHWA's Research and Development efforts in conducting new and applied research, as well as FHWA's Technical Service Teams (TSTs). The TSTs work to deploy new technologies, including providing training and other assistance in using the technologies (see sidebars for Pavement and Materials TST, and Construction and Project Management TST). "The Research and Technology offices and the Technical Service Teams that operate through the FHWA Resource Center will continue to be great resources for States," says Stephanos.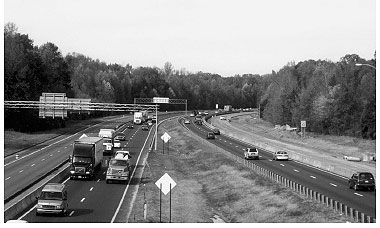 FHWA's pavement and materials program will work with States to introduce new tools and technologies for building, preserving, and maintaining better pavements.
FHWA will issue an annual performance report for the pavement and materials program, which will be shared with stakeholders outside of FHWA, including the American Association of State Highway and Transportation Officials and the Transportation Research Board's new Committee for Pavement Technology Review and Evaluation. The report will assess the effectiveness of the program activities in achieving performance objectives and will provide an overview of the current state of each focus area.
To learn more about FHWA's pavement initiatives, visit www.fhwa.dot.gov/pavement/.
Pavement and Materials Technical Service Team
With the goal of improving mobility on the Nation's highways through national leadership, innovation, and program delivery, FHWA's Pavement and Materials Technical Service Team (TST) offers a range of services to help State and local agencies and others design and build better pavements. The team has members located across the country. "Our initiatives have included supporting implementation of the new Mechanistic-Empirical Pavement Design Guide," says team leader Tom Harman of FHWA. The team also participated this year in a scanning tour on warm mix asphalt technology and will be actively involved in the deployment activities for this technology.
The team's assistance to State and local agencies covers the areas of optimizing pavement performance, improving asset management, advancing quality systems, and building technical capabilities, as well as achieving safer pavement surface characteristics and practicing environmental stewardship. Recent activities have included assisting in developing life-cycle cost processes, conducting pavement preservation and quality assurance reviews, and holding training on topics ranging from pavement design to distress identification to the Percent Within Limits quality measure.
For more information on the many resources offered by the TST, visit www.fhwa.dot.gov/resourcecenter/teams/pavement/index.cfm or contact Tom Harman at FHWA, 410-962-0134 (email: tom.harman@fhwa.dot.gov).
Construction and Project Management Technical Service Team
FHWA's Construction and Project Management Technical Service Team (TST) has technical specialists located across the country to assist State and local transportation agencies and others with improving the construction management process. The team offers technical assistance, technology transfer, and training. Current initiatives include supporting the presentation of the National Highway Institute's Construction Inspection: Workmanship and Quality course, as well as implementation of life-cycle cost analysis and alternative contracting solutions. The team has also presented a workshop on FHWA's Construction Program Management and Inspection Guide to 46 States. In June 2007, the team participated in an FHWA Value Engineering (VE) Roundtable held in La Crosse, Wisconsin. The meeting was designed to provide a networking opportunity for States in the Midwest to share ideas and lessons learned to improve their VE programs. The roundtable also aimed to encourage progress in using VE in other parts of the country.
For more information on the many resources the team offers, contact team leader Rob Elliott at the FHWA Resource Center, 404-562-3941 (email: rob.elliott@fhwa.dot.gov), or visit www.fhwa.dot.gov/resourcecenter/teams/construction/index.cfm.
A Helping Hand
For additional infrastructure-related technical support, training, and technology assistance, contact the following FHWA Technical Service Teams:
Geotech and Hydraulics Technical Service Team
Contact: Peter Osborn, 410-962-0702 (email: peter.osborn@fhwa.dot.gov) www.fhwa.dot.gov/resourcecenter/teams/geotech/index.cfm
Structures Technical Service Team
Contact: Shoukry Elnahal, 410-962-2362 (email: shoukry.elnahal@fhwa.dot.gov) www.fhwa.dot.gov/resourcecenter/teams/structures/index.cfm
Safety and Design Technical Service Team
Contact: Patrick Hasson, 708-283-3595 (email: patrick.hasson@fhwa.dot.gov) www.fhwa.dot.gov/resourcecenter/teams/safety/index.cfm