Publication Number: FHWA-HRT-07-016
Date: August 2007

Take a Look at Two-Lift Concrete Paving
Is two-lift concrete construction coming to a pavement near you? Recommended for implementation in the United States following a May 2006 international scanning tour on long-life concrete pavements (see October 2006 Focus), the technique was recently highlighted in a videoconference held by Iowa State University and the Federal Highway Administration's (FHWA) Highways for LIFE (HfL) program and Office of Pavement Technology.
Drawing participants from across the country, the conference featured information on the European scanning tour, which was sponsored by FHWA, the American Association of State Highway and Transportation Officials, and the Transportation Research Board's National Cooperative Highway Research Program. "In the countries visited, 'concrete pavement' means 'long life,'" noted scanning tour participant Tom Cackler, Director of the National Concrete Pavement Technology Center at Iowa State University. Also featured at the videoconference was a presentation by Dr. Hermann Sommer, Chair of the Committee for Specifications for Concrete Pavements and Soil Stabilization in Austria. Austria has extensive experience in using two-lift technology.
The use of recycled materials for much of the aggregate minimizes the need for high-quality new aggregate and cuts down on land-fill waste.
Two-lift construction involves the placement of two wet-on-wet layers of concrete, rather than the commonly used approach of using a single, homogenous layer. This innovation is designed to provide superior resistance to freeze-thaw damage, as well as noise reduction and improved skid resistance. Recycled or other more economical materials can be used as aggregate in most of the concrete slab, with the highest quality aggregate reserved for use in the pavement's thinner upper lift. Two-lift construction can also accommodate the use of an exposed aggregate surface to mitigate noise. While two-lift construction is not new to the United States, in recent years it has only been used on an experimental basis. Two-lift paving was used on the Chrysler Freeway in Detroit in the 1990s, for example.
"Two-lift construction contributes to the green highway concept," said videoconference participant Charles Goodspeed, Director of the Transportation Technology Transfer Center at the University of New Hampshire. The use of recycled materials for much of the aggregate minimizes the need for high-quality new aggregate and cuts down on land-fill waste. "We're using fewer resources and minimizing the truck traffic and fuel costs required to haul new aggregate," said Goodspeed.
Austria, Belgium, the Netherlands, Germany, and the United Kingdom are all currently using two-lift paving. Austria has 2,092 km (1,300 mi) of roadways and expressways, with 804 km (500 mi) of concrete pavements. It started using two-lift concrete paving in 1991. "We consider the long-term performance very satisfactory," said Sommer. Two mixing plants and two pavers are used, with the two pavers positioned 13 to 16 ft (4 to 5 m) apart. The top lift is placed before the bottom lift starts to dry, with up to 1/2 hour between the placement of the layers. Best practices described by Sommer include making the top layer as thin as possible, using shallow milling to ensure a good bond with the subbase, and curing immediately after brushing to prevent cracks. "The efficiency of the curing compounds is very important," said Sommer. Austria also uses an exposed aggregate surface to reduce pavement noise. Sommer noted that the cost of two-lift paving has not been significantly higher in Austria.
States currently looking into using two-lift paving include Kansas, Florida, and Washington. The Kansas Department of Transportation will use it on a trial pavement section this summer, while the Washington State Department of Transportation is planning a project in the Spokane area.
For more information on two-lift concrete paving, contact Suneel Vanikar at FHWA, 202-366-0120 (email: suneel.vanikar@fhwa.dot.gov). The conference minutes and presentations are available online at www.cptechcenter.org/projects/two%2Dlift%2Dpaving/.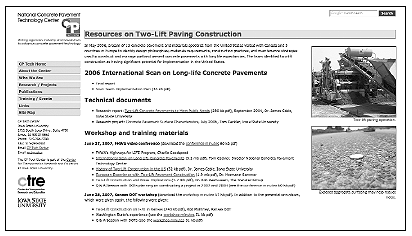 Visit the National Concrete Pavement Technology Center online at www.cptechcenter.org/projects/two%2Dlift%2Dpaving/ to learn more about two-lift concrete construction.