Publication Number: FHWA-HRT-08-009
Date: December 2007
Printable Version (.pdf, 0.3 mb)
A Roadmap to Transportation System Preservation Research
What does the future hold for the Nation's transportation infrastructure? With increasing traffic volumes, aging highways and bridges, and budgets that cannot keep up with demands, transportation agencies face a growing number of challenges. Key to meeting these challenges and maintaining this vital infrastructure are preservation practices that can extend the service life of pavements and bridges. Agencies have enjoyed great success through the use of such practices, but progress is often hampered by gaps in the understanding and implementation of pavement and bridge preservation. "A concentrated effort is needed to conduct research to address these gaps and provide knowledge on how to apply the right preservation action at the right time to the right pavement or bridge," says Jim Sorenson of the Federal Highway Administration's (FHWA) Office of Asset Management.
Partnering with industry, the Transportation Research Board (TRB), and the American Association of State Highway and Transportation Officials (AASHTO), FHWA sponsored a study to identify critical knowledge gaps in pavement and bridge preservation and to determine the research needed to fill those gaps. The outcome of the study is the new Transportation System Preservation Research, Development, and Implementation Road-map. Now available from FHWA, the Roadmap outlines 38 pavement preservation and 25 bridge preservation needs statements. The needs statements have been ranked and prioritized to facilitate their adoption into the short-term and long-term research funding programs of FHWA, TRB, and State transportation agencies.
Key to meeting these challenges and maintaining this vital infrastructure are preservation practices that can extend the service life of pavements and bridges.
"Taken together, these statements represent a potential wealth of new knowledge across a broad array of technical and policy areas," says Sorenson. "They provide a framework for a research management plan to help direct application and implementation of the R&D results within the short-and long-term time frames."
Following a critical assessment of the state-of-the-art in preservation technology and infrastructure asset management, several broad topics in pavement preservation and bridge preservation were identified for indepth study. In the pavements area, asset management and preservation, design, materials, concrete, construction, contracting methods, surface characteristics, and performance of preservation actions were examined. Bridge topics studied were asset management and preservation, bridge decks, bridge joints, concrete superstructures and substructures, steel superstructures and substructures, and selection and performance of preservation actions. White papers on each of the focus areas were then prepared by subject matter experts, summarizing the current knowledge on the topics and highlighting possible research and development needs.
The next step was to hold brainstorming workshops with transportation practitioners on pavement preservation and bridge preservation, so that participants could discuss and develop research needs statements addressing specific knowledge gaps across all the topic areas. Workshop participants represented highway agencies, FHWA, TRB, industry, and academia. The pavement preservation workshops were held February 5-7, 2007, in Phoenix, Arizona, and February 26-28, 2007, in Orlando, Florida, while the bridge preservation workshop took place May 22-23, 2007, in Dallas, Texas. Following the workshops, the needs statements were refined, consolidated, and assessed for priority to produce the final list outlined in the Roadmap.
The top three pavement preservation needs identified are:
Developing performance-related specifications for pavement preservation treatments.
Determining pavement preservation treatments' lives and related pavement life extension.
Determining the economic benefits of pavement preservation strategies.
The top three priorities for bridges are:
Improving inspection techniques for steel prestressing strands, cables, and ropes.
Quantifying the information necessary to guide bridge preservation decisions.
Identifying best practices for preserving bridge decks.
Key issues highlighted by both pavement preservation and bridge preservation workshop participants include the importance of obtaining reliable, usable data on the degree of preservation that is accomplished by applying a particular treatment; the cost of the treatment; and how long the treatment remains effective. Also highlighted at the workshops were the difficulty in determining optimum timing for applying preservation treatments and the lack of standard terminology and definitions for preservation, particularly for bridge preservation. Practitioners also noted that preservation outreach and training (at the agency, contractor, and university levels) is a key component to increasing the acceptance and awareness of preservation among transportation agencies, decisionmakers, and the public.
For more information or to obtain a copy of the Roadmap, contact Chris Newman at FHWA, 202-366-2023 (email: christopher.newman@fhwa.dot.gov). The Roadmap will be posted online in January 2008 at www.pavementpreservation.org.
To learn more about transportation system preservation, visit www.fhwa.dot.gov/preservation.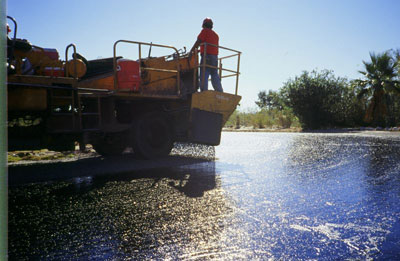 FHWA's new Transportation System Preservation Roadmap outlines and prioritizes pavement preservation and bridge preservation research needs. Preservation practices that can extend the service life of pavements and bridges, such as the chip seal for pavements shown here, are more important than ever as the Nation's infrastructure ages.