Publication Number: FHWA-HRT-07-015
Date: July 2007

Highways for LIFE's 2007 Projects Showcase Innovation
Arizona, Georgia, Maine, Missouri, Oregon, and Virginia will each receive up to $1 million as recipients of the Federal Highway Administration's (FHWA) 2007 Highways for LIFE (HfL) program grants. The awards are designed to help States incorporate technologies and approaches that will cut highway construction time while improving quality, safety, and durability. This year's grants will be announced in two phases, with the second round of projects expected to be awarded in August.
The Arizona Department of Transportation will use its $1 million grant to help reconstruct a section of Route 179 in Sedona. The project includes construction of a prefabricated bridge and six roundabouts, which are circular intersections with design and traffic control features to improve traffic flow and safety. Innovative contracting will also be showcased, including the use of incentive and disincentive clauses.
The project team has set a goal of maintaining 100 percent access to area businesses and residences during construction, which was a priority identified by the community. The project is expected to reduce fatalities and injuries by 20 percent compared to the current route, while also reducing pavement noise and enhancing ride quality. Construction is expected to begin this summer, with completion in the summer of 2009.
The Georgia Department of Transportation's $1 million HfL grant will help build a new interchange on Interstate 85 in Troup County to lessen traffic congestion. Incorporating a design-build approach, Georgia expects to reduce construction time by 40 percent by using contractor incentives and a strategy for clearing any work zone incidents that do not involve injuries in less than 20 minutes. Bidders will also be encouraged to use innovative materials and technologies, such as prefabricated bridge elements.
Construction is estimated to begin this fall, with completion in the spring of 2009. Georgia will also receive a waiver from HfL for the usual required 20 percent State funding match.
In Maine, the $412,000 HfL grant will go towards bridge replacements on Highway 116 in Old Town and on Route 4 in Addison. By using precast, prestressed concrete superstructures that will be built offsite in a controlled environment, the Maine Department of Transportation (MaineDOT) expects to enhance the durability of the bridges and cut construction time.
MaineDOT's goals include an 80 percent reduction in construction time and zero work zone injuries. Construction began in the spring of 2007, with completion expected this summer, thus avoiding long detours for school buses in the fall.
The Missouri Department of Transportation (MoDOT) will receive a $1 million grant to rebuild a section of I-29/I-35 in Kansas City to increase capacity, improve safety, and upgrade the Missouri River crossing. The project will use design-build contracting to encourage innovation in design, traffic management, and construction phasing.
In unison with the goals of the HfL program, the proposed work for this project will meet goals for ride smoothness and reduced pavement noise. MoDOT will also require the contractor to develop a quality management system for the project and to maintain a quality assurance staff. A community advisory group will meet with project leaders to identify public priorities for the project, such as bridge aesthetics. Construction is expected to begin in early 2008, with completion in the fall of 2011.
Oregon's $1 million HfL grant will be put to use in replacing five bridges on Oregon 38 between Drain and Ekton. The Oregon Department of Transportation (ODOT) will use prefabricated bridge elements made with high performance concrete for enhanced durability and strength.
The HfL grants are designed to help States incorporate technologies and approaches that will cut highway construction time while improving quality, safety, and durability.
ODOT will accelerate the replacement of the five bridges by moving the prefabricated structures into place overnight using self-propelled modular transporters. The goal is to minimize disruption to the traveling public and truck traffic by avoiding the use of an 80-km (50-mi) detour. Construction is slated to begin this summer, with completion in summer 2008.
The Virginia Department of Transportation (VDOT) will receive $1 million to repair a two-lane ramp on I-66 at U.S. 50 in Fairfax County. To minimize traffic disruptions, the work will be done at night and only one lane and shoulder will be replaced at a time. The use of precast, prestressed concrete slabs and nighttime lane closures is expected to cut construction time from more than 100 days to 35 nights. Integrated intelligent transportation systems technologies will also be used to improve traffic flow and safety in the work zone. Construction is expected to begin this fall, with completionin the fall of 2008.
In another Virginia project, a prefabricated bridge superstructure will be used to replace a bridge on Route 15/29 in Prince William County. The bridge project will use innovative contracting methods that incorporate incentives and disincentives. A rapid construction method will also be implemented that will use nighttime lane closures to reduce the impact on drivers by 80 percent. This project will not receive any direct HfL funding but its 20 percent State funding match requirement is being waived. Construction is expected to begin this fall, with completion in the spring of 2008.
For more information about HfL, contact Mary Huie at FHWA, 202-366-3039 (email: mary.huie@fhwa.dot.gov), or visit www.fhwa.dot.gov/hfl/.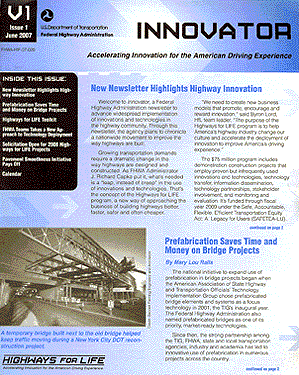 Highways for LIFE Launches Newsletter
Check out the Innovator. The Highways for LIFE (HfL) program's new newsletter will share information on how the highway community is adopting and benefiting from innovations. In each issue, the newsletter will focus on technologies, innovations, and process changes that accelerate construction, improve safety, lower congestion, extend the life of highway projects, and enhance user satisfaction. Articles will cover success stories, measured benefits to motorists, how-to information, and program updates, as well as feature interviews with industry experts on how and why they used innovations and what they learned in the process. Readers are also encouraged to submit article ideas or topics they would like to see covered in future issues.
To subscribe, send an email to HfLT@dot.gov or call 202-366-0131.