Publication Number: FHWA-HRT-07-011
Date: March 2007

Life Cycle Cost Analysis: Learning from Your Peers
Transportation professionals from the United States and Canada came together to share their experiences and best practices in using life cycle cost analysis (LCCA) at the Federal Highway Administration's (FHWA) 2006 LCCA Peer Exchange. Held October 17-18, 2006, in Kansas City, Missouri, the conference provided a forum for practitioners to discuss lessons learned from implementing LCCA in their State programs and to identify future LCCA needs. Conference attendees included State department of transportation design, construction, and materials engineers.
"LCCA is an analytical tool that provides a cost comparison between two or more competing design alternatives that produce equivalent benefits for the project being analyzed," said conference facilitator Nathaniel Coley of FHWA's Office of Asset Management."It evaluates agency and user costs over the life of investment alternatives." States are using LCCA to determine which alternative will produce the desired results for a given highway project at the lowest cost. Because LCCA focuses on overall life cycle cost, the lowest cost alternative is not necessarily the one with the lowest cost of initial construction, noted Coley. "Spending more money up front on quality construction often reduces the overall cost by reducing the need for constant maintenance and full-scale rehabilitation."
Clemson University conducted a survey of LCCA use in 2005 for the South Carolina Department of Transportation. Responses were received from 33 State transportation departments and 2 Canadian provinces. Of the respondents, 94 percent use LCCA for pavements. Respondents noted that the following costs are typically included in the calculation of agency LCCA costs:
Preliminary engineering.
Initial construction.
Construction management.
Maintenance of traffic.
Routine and preventive maintenance.
Resurfacing and rehabilitation.
Associated administrative expenses.
Fourteen States include user costs in the LCCA, with 10 of those incorporating work zone user delay costs.
Life cycle cost analysis evaluates agency and user costs over the life of investment alternatives.
States and others can take two approaches when conducting an LCCA: deterministic and probabilistic. The deterministic approach uses inputs with fixed values to calculate life cycle cost. Analysts rely on existing data sources to determine fixed values for uncertain variables, such as design life and future rehabilitation cost. Conversely, the probabilistic approach assigns a range of possible inputs to each uncertain variable to calculate a probability distribution of results. This approach allows risk to be quantified for the input variables. Most States that practice LCCA use the deterministic approach, because of their more limited experience with performing and analyzing the results of a probabilistic analysis. Some States employ the probabilistic approach for certain situations. The Colorado Department of Transportation (CDOT), for example, uses the probabilistic approach for all appropriate projects with an estimated initial cost of more than $1 million. "The probabilistic approach allows for a better justification of the numbers," notes Jay Goldbaum of CDOT.
State experiences highlighted at the meeting include those of the California Department of Transportation (Caltrans). Caltrans has developed a draft State LCCA Procedures Manual, and the agency's recently updated pavement design manual now uses LCCA to compare different design lives. LCCA costs must be included in project study reports as well.
The Kansas Department of Transportation, meanwhile, conducts LCCA on about six projects each year, including all major modification and system enhancement projects.
Because no standard protocol exists for determining which projects necessitate use of LCCA, States have established their own guidelines. The New York State Department of Transportation, for example, mandates LCCA for all projects greater than 2.6-km (1-mi) long. CDOT, meanwhile, generally bases the decision to conduct an analysis on the length of the project, with an LCCA also mandated for all projects costing more than $1 million.
Several States use FHWA's RealCost LCCA software when performing analyses. RealCost identifies cost differences between design alternatives, accounting for both initial and future agency and user costs. To run the program, a user must enter the estimated costs for the initial construction and any future rehabilitation of the asset, as well as the period of serviceability (i.e., time between construction and rehabilitation). The software also requires basic traffic data inputs such as annual average daily traffic, capacity, and hourly traffic distribution.
State users such as California and Georgia have identified some recommended enhancements for RealCost. These enhancements will be included in an update scheduled for release this year. Caltrans, in conjunction with the University of California, Berkeley, is also working to develop decision support tools that can be used in conjunction with RealCost. Future peer exchanges are planned that will focus on developing standardized practices for LCCA and an LCCA roadmap for implementation activities over the next 5 years. Another goal for FHWA and States is to expand LCCA practices beyond pavements and into bridge design and other applicable fields in the near future.
For more information about LCCA, RealCost, or future peer exchanges, contact Nathaniel Coley at FHWA, 202-366-2171 (email: nathaniel.coley@fhwa.dot.gov). Information on LCCA and the RealCost software is also available at www.fhwa.dot.gov/infrastructure/asstmgmt/lcca.htm.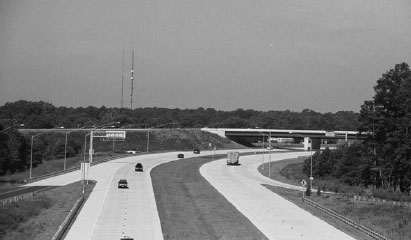 States are using life cycle cost analysis to determine which design alternative will produce the desired results for a highway project at the lowest cost.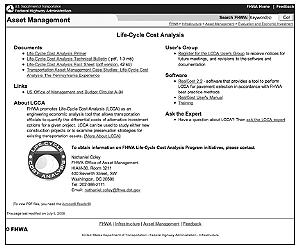 Learn more about life cycle cost analysis at www.fhwa.dot.gov/infrastructure/asstmgmt/lcca.htm.