Publication Number: FHWA-HRT-08-008
Date: November 2007

Asset Management Offers a New Approach to Highway Safety
With more than 40,000 individuals killed annually in motor vehicle crashes in the United States and 1.5 million injured, at a total economic impact of more than $230 billion a year, saving lives and increasing the safety of the Nation's roadways are vital goals of the 2005 Safe, Accountable, Flexible, Efficient Transportation Equity Act: A Legacy for Users (SAFETEA-LU). A new Federal Highway Administration (FHWA) brochure, Highway Safety and Asset Management (Pub. No. FHWA-IF-07-014), looks at how State transportation departments, local road agencies, and metropolitan planning organizations can use transportation asset management (TAM) to identify and prioritize critical safety needs and make strategic investment and program decisions.
An asset management approach takes a long-term view of highway assets, using accurate data and engineering, economic, and investment analysis tools to make informed decisions on how to best allocate resources to operate, maintain, upgrade, and expand physical assets effectively through their life cycle. These tools can assist in collecting and analyzing data, measuring system performance, identifying safety strategies, and developing effective performance measures, as well as evaluating return on investment and conducting risk analysis. "Highway safety information needs to be included in a State's asset management program along with information on pavements, bridges, operations, and maintenance to help ensure optimal usage of limited available funding," says Steve Gaj of FHWA's Office of Asset Management.
Using TAM, agencies can more comprehensively view the big picture and evaluate collected data before making decisions as to which specific safety measures should be deployed and how that should be accomplished. For example, an agency can create a database that not only shows data on crashes occurring on a particular roadway but can also display data on the condition of the roadway, what type of guard rails are in place, the number of lanes, the condition of pavement markings, and other details. Sharing these data among different departments within the agency and with other stakeholders allows agencies to proactively evaluate the roadway condition and take steps to improve safety, instead of waiting until after crashes occur.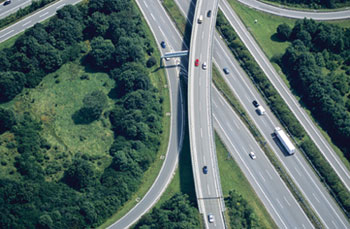 Transportation agencies and metropolitan planning organizations can use asset management to identify and prioritize critical safety needs and make strategic highway investment decisions.
To assist with data collection, FHWA is currently working to establish a Model Minimum Inventory of Roadway Elements (MMIRE). The MMIRE is a recommended inventory of information on roadway assets and traffic data in a standardized format.
States can also identify their highest priority safety program areas, such as intersections, pedestrians, run-off-road incidents, or cross median crashes, and adopt strategic and program goals that focus resources on the areas of greatest need. For example, a target goal of a 20 percent reduction in cross median crashes could include strategies such as installing a median barrier system.
An asset management approach is helping the Florida Department of Transportation (FDOT) better focus its resources. FDOT has stored data about roadway infrastructure assets in its Roadway Characteristics Inventory (RCI) system since 1975. With more than 1 million records, RCI is FDOT's largest database. It is used to track a range of highway assets, including roadway signs, signals, and lighting and their supports and structures; guardrails and barriers; and pavement markings and treatments. Data is recorded on 75 asset features, which are described by 271 characteristics. FDOT's Planning, Maintenance, Traffic Operations, and Safety offices all rely on the database. The Safety office, for example, uses the RCI to collect data for its crash analysis database, while the Planning office uses it to collect Highway Performance Monitoring System data and report on it to FHWA. The data collected is also used to determine the Maintenance office's yearly workloads and budget needs, as well as for resource allocation decisions. "It is a very useful system and very important in planning," says Kirk Hutchison of FDOT.
The benefits of using asset management in safety programs include the ability to make more informed, cost-effective program decisions, maximize transportation system performance and return on investment, simplify tracking of roadway asset locations, improve data collection, and minimize life-cycle costs.
Partnerships are important to the success of asset management initiatives. "Transportation agencies must cross organizational boundaries and bring together diverse stakeholders to work together in improving highway safety," says David Smith of FHWA's Office of Safety. These stakeholders include motor carrier safety organizations, motor vehicle administration agencies, police and fire personnel, and transportation planning organizations. Agencies should also look at their own organizations and work to overcome any internal barriers that may be preventing the successful implementation of asset management. For example, safety-related information and data should be shared with an agency's highway design, pavements, bridge, maintenance, and planning divisions, while pavement management information should be shared with safety divisions.
To learn more about highway safety and asset management or to obtain a copy of FHWA's new brochure, contact David Smith in FHWA's Office of Safety, 202-366-6614 (email: david.m.smith@fhwa.dot.gov), or Thomas Van in the FHWA Office of Asset Management, 202-366-1341 (email: thomas.van@fhwa.dot.gov). Information is also available online at www.fhwa.dot.gov/infrastructure/asstmgmt/amppsafe.htm or http://safety.fhwa.dot.gov.
Using asset management, an agency can create a database that not only shows data on crashes occurring on a particular roadway but can also display data on such details as the type of guard rails in place (left) and the use of cable median barriers (right).