Publication Number: FHWA-HRT-08-008
Date: November 2007

COMPASS Software Points the Way to Improved Concrete Pavements
Are you using yesterday's tools to design today's concrete pavements? As advances in science and technology revolutionize the concrete industry and the traveling public demands better performing, longer lasting pavements and accelerated construction, optimizing your concrete pavement can be more challenging than ever. When designing a mixture, contractors and highway engineers must select from a wider array of ingredients, including a variety of aggregate sources, cement types, chemical admixtures, supplementary cementitious materials, and recycled materials. They must also consider how each ingredient works within the mixture and how a particular environment may affect construction and the overall life-span of the pavement. "What was needed was a mixture optimization tool that could simplify the approach to the mix design and proportioning process based on job-specific conditions," says Peter Kopac of the Federal Highway Administration's (FHWA) Office of Infrastructure Research and Development. To meet this need, FHWA has developed the new Concrete Mixture Performance Analysis System software (COMPASS).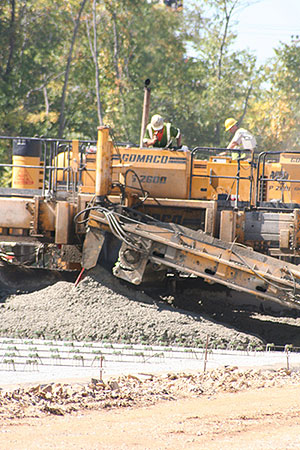 COMPASS can be used to identify the ideal concrete paving mixture for a particular project.
COMPASS grew out of a Web-based application tool, COST (Concrete Optimization Software Tool), that FHWA developed in partnership with the National Institute of Standards and Technology. Following some successful trials of COST, FHWA decided to develop a simplified Windows® version of the software that would be more user-friendly. Using the software, highway engineers and contractors can identify the ideal paving mixture for a particular project, ultimately improving the quality and speed of concrete pavement construction. COMPASS was designed to:
Identify relevant performance criteria for job-specific inputs such as the importance of the project, type of pavement, climatic conditions, construction constraints, and environmental exposures.
Identify applicable mixture performance criteria and recommended test methods.
Assess the impact that changes in materials or proportions, environmental conditions, and construction procedures have on the constructibility and performance of portland cement concrete.
Provide guidance on aggregate blending.
Recommend initial mixture proportions.
Optimize mixture proportions based on multiple job-specific criteria such as strength, cost, and permeability.
COMPASS includes both a Knowledge Base and four computer modules, which cover Performance Criteria and Materials Selection, Gradation, Proportioning, and Optimization. The Knowledge Base is a databank of accredited information on concrete properties, testing materials, material characteristics, and material compatibilities, while the computer modules allow the user to define job-specific inputs and criteria. Each module can be used independently as a stand-alone tool or conjointly to perform a comprehensive analysis that proceeds from module 1 to module 4, building on each consecutive module's analysis.
"Concrete pavement engineers, materials engineers, paving concrete suppliers, and paving contractors can all benefit by using COMPASS," says Kopac. "Engineers can choose and quantify mixture design criteria appropriate for job-specific applications with much more ease and efficiency." State highway agency engineers can use COMPASS to help create standardized specifications for projects, while contractors and suppliers can benefit by using the software to help ensure that their concrete mixtures meet contract specifications. This is increasingly important as more transportation agencies shift to using project warranties. COMPASS can also help contractors minimize their costs and ensure mixture workability and durability.
"I believe COMPASS has great potential for contractors involved with concrete production," says Pete Capon of Rieth-Riley Construction Co. "What I like most is the potential for COMPASS to filter out mix combinations that will either not meet a specification or are not optimized or will be of high risk. This will help on warranty projects. COMPASS will also help streamline the mix design trialing process and will help when talking with suppliers."
The beta version of COMPASS is currently available from FHWA for downloading. An updated version that incorporates feedback from States and contractors will be released in early 2008. For more information on downloading or using COMPASS, contact Peter Kopac at FHWA, 202-493-3151 (email: peter.kopac@fhwa.dot.gov), or J. Mauricio Ruiz at Transtec, 512-451-6233, ext. 232 (email: mauricio@thetranstecgroup.com).