Publication Number: FHWA-HRT-08-007
Date: October 2007

Optimizing Your Highway Construction Operations: What Can HIPERPAV II Do for You?
As highway agencies and contractors face the constant challenge of cost-effectively optimizing their highway construction operations and improving the quality of the final product, the Federal Highway Administration's (FHWA) free HIgh PERformance Concrete PAVing (HIPERPAV®) II software can provide quick and valuable assistance in achieving this balanced goal. The software can also be used to conduct forensic studies of premature pavement distress.
HIPERPAV was first developed in 1996 for use in predicting the early-age behavior of jointed plain concrete pavements (JPCP). FHWA's goal was to provide a total systems approach to simulate potential problems associated with concrete paving before they happen. The software was designed for use by State and local highway agencies, contractors, suppliers, and members of academia. Enhancements added to HIPERPAV II include prediction models for the early-age behavior of continuously reinforced concrete pavements (CRCP) and the effect of early-age behavior factors on long-term JPCP performance.
The end result is money saved and increased profits.
HIPERPAV II models the impact of specific construction operations, concrete batch proportions, geometric design, concrete properties, and environmental factors on early-age pavement strength and stress development during construction. These combined factors, along with traffic loading, affect the overall long-term performance of the pavement. To run the program, users must enter information on such variables as the pavement width, depth, joint spacing, batch proportioning, cement type, and concrete strength, as well as environmental factors. The environmental factors include hourly air temperature, relative humidity, wind speed, and cloud coverage for the first 72 hours after concrete placement. These data can be entered based on the 3-day weather forecast or by using a 30-year historical weather database built into the software. Additional inputs, such as the concrete modulus of elasticity, coefficient of thermal expansion, ultimate shrinkage, and axial restraint at the base-slab interface, can either be estimated based on material types or entered by the user for a more precise analysis.
After the data is entered, a baseline file can be developed with the essential data in approximately 30 minutes. This file can be copied multiple times for quicker analysis in the future. Well in advance of construction, multiple concrete batch proportions can be analyzed with projected construction scenarios and environmental conditions. On the day before or the day of construction, placement time, concrete and base temperature, curing type and application time, and saw-cut time can be analyzed using more accurate geometric, batch, and environmental details.
A recent FHWA survey of HIPERPAV users found that most customers find the software useful for approximating the best time to place concrete in undesirable conditions such as cold or hot weather, as well as for situations where they are required to use high proportions of slag cement or where paving must be done on an unfamiliar base type. Other customers noted that they are using the software as a forensic tool to troubleshoot problems with concrete cracking. And in the academic world, professors and instructors are using the system to illustrate potential paving problems so that they can be avoided in the future.
Since 2006, the Ohio Department of Transportation has required its contractors to use HIPERPAV II on all concrete pavement projects to evaluate early-age cracking potential. An individual HIPERPAV file must be generated for each scheduled concrete placement to document that early-age cracking will not occur. Each file must include information on strategies chosen by the contractor to address all variables that could influence early-age cracking, including weather conditions, changes in concrete temperature, and construction time.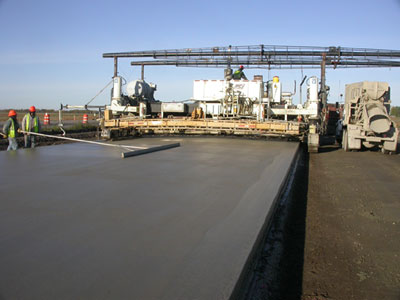 HIPERPAV II provides assistance in optimizing concrete paving and improving the quality of the final product.
The Wisconsin Department of Transportation (WisDOT), meanwhile, offers a customized version of the software to potential users statewide. Created by The Transtec Group, Inc., which developed the original HIPERPAV software for FHWA, HIPERPAV-Wisconsin includes unique Wisconsin data inputs and locally used terminology. For example, the customized cement type selection feature allows users to choose from different cement types available at the local manufacturing plants. The customized software is expected to save WisDOT engineers and contractors hours of time in planning, evaluating complex construction scenarios, and optimally selecting materials and construction factors since the local inputs are already preset in the system.
Contractors are also embracing the software. John Romaine of the Scruggs Company in Hahira, Georgia, has found that HIPERPAV II plays an important role in improving quality, promoting efficiency, and helping control production steps. Romaine uses the software to determine saw-cut times. By running the system every 4 hours, especially in harsh weather conditions such as very hot or very cold temperatures, he can determine when the optimal saw-cut time windows occur and thereby produce a better quality product that will not crack. He can also better organize his subcontractors, thus preventing wasted time on the job. The end result is money saved and increased profits.
"The beauty of this for a contractor is simple," says Romaine. "It gives peace of mind that your end result will be of quality, and you won't have to rip it out and replace it at your own expense because it cracked when you could have prevented it. I would recommend it to any contractor."
For more information on HIPERPAV II or to download the free software, visit www.hiperpav.com. FHWA also offers a 1-day workshop on using HIPERPAV II. For more information or to schedule the workshop in your State, contact Geoffrey Kurgan at FHWA, 202-366-1335 (email: geoffrey.kurgan@fhwa.dot.gov); Gary Crawford at FHWA, 202-366-1286 (email: gary.crawford@fhwa.dot.gov); or Angel Correa at the FHWA Resource Center, 404-562-3907 (email: angel.correa@fhwa.dot.gov).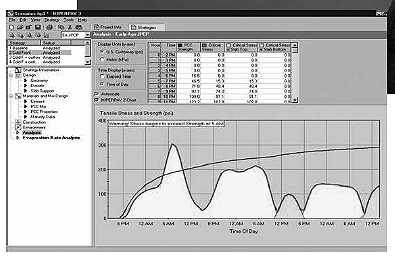 This typical HIPERPAV II analysis screen shows that stress development exceeds the concrete strength.