Publication Number: FHWA-HRT-08-007
Date: October 2007

Help Desk Offers Pavement Preservation Assistance
After a successful first year launch, funding for the Transportation System Preservation Technical Services Program (TSP2) hosted by the National Center for Pavement Preservation (NCPP) has been extended for a second year. Sponsored by the American Association of State Highway and Transportation Officials (AASHTO), TSP2 offers a Help Desk that State transportation departments can call or visit online for information and resources on pavement preservation (see August 2006 Focus). The funding extension was approved in September 2007 by the AASHTO Standing Committee on Highways. The extension will also fund the continuation and further development of regional pavement preservation partnership groups. Based on strong user demand, plans are underway as well to reorganize and expand the TSP2 Web site (www.tsp2.org) to increase technical content, particularly in the area of bridge preservation, and to improve user accessibility and navigation.
"Utilization of the TSP2 Help Desk during the third quarter of 2007 remained brisk, with more than 71,000 Web site hits from State highway agency and local roadway agency practitioners," says NCPP Director Larry Galehouse. The Help Desk has provided assistance and technical support on a range of preservation-related issues, including network evaluation and asset management techniques, life-cycle cost analysis issues, distress classification guidelines, the use of microsurfacing as a layer over deteriorated concrete, and techniques to retard reflective cracking. Other issues addressed include the use of chip seals to stabilize drainage ditches, volumetrics, quality assurance, slurry seal cure times, and bridge deck restoration using chip seals and epoxy coats.
The TSP2 Web site features a System Preservation Technical Library, email listservs where members can post or respond to questions and comments, Bulletin Board System with numerous preservation-related discussion areas, preservation news archive, and event calendar, along with the request system for Help Desk assistance. The Help Desk staff can provide personalized professional assistance on any system preservation-related topic, including treatment technologies, asset management, best practices, certification, and network planning strategies.
TSP2 offers a Help Desk that State transportation departments can call or visit online for information and resources on pavement preservation.
The Indiana Department of Transportation (INDOT) is a member of the Midwest Pavement Preservation Partnership and has received general guidance from NCPP on pavement preservation, as well as assistance with specifications and training. Training programs have covered chip seals and applied asset management. "We've received really good feedback on the training," says Todd Shields of INDOT. "Being a member of the regional partnership has also been very useful."
Any AASHTO member can join the TSP2. Membership in the program costs $6,000 per agency per year. Members are assigned a user name and password that allows them to access material on the program Web site. Membership in a regional pavement preservation partnership is an additional contribution of $3,500 per year. These funds cover the cost of State travel to partnership meetings, as well as meeting organization and facilitation.
For more information on becoming a member of TSP2 or joining a regional partnership, contact Steve Varnedoe at the North Carolina Department of Transportation, 919-733-7621 (email: svarnedoe@dot.state.nc.us). To contact the Help Desk, call 517-432-8220 (email: ncpp@egr.msu.edu), or visit www.tsp2.org. The Web site also features information on the regional preservation partnership activities being scheduled at this time. For more information on pavement preservation, contact Joe Gregory at FHWA, 202-366-1557 (email: joseph.gregory@fhwa.dot.gov), or visit www.fhwa.dot.gov/preservation.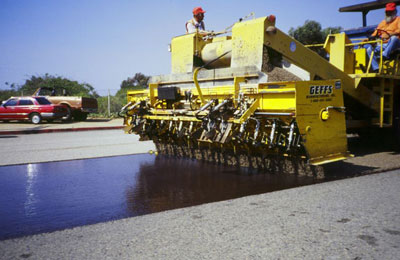 The Help Desk can provide assistance on a range of preservation-related issues, including the use of chip seals.