Publication Number: FHWA-HRT-08-007
Date: October 2007

Better Transportatiowilln Planning in Cincinnati through Economic Analysis
For the Ohio-Kentucky-Indiana Regional Council of Governments (OKI), it's full STEAM ahead on using economic analysis tools to better plan transportation improvements. A new case study released by the Federal Highway Administration's (FHWA) Office of Asset Management, The Ohio-Kentucky-Indiana Council of Governments Experience (Pub. No. FHWA-IF-07-028), looks at how this metropolitan planning organization (MPO) for greater Cincinnati has adapted FHWA's Surface Transportation Efficiency Analysis Model (STEAM) software to aid in prioritizing and selecting projects. "MPOs select almost all of the Nation's urban transportation projects, and are most directly confronted with the tasks of allocating capital improvement resources to accomplish multiple objectives, including congestion relief and infrastructure replacement and reconstruction," said OKI Executive Director Mark Policinski.
OKI uses a transportation system management (TSM) approach to broaden the range of alternatives considered in addressing transportation needs in the region. Instead of focusing primarily on new construction to solve capacity problems, the TSM approach emphasizes better management and operation of the existing system. Using TSM, OKI monitors the performance of the system, identifies alternative strategies to mitigate congestion, and assesses the effectiveness of implemented actions. To aid in the comparison of alternative strategies, OKI uses a prioritization process, in which scores are given to a range of transportation, planning, and cost factors. Projects are then ranked according to their total scores. While OKI had occasionally used economic analysis in the past for corridor projects, the work had to be performed by outside experts and had been limited to very large projects. With the goal of more broadly applying economic analysis, especially benefit-cost analysis, and reducing the cost, OKI has recently explored methods for performing such analysis in-house for surface transportation projects. The agency was particularly looking for tools that would be usable by OKI staff, affordable to obtain and operate, and that would make use of existing data resources and staff skills as much as possible. "Other objectives of importance to OKI in selecting a benefit-cost analysis tool were that the model be recognized by Federal and State partners and be able to accommodate transit as well as highway projects," said Christine Matacic, President of the OKI Board of Directors.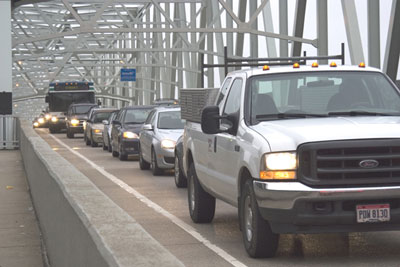 Taylor Southgate Bridge connects Cincinnati, OH, and Newport, KY.
OKI's search led it to FHWA's STEAM software. FHWA developed STEAM in the late 1990s to facilitate detailed corridor and system-wide economic analysis of large transportation projects. STEAM uses trip time, distance, vehicle miles traveled, and other information already generated by travel demand models to compute the net value of mobility and safety benefits attributable to transportation projects. STEAM accepts input directly from the four-step travel demand modeling process that is used by most MPOs in their planning exercises. It allows users to perform risk analysis and can also produce estimates of system-wide impact.
OKI uses a transportation system management (TSM) approach to broaden the range of alternatives considered in addressing transportation needs in the region.
Starting in 2004, OKI integrated the STEAM software with its travel demand model and then worked with FHWA over the next 2 years to make programming changes to STEAM to accommodate the parameters needed, fix constraints encountered, and gain needed technical assistance in updating and interpreting STEAM data. These changes included updating STEAM's economic variables to make them regionally specific for such items as the value of travel time by mode, cost per gallon of fuel, cost per crash, and project capital costs. FHWA also modified the STEAM model to allow users to change the program's default discount rate and to raise the cap on the maximum allowed capital costs of transportation projects.
OKI conducted a trial STEAM evaluation of five projects in 2006. The projects were selected for the trial because their impacts were already well understood based on a completed transportation study. Included were three lane additions, a road extension, and a new interchange. Based on the complementary nature of the projects and OKI's intent to review the projects as a group in the prioritization process, FHWA recommended that the projects be evaluated as a group rather than individually.To facilitate the consolidated project analysis, FHWA developed a new spreadsheet tool known as "STEAMStream." The spreadsheet used the net benefit totals generated by STEAM for discrete analysis years over a 20-year period, interpolated them to intermediate years of the analysis period, and then summed up the benefits and costs to obtain a collective net benefits value. The results showed overall that the group of projects would be cost beneficial, with the findings generally supporting those of the previous transportation study. OKI is now looking at applying STEAM to certain large-scale projects and clusters of related individual projects as part of its planning process. OKI is also investigating the use of a variety of economic analysis tools that can be applied to smaller scale transportation projects.
"The successful trial of the STEAM model, as well as the research into economic analysis that OKI undertook to select and provide data to STEAM, has significantly advanced OKI's agenda of incorporating more economic analysis into our transportation planning process," said Matacic.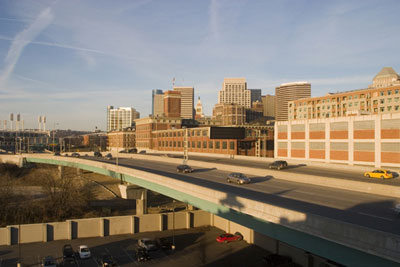 Fort Washington Way travels through Cincinnati, OH.
OKI's experience has also given FHWA important feedback on the STEAM model. FHWA is now developing an improved guidance document for STEAM that will benefit all users of the model. The new guidance will more thoroughly address which types of projects are appropriate for analysis by STEAM, how to develop the appropriate STEAM inputs from the travel demand model for the selected projects, and how to determine if the travel demand model analysis constitutes valid input into the STEAM model. Use of the STEAMStream spreadsheet will also be covered.
The FHWA case study is available online at www.fhwa.dot.gov/infrastructure/asstmgmt/wsoki0700.cfm. To learn more about OKI's use of the STEAM model, contact OKI Senior Planner Mary Luebbers, 513-621-6300, ext. 196 (email: mluebbers@oki.org). For more information on STEAM or to obtain a copy of the model, contact Eric Gabler, 202-366-4036 (email: eric.gabler@dot.gov), or Francine Shaw-Whitson, 202-366-8028 (email: francine.shaw-whitson@fhwa.dot.gov). Information is also available online at www.fhwa.dot.gov/steam. The STEAM Web site features a "Frequently Asked Questions" forum and "Ask the Expert" section, as well as the opportunity to register for the STEAM User's Group.