Publication Number: FHWA-HRT-08-012
Date: April 2008

Green Highways: Partnering to Build More Environmentally Sustainable Roadways
Going green is an everyday goal for the members of the Green Highways Partnership (GHP), a collaborative effort among the Federal Highway Administration (FHWA), U.S. Environmental Protection Agency (EPA), other Federal agencies, State transportation and environmental agencies, industry, trade associations, members of academia, and contractors to encourage environmentally friendly road building. These green practices include using recycled materials in highway construction, improving stormwater management to prevent toxins from leaching into streams and rivers, and protecting critical habitats and ecosystems during the planning and construction of highway infrastructure.
Formed in 2006, the GHP built on the success of the Green Highway Forum held in November 2005 in College Park, Maryland. The forum brought together more than 400 transportation and environmental professionals involved in the planning, design, construction, maintenance, and regulation of transportation projects. As the GHP has grown to include new partners and initiatives, it has formed three teams with a focus on Watershed-Driven Stormwater Management, Recycling and Reuse, and Conservation and Ecosystem Protection.
GHP initiatives within the past year include holding a workshop on "Conserving Resources and Building Infrastructure with Recycled Materials" in Baltimore, Maryland, in August 2007. Sponsored by FHWA, EPA, and the Industrial Resources Council, the workshop was designed to highlight Pennsylvania, Maryland, and Virginia's protocols for the use of recycled materials in highway applications and to lay the groundwork for a continuing Green Highways program in the mid-Atlantic region. "The workshop was an effort to encourage the use of recycled materials, discuss their potential, and identify ways to implement them into everyday highway construction practices," says Jason Harrington of FHWA's Office of Pavement Technology.
"The goal of Green Highways is to promote innovation, stewardship, streamlining, and regulatory consistency and flexibility," noted EPA's Dominique Lueckenhoff at the workshop. "The green highway meets transportation requirements and applies environmental stewardship so both are better than before."
More than 80 attendees exchanged information on recycled material applications and performance, environmental, and cost issues. Materials discussed included foundry sand, coal combustion products, steel slag, tire derived aggregates (TDA), slag cement, mulch, recycled concrete aggregate (RCA), asphalt shingles, and reclaimed asphalt pavement (RAP). Some of the applications of these materials include using them for embankments and structural fill, as a roadway base, and as stormwater mitigation materials.
Maryland reported that it recycled more than 907,000 metric tons (1 million tons) of asphalt and concrete in 2005, as well as 131,543 metric tons (145,000 tons) of fly ash and more than 249,478 metric tons (275,000 tons) of construction debris. Edward Dexter, Administrator of the Solid Waste Program at the Maryland Department of the Environment (MDE), noted that adding fly ash to concrete improves the workability, reduces permeability, and increases durability and strength. Using crumb rubber to modify an asphalt binder can enhance the pavement's performance by reducing fatigue cracking and vehicle tire noise and increase the pavement service life by a third or more. The MDE is currently preparing a manual that will spotlight possible uses for scrap tire-based recycled materials. The manual should be available online at www.mde.state.md.us by the end of the year.
Recycled materials used by the Virginia Department of Transportation (VDOT), meanwhile, include RCA, RAP, TDA, glass, granulated ground blast furnace slag, and fly ash. RCA is used in embankments and as fill for roadway bases. For example, as part of a project on I-66 in Fairfax County, all of the concrete was removed, crushed, and then used as a base for the same project. Fly ash is used as a cementitious material in portland cement concrete, as a mineral filler in hot-mix asphalt (HMA), and in embankment construction.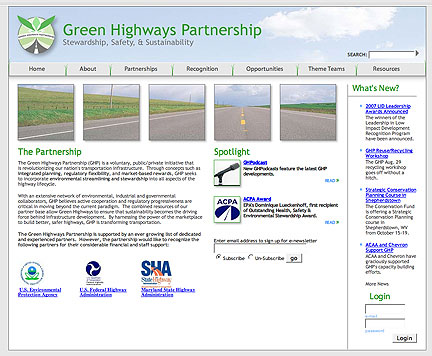 Learn more about the Green Highways Partnership at www.greenhighways.org.
Pennsylvania has also used a range of recycled products in transportation applications, including fly ash as structural fill, scrap tires as lightweight embankment fill, and crumb rubber to modify the asphalt binder for HMA.
Initiatives resulting from the recycled materials workshop include a new GHP effort to better align various State specifications for using recycled materials. And in response to participants' calls for more demonstration sites of successful, real-world applications of recycled materials in highway construction, the GHP is working with VDOT to incorporate recycled materials into multiple projects in 2009. "We are considering three possible projects right now," says Stan Hite, Assistant Materials Engineer for VDOT. "Recycled materials being considered for use include shredded tires, steel slag, asphalt shingles, and foundry sand." Additional materials that will also be considered are coal ash and paper mill sludge compost. Once the projects have been selected, the GHP plans to showcase them in a workshop for the mid-Atlantic States.
For more information about the GHP or to view presentations from the recycled materials workshop, visit www.greenhighways.org (to download presentations, look under "What's New" on the home page and then click on "GHP Reuse/Recycling Workshop"). Information is also available from Jason Harrington at FHWA, 202-366-1576 (email: jason.harrington@fhwa.dot.gov).
FHWA and the Asphalt Recycling and Reclamation Association will hold the First Regional In-Place Recycling Conference in Salt Lake City, Utah, from June 3-5, 2008, to share in-place asphalt pavement recycling technologies and practices with Western States. "The conference will highlight technologies that are good pavement preservation or rehabilitation technologies and are also environmentally friendly and economically viable," says Jason Harrington of FHWA's Office of Pavement Technology. Techniques showcased will include full-depth reclamation, cold in-place recycling, and hot in-place recycling. The conference will also feature a bus trip to a cold in-place recycling project on Interstate 80 in Nevada. "The site visit will offer an opportunity to see how this technology is actually implemented on the roadway and to see the equipment in operation firsthand," says Harrington. Conference attendees will also have the opportunity to participate in a breakout session where they can discuss their own recycling projects with the various speakers and other participants.
For more information or to register for the conference, contact Patte Hahn at the National Center for Pavement Preservation, 517-432-8220 (email: hahnp@egr.msu.edu); Jason Harrington at FHWA, 202-366-1576 (email: jason.harrington@fhwa.dot.gov); or Jason Dietz at FHWA, 916-498-5886 (email: jason.dietz@fhwa.dot.gov).