Publication Number: FHWA-HRT-08-012
Date: April 2008

The Era of Intelligent Compaction Has Arrived
Compaction during the paving process is critical to achieving high-quality and uniform pavement materials and long-lasting roadway performance. However, currently used compaction equipment, operational procedures, and density measurement protocols do not consistently result in the desired compaction and density levels in all areas of the pavement, often leading to reduced service lives. Intelligent compaction (IC), which is now in use in Europe and Asia, can provide better control and oversight of the compaction process, resulting in improved and more uniform compaction, increased productivity, and a reduction in highway repair costs.
To support the advancement of IC technology in the United States, the Federal Highway Administration (FHWA) and State transportation departments have launched a new pooled-fund study, "Accelerated Implementation of Intelligent Compaction Technology for Embankment Subgrade Soils, Aggregate Base, and Asphalt Pavement Materials" (Project No. TPF-5(128)). "The pooled-fund study is designed to accelerate the understanding and implementation of IC technology," says Lee Gallivan of FHWA's Office of Pavement Technology. FHWA has defined IC as a process that includes vibratory rollers equipped with a measurement/control system that can automatically control compaction parameters in response to materials stiffness measured during the compaction process. The roller must also be equipped with a documentation system that allows for continuous recordation of the roller location and the corresponding stiffness-related output. "By integrating measurement, documentation, and control systems, the use of IC rollers allows for real-time corrections in the compaction process," says Gallivan.
Thirteen State departments of transportation have signed up to participate in the pooled fund to date. Pooled-fund participants met with representatives from FHWA; the project consultant, Transtec Group, Inc.; and roller manufacturers Ammann/Case, Bomag, Caterpillar, Dynapac, and Sakai in Dallas, Texas, in January to discuss the project objectives and anticipated outcomes and to view a demonstration of IC rollers. The goals of the study are to:
Accelerate the development of IC quality control/quality assurance (QC/QA) specifications for subgrade soils, aggregate bases, and hot-mix asphalt pavement materials.
Develop an experienced and knowledgeable IC expertise base within the participating State transportation agencies.
Identify and prioritize needed improvements and research for IC equipment and QC/QA field-testing equipment. Prioritization will be based on the potential for simplifying IC usage, achieving greater IC value based on cost benefit analysis, and improving accuracy.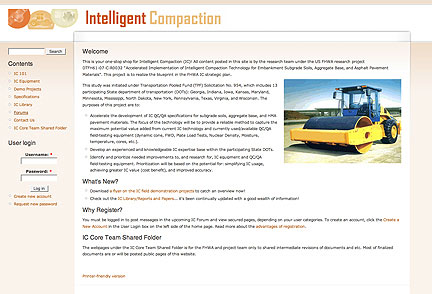 Visit www.IntelligentCompaction.com for more information on the intelligent compaction pooled-fund study.
Over the next 3 years, IC field demonstrations will be held in each of the participating pooled-fund States. The demonstration projects will provide States with training and firsthand experience in using IC and assist in the development of best practices and specifications for IC technology. "The expanding IC technology is anticipated to benefit agencies and industry nationwide," says Gallivan. The field demonstrations will cover one or more of the following material types: granular, noncohesive subgrade soils; fine grain, cohesive subgrade soils; aggregate base materials; and asphalt pavement. Data will be collected on the compacted material and its layer thickness, as well as such properties as density, modulus, moisture, and temperature. Data will also be collected on the IC roller measurement values, including in-situ calibration, operating speed, and frequency/amplitude. A report will be issued on each field demonstration.
To learn more about the pooled-fund study, visit the study Web site at www.IntelligentCompaction.com. "The Web page is designed to be a one-stop location to share knowledge on all intelligent compaction activities in the United States," says George Chang of Transtec. Web site features include an introduction to IC, as well as information on IC equipment, the pooled-fund demonstration projects, and specifications. Also included are an online library of resources, forums where site visitors can ask questions or post comments, and a downloadable flyer that provides more information on the pooled-fund study. "Information on intelligent compaction activities from agencies outside of the pooled-fund States can also be uploaded to the Web site, and those agencies can participate in the various information sharing activities," says Chang.
To join the pooled fund, visit www.pooledfund.org and search for project TPF-5(128). Each participating State is asked to contribute a minimum of $25,000 per fiscal year.
FHWA has established an IC Team that includes members from both FHWA and Transtec. Team members are available to provide technical assistance in advancing the use of IC technology or to speak at conferences and workshops. For more information about IC, to obtain assistance from the IC Team, or to schedule a team member to speak at a conference or workshop in your State, contact Lee Gallivan at FHWA, 317-226-7493 (email: victor.gallivan@fhwa.dot.gov), or George Chang at Transtec, 512-451-6233, ext. 227 (email: gkchang@thetranstecgroup.com).