Publication Number: FHWA-HRT-08-016
Date: August 2008

The Place to Go for System Preservation Technical Assistance
From personalized technical assistance to 24/7 online access to the latest information resources, the Transportation System Preservation Technical Services Program (TSP•2) is helping transportation agencies across the country implement and improve their pavement preservation programs.
Launched 2 years ago, TSP•2 is sponsored by the American Association of State Highway and Transportation Officials (AASHTO) and hosted by the National Center for Pavement Preservation (NCPP) in Okemos, Michigan. The Federal Highway Administration (FHWA) actively supports the TSP•2 effort. The program offers an AASHTO Help Desk that transportation agencies can call or visit online (www.tsp2.org) for information and personalized professional assistance in the area of pavement preservation.
Since the program started, the Help Desk has fielded questions on such topics as preservation treatments, project selection, construction best practices, specification development and implementation, quality control and assurance, network strategy, and pavement management systems. The Help Desk also receives many requests for informational guides, documents, and other publications and videos. A limited number of speaking engagements or onsite visits can be arranged as well.
"We provide timely answers to urgent transportation system preservation questions."
"We provide timely answers to urgent questions," says Larry Galehouse, Director of the NCPP. "The vast majority of requests are handled within one business day or less." Help desk staff can also link practitioners calling about a particular issue or problem with practitioners in other States who can provide assistance. From April 2007 to March 2008, Help Desk requests increased nearly 90 percent over the previous year, while page "hits" on the TSP•2 Web site amounted to approximately 710,000 page views. "More and more, States are seeing the Help Desk and Web site as places where they can go to get up-to-date information and practical assistance in the preservation area," says Galehouse.
Mike Doran of the Tennessee Department of Transportation has contacted the Help Desk on several occasions, including a request for training for his agency on using preventive maintenance techniques such as chip sealing. "I've been very happy with the assistance provided. The staff has been great to work with and very helpful," says Doran.
Other States recently receiving assistance include New York. Dave Smith of the New York State Department of Transportation contacted the Help Desk with a question about construction practices for microsurfacing. "It was the first time I had contacted the Help Desk and the help I received was excellent. They got back to me right away," says Smith.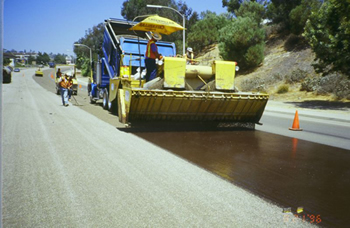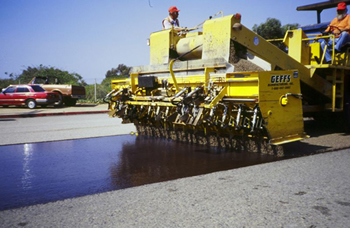 The TSP•2 program provides personalized technical assistance with pavement preservation techniques and strategies, including the chip seals shown here.
The TSP•2 Web site offers a range of resources for practitioners, including an online library of nearly 800 technical papers and reports, videos, and downloadable software. Other popular features include a photo gallery of pavement preservation treatments, Surface Treatment Selection Tool, bulletin boards and email listservs, news archive, downloadable presentations by State and industry practitioners, and a calendar of upcoming events. While some sections of the Web site were previously password protected, those restrictions were lifted in January 2008 and the entire site is now open to State transportation departments, local governments, and other visitors.
Another important aspect of the TSP•2 program is its work with State agencies, FHWA, industry, and academia to establish regional Pavement Preservation Partnerships. These partnerships are now active across the country. "The partnerships facilitate the exchange of information on pavement preservation techniques and provide support to State and industry efforts," says Galehouse.
"The regional partnerships are key to advancing pavement preservation nationwide. We have seen a lot of enthusiasm as the groups have been established in the past year. They allow members to go into more detail and share technologies and resources with each other," says Steve Varnedoe of the North Carolina Department of Transportation (NCDOT) and chair of the AASHTO TSP•2 Oversight Panel. "If one State tries a new technique, representatives from adjoining States can come visit the project, for example. And, as the number of States implementing pavement preservation programs increases, that will attract greater industry and contractor support." Regional Pavement Preservation Partnerships have been formally established for the Northeast, Southeast, Midwest, Rocky Mountain, and Pacific/Western regions. More information on the partnerships and their activities is available at www.tsp2.org.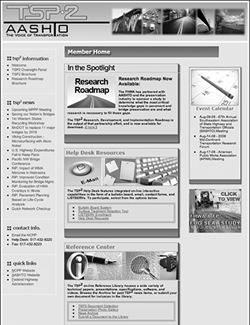 As the TSP•2 enters its third year of providing assistance and support, planning is underway to expand the scope of the program by launching a bridge preservation component. In support of this effort, regional Bridge Preservation Partnerships are now being formed. The University of Kentucky and the University Transportation Center at Northwestern University are providing financial assistance for establishing the regional bridge partnerships. "These partnerships can benefit States and universities alike. Researchers can learn of maintenance and performance needs and can provide both the applied and fundamental research needed by the maintenance and preservation community," says Jim Sorenson of FHWA's Office of Asset Management.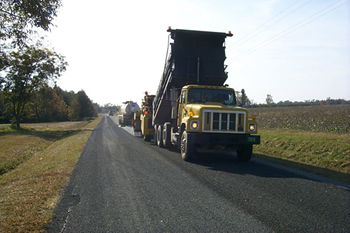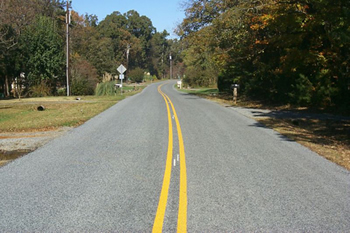 The TSP•2 Help Desk can answer questions on such topics as preservation treatments, construction best practices, and quality control and assurance.
The TSP•2 is supported by an AASHTO voluntary fund. Any AASHTO member can join the TSP•2. Membership in the program costs $6,000 per agency per year. Membership in a regional Pavement Preservation Partnership is an additional contribution of $3,500 per year. These funds cover the cost of State travel to partnership meetings, as well as meeting organization and facilitation. With the AASHTO TSP•2 Oversight Panel recommending that similar services be provided for bridge preservation, the total cost of the combined program is estimated to be $20,000 annually. These funds would provide for both pavement and bridge expertise and technical support, as well as organizing and facilitating regional meetings for State maintenance practitioners in both the pavements and bridge areas. This action is expected to be considered by AASHTO at its fall 2008 meeting, to be held October 16-20, 2008, in Hartford, Connecticut.
For more information on becoming a member of TSP•2 or participating in a regional Pavement Preservation or Bridge Preservation Partnership, contact Steve Varnedoe at NCDOT, 919-733-7621 (email: svarnedoe@ncdot.gov). To contact the TSP•2 Help Desk, call 517-432-8220 (email: ncpp@egr.msu.edu), or visit www.tsp2.org. For more information on pavement preservation or to learn more about the startup efforts for the bridge preservation program, contact Jim Sorenson at FHWA, 202-366-1333 (email: james.sorenson@fhwa.dot.gov), or visit www.fhwa.dot.gov/preservation.
Pavement Preservation Resources
AASHTO TSP•2 Help Desk
517-432-8220; ncpp@egr.msu.edu; www.tsp2.org
National Center for Pavement Preservation: www.pavementpreservation.org
FHWA Preservation Web Site:www.fhwa.dot.gov/preservation
Foundation for Pavement Preservation: www.fp2.org