Publication Number: FHWA-HRT-08-016
Date: August 2008

All Construction, All the Time
The Federal Highway Administration's (FHWA) new Construction Web site (www.fhwa.dot.gov/construction) brings a world of resources on highway construction together in one convenient location. For everything from technical guidance to publications to information on available training, one stop at the Construction Web site is now all you need.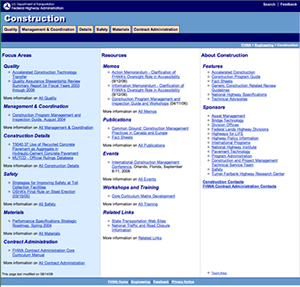 The site features five focus areas: quality, management and coordination, construction details, safety, and materials. Each focus area includes information on such topics as publications, technical advisories, FHWA memos, fact sheets, and FHWA's Construction Program Guide. A "Resources" section gathers details on memos, publications, events, and workshops and training for all of the focus areas, while a "Related Links" feature includes links to State transportation agency Web sites and FHWA's National Traffic and Road Closure site. A "Features" section includes guidance on accelerated construction and information on the National Highway Specifications Web site.
The site's comprehensive list of contacts includes FHWA staff who can assist in the following areas:
Claims.
Contract administration.
Inspection techniques.
Partnering.
Process review.
Project review.
Quality assurance.
Work zone and worker safety.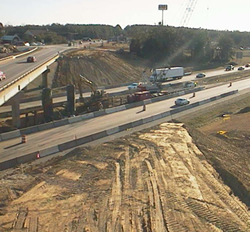 A range of resources on highway construction are available online at www.fhwa.dot.gov/construction.
To find the highway construction resources you need today, visit www.fhwa.dot.gov/construction. For additional assistance, send an email to construction@fhwa.dot.gov. To visit FHWA's other topic-based Web sites, see sidebar below.