Publication Number: FHWA-HRT-08-016
Date: August 2008

Seminar Offers One-Stop Information Source for Building More Corrosion-Resistant Bridges
The Federal Highway Administration's (FHWA) Corrosion-Resistant Reinforcing Bar Seminar offers a one-stop opportunity to find out more about the many types of products now available to prevent reinforcing bar corrosion in bridges, resulting in a longer bridge service life. Presented by the FHWA Resource Center's Structures Technical Service Team (TST), the free 1-day seminar highlights the range of corrosion-resistant technologies available, including solid stainless steel, stainless steel-clad, micro-composite metallic, epoxy-coated, hot-dipped galvanized, combination zinc and epoxy-coated, and fiber-reinforced polymer (FRP) composite reinforcing bars. Also discussed is a laboratory investigation into various alternative reinforcing bars.
"The seminar covered the range of what's available right now and was very useful to our staff. The feedback has been very positive."
The seminar covers both deployment and cost considerations for each technology. The material costs for corrosion-resistant reinforcing bars range from a 5 to 10 percent increase for epoxy-coated reinforcing bars, over traditional black steel, up to the increased material costs for solid stainless steel reinforcing bars, which on average are at least four times the amount for black steel. "The higher initial costs of the corrosion-resistant bars need to be evaluated on a life-cycle cost basis, taking into account the extended bridge deck service life that results from using the bars. Savings in roadway user costs that would result from delaying bridge rehabilitation or replacement also have to be considered," says Lou Triandafilou of FHWA's Structures TST.
FHWA presented two sessions of the seminar in New York State in February 2008, drawing more than 90 attendees in Albany and 25 in Syracuse. "The seminar covered the range of what's available right now and was very useful to our staff. The feedback has been very positive," says Art Yannotti, Director of the New York State Department of Transportation's Structures Design Bureau. "We have used galvanized and stainless steel reinforcing bars in a few locations and are now looking into using FRP composite bars."
A seminar held in Louisville, Kentucky, in February also proved to be popular, drawing about 25 participants. The Kentucky event was geared toward personnel working on the planning and design of the $4.2 billion Ohio River Bridges Project, which will include the construction of two new bridges connecting Indiana and Kentucky. Staff from the Indiana Department of Transportation and Kentucky Transportation Cabinet attended the seminar, as well as FHWA staff and consultants working on this mega project. "The seminar was very successful and was timely in terms of the project design, as the bridge designers are considering what type of reinforcing bar will be used and analyzing the cost considerations for stainless steel and other technologies," says George Jones of FHWA's Kentucky division office.
Rhode Island also hosted the seminar in March in Providence. The 25 attendees included Rhode Island Department of Transportation and FHWA and consultant engineering staff involved in planning the replacement of the Sakonnet River Bridge. The bridge carries Rhode Island State Route 24 over the Sakonnet River between Portsmouth and Tiverton in Newport County, Rhode Island.
For more information on the seminar or to host one in your State, contact Lou Triandafilou at the FHWA Resource Center, 410-962-3648 (email: lou.triandafilou@fhwa.dot.gov).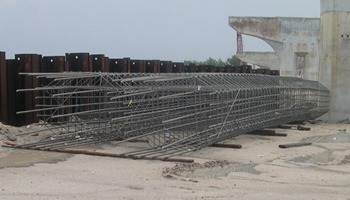 Corrosion-resistant technologies available now for use in bridge construction include solid stainless steel reinforcing bars.