Publication Number: FHWA-HRT-09-009
Date: December 2008

Advancing Pavement Performance Measurement in the United States and Europe
How can you use performance indicators to better measure pavement performance and improve overall roadway system management, resulting in more efficient and cost-effective highway design, construction, and maintenance? New initiatives in both the United States and Europe are aimed at improving and standardizing how pavement performance is assessed.
A recent project completed by COST, an intergovernmental framework for European Cooperation in the field of Scientific and Technical Research, developed a method for standardizing how pavement performance is assessed across the European Union. Twenty-three European countries and the Federal Highway Administration (FHWA) participated in COST Action 354, "Performance Indicators for Road Pavements." "The partnering involved in this effort was significant, representing a major step forward in performance measurement for pavements," says Katherine Petros of FHWA, who served as the U.S. delegate to the COST 354 initiative.
The project developed a flexible system of single, combined, and general performance indices for pavements using a 0 to 5 scale, with 0 representing a pavement in very good condition and 5 a pavement in very poor condition. The single performance indices assess key properties of pavements, including:
Longitudinal evenness.
Transverse evenness.
Macro-texture.
Friction.
Bearing capacity.
Noise.
Air pollution.
Cracking.
Surface defects.
The combined performance indices assess how the pavement's condition contributes to roadway safety, user comfort, structural performance, and environmental impact. Finally, the highest level of assessment is the calculation of a General Performance Indicator (GPI), which characterizes the overall pavement condition at the network level. As project participants noted in the COST 354 final report, The Way Forward for Pavement Performance Indicators Across Europe, the GPI "is a useful tool for decision-makers to assess the general condition of the network and to evaluate future strategies and consequent funding requirements."
To learn more about the COST 354 initiative or to download the final report, visit http://cost354.zag.si. A follow-up initiative to support broad implementation of the results within European road administrations is envisioned, according to Johann Litzka, chair of the COST 354 initiative.
U.S. initiatives to advance the use of performance measurement for roadways include the formation this year of a new American Association of State Highway and Transportation Officials' (AASHTO) Standing Committee on Performance Management. The new committee replaces the AASHTO Standing Committee on Quality. The committee will focus on organizational management; systems performance; and Federal policy, regulations, and programs. In announcing AASHTO's priorities for 2008, then-AASHTO president Pete Rahn, director of the Missouri Department of Transportation, noted that States must embrace new strategies that demand accountability and performance management.
One transportation agency already implementing new strategies is the North Carolina Department of Transportation, which is transforming the way it does business to operate as a results-based, accountable, performance organization. This transformation includes installing an "Organizational Performance Dashboard" on its Web site (www.ncdot.org), which tracks agency performance in such areas as infrastructure health and delivery rates for planning, design, construction, and maintenance activities.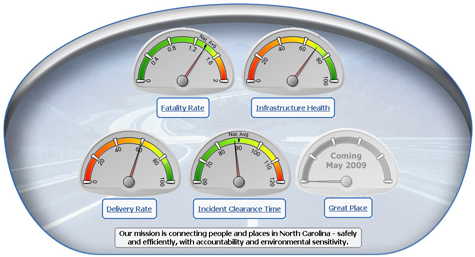 An Organizational Performance Dashboard on the North Carolina Department of Transportation's Web site, www.ncdot.org, tracks agency performance in such areas as infrastructure health..
For more information on performance measurement, contact Katherine Petros at FHWA, 202-493-3154 (email: katherine.petros@fhwa.dot.gov). FHWA also sponsors an online Performance Measurement Knowledge Exchange, which can be visited at http://knowledge.fhwa.dot.gov/cops/pm.nsf/home.