Publication Number: FHWA-HRT-09-009
Date: December 2008

Partnering for Progress: The 2008 National Hydraulic Engineering Conference
With the theme of "Partnering for Progress in a Changing Environment," the Federal Highway Administration's (FHWA) 2008 National Hydraulic Engineering Conference (NHEC) brought together more than 200 participants to discuss knowledge and tools for meeting current and future challenges in hydraulic engineering.
Held in Portland, Maine, from August 26-29, 2008, the conference was cosponsored by the Maine Department of Transportation (MaineDOT), American Association of State Highway and Transportation Officials, and the U.S. Army Corps of Engineers' Cold Regions Research Laboratory (CRREL). Attendees came from 46 States and three Canadian provinces, including representatives from State transportation agencies, other Federal and State government agencies, universities, and consulting firms. "One of the best parts of this year's conference is that it included not only practitioners but also policy makers and regulators," says conference steering committee member Karuna Pujara of the Maryland State Highway Administration.
Conference keynote speaker Myint Lwin, director of the FHWA Office of Bridge Technology, spoke of the critical need to establish partnerships to overcome existing and future hydraulic engineering challenges. These challenges include environmental considerations, aging infrastructure, tighter budgets, and personnel limitations. The importance of partnerships and collaboration was also highlighted throughout the conference sessions, which covered such topics as water quality, bridge and culvert hydraulics and scour, innovative solutions to hydraulic issues, climate change impacts on transportation, asset management, fish passage, and the coastal and tidal environment. "All of the topics at this year's conference were timely, focusing on what people want to hear about right now," says Charles Hebson, chief hydrologist for MaineDOT.
"Sessions of particular interest to participants included ones on fish passage and asset management, as well as countermeasures for bridge scour," notes Eric Brown of the FHWA Resource Center. The popular "Progress in Fish Passage" session focused on examples of various agency methodologies for designing fish passage culverts and FHWA's ongoing initiative to develop a design approach. "The turnout was quite high for this session, with participants including biologists, fisheries representatives, and environmental scientists, as well as engineers," says Hebson.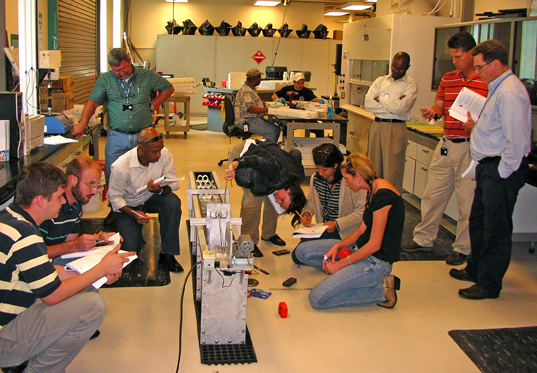 FHWA's portable wave flume is demonstrated at a Highways in the Coastal Environment training course held in Gainesville, Florida, in February 2008. Eight training course participants are viewing the demonstration. Two participants are sitting at a desk in the background.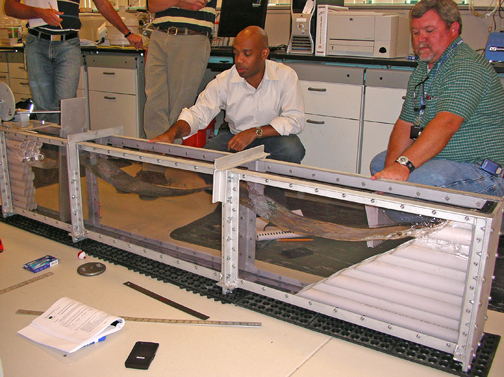 A close-up view of the FHWA portable wave flume demonstration at a Highways in the Coastal Environment training course held in Gainesville, Florida, in February 2008. Two training course participants are visible next to the flume.
Another highlight of the conference was the FHWA wave flume. This portable flume was used to demonstrate coastal engineering concepts, such as the effects of waves on bridge structures. The flume is regularly used in FHWA's National Highway Institute (NHI) course, Highways in the Coastal Environment (Course No. FHWA-NHI-135082). The 3-day course teaches concepts and terminology of coastal science and engineering for use in planning and designing coastal roads. Topics covered include waves, tide and water levels, shoreline change and stabilization, coastal geology and sediments, and road overwash. For more information on the course, visit www.nhi.fhwa.dot.gov.
Conference attendees also toured the CRREL in Hanover, New Hampshire. Laboratory staff research solutions for design issues encountered by engineers in cold regions, including the design of cold weather pavement subgrade. To learn more about the CRREL's work and opportunities to partner with the laboratory, visit www.crrel.usace.army.mil.
The next NHEC will be held in 2010. To keep up to date on plans for the next conference or for more information on hydraulics engineering, visit FHWA's Hydraulics Engineering Web site at www.fhwa.dot.gov/engineering/hydraulics/index.cfm. For more information on the 2008 conference or obtaining a copy of the conference presentations, which will be available in January 2009, contact Cynthia Nurmi at the FHWA Resource Center, 404-562-3908 (email: cynthia.nurmi@fhwa.dot.gov).