Publication Number: FHWA-HRT-08-010
Date: January/February 2008

FHWA Releases New User Guides for Surface Water and Watershed Modeling
With step-by-step tips and instruction, the Federal Highway Administration (FHWA) Resource Center's new Surface Water Modeling System User Guide and Watershed Modeling System User Guide provide an introduction to both hydraulic and hydrologic modeling. The guides were developed by the Resource Center's Geotechnical and Hydraulics Technical Service Team.
The Surface Water Modeling System (SMS) is a graphical user interface (GUI) that can be used to construct, edit, and display finite element networks for hydraulic modeling. It can also be used to view model results. SMS was developed at the Environmental Modeling Research Laboratory (EMRL) at Brigham Young University in Provo, Utah. While SMS can be used in conjunction with various hydraulic models, FHWA's new guide focuses on the Two-Dimensional Depth-Averaged Flow and Sediment Transport Model (FST2DH).
FST2DH and SMS are used by highway hydraulic engineers to model highway crossings and structures in riverine, estuarine, and tidal environments. The development of two-dimensional surface water flow velocities allows for better representation of flow patterns through and around structures as compared to one-dimensional models, and can also provide more accurate determinations of water surface elevations.
FST2DH can perform either steady-state or dynamic-flow modeling and provide analysis of highway crossings and structures, including bridges, culverts, weirs, roadway embankments, bridge piers, and drop-inlet spillways. The model also simulates the movement of water and noncohesive sediments in rivers, estuaries, and coastal waters by applying the finite element method.
The Watershed Modeling System (WMS), meanwhile, is an integrated hydrologic modeling program that can be used to create digital representations of watersheds. Also developed by EMRL, WMS can assist in preparing, editing, and running common hydrologic models and viewing the results. The program uses digital topography, land use, and soil type data that can easily be downloaded online and imported into the program. Instead of users having to manually delineate watershed boundaries and hand calculate watershed runoff, WMS automatically performs these procedures using the imported digital elevation files or geographic information system files. The program can also be employed to compute peak flows at a given area of interest in a watershed, develop hydrographs for evaluating detention ponds, analyze inlets and storm drains, and evaluate culverts.
"Both the SMS and WMS user reference guides provide individuals who are new to two-dimensional surface water and watershed modeling with helpful tips on getting started with the software," says Eric Brown of the FHWA Resource Center. The guides include general information on how to download, install, register, and update the software. Also covered are such topics as importing background images and topographic data for use in constructing models, managing files and saving project data, and building and running two-dimensional surface water and watershed models. Users can also find guidance on how to run the FST2DH finite element surface water model and troubleshoot problems encountered while modeling.
As the guides are geared toward beginners, they are not intended to be all-inclusive and many of the more advanced modeling features of the software programs have therefore been omitted or are covered only briefly.
To obtain copies of the user guides or for more information on the SMS guide, contact Eric Brown at the FHWA Resource Center, 410-962-3743 (email: eric.brown2@fhwa.dot.gov). To learn more about the WMS guide, contact Veronica Ghelardi at the FHWA Resource Center, 720-963-3240 (email: veronica.ghelardi@fhwa.dot.gov). For technical questions related to hydrologic and hydraulic modeling projects or information on available training on the SMS and WMS software, contact Larry Arneson at the FHWA Resource Center, 720-963-3200 (email: larry.arneson@fhwa.dot.gov).
All Hydraulics Engineering, All the Time
FHWA's Hydraulics Engineering Web site features information on scour technology, bridge hydraulics, culvert hydraulics, highway drainage, hydrology, and environmental hydraulics. Resources include information on software, publications, policy and memos, training and workshops, and upcoming conferences. Also featured are a list of FHWA contacts and links to related Web sites. Visit the site online at www.fhwa.dot.gov/engineering/hydraulics/index.cfm.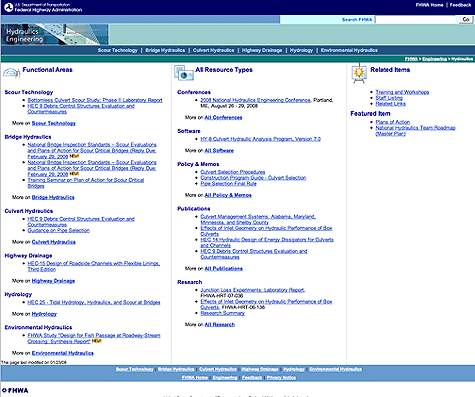 2008 National Hydraulic Engineering Conference
Featuring the theme of "Partnering for Progress in a Changing Environment," the 2008 National Hydraulic Engineering Conference (NHEC) will be held in Portland, Maine, from August 26-29, 2008. The event is the result of a partnership among the Federal Highway Administration (FHWA), Maine Department of Transportation, American Association of State Highway and Transportation Officials, and the U.S. Army Corps of Engineers Cold Regions Research and Engineering Laboratory (CRREL). The NHEC is designed to equip participants with additional knowledge and tools to meet current and future challenges in hydraulic engineering. These challenges include a changing hydrological climate, broadened environmental considerations, tighter budgets and personnel limitations, and aging infrastructure. The conference will also emphasize the vital roles of multifaceted project teams and collaborations in successful project development and implementation. Current research studies, state-of-the-art technologies, and design approaches will all be highlighted.
The conference will include sessions on Climate Change Impacts on Transportation, Asset Management, Water Quality, Bridge and Culvert Hydraulics and Scour, Innovative Solutions to Hydraulic Issues, Fish Passage, and the Coastal and Tidal Environment. Also featured will be a tour of the CRREL Laboratory in Hanover, New Hampshire. The laboratory researches solutions for design issues encountered by hydraulic engineers in cold regions. To learn more about the laboratory, visit www.crrel.usace.army.mil.
For more information on the NHEC, visit www.fhwa.dot.gov/engineering/hydraulics/conferences/20071012.cfm or the conference Web site at www.maine.gov/mdot-stage/nhec. Information is also available from Cynthia Nurmi at the FHWA Resource Center, 404-562-3908 (email: cynthia.nurmi@fhwa.dot.gov).