Publication Number: FHWA-HRT-08-015
Date: July 2008

Ninth International Conference on Concrete Pavements: Tomorrow's Concrete Pavements Today
Enter the "Golden Gate to Tomorrow's Concrete Pavements" at the Ninth International Conference on Concrete Pavements, to be held August 17-21, 2008, in San Francisco, California. The conference will present information on new technologies related to the design, construction, and rehabilitation of concrete pavements, including continuously reinforced concrete pavements, ultra-thin whitetopping and thin concrete paving, pavement analysis and performance prediction, concrete mix design, fiber-reinforced concrete pavements, and pavement ride quality and safety. Twenty different sessions on various topics will be offered, as well as optional site visits to local construction projects on the last day of the conference.
"Emphasis will be placed on implementable products and techniques that result in long-lasting new and rehabilitated concrete pavements, as well as the use of concrete to rehabilitate other types of pavements," says Conference Steering Committee member Shiraz Tayabji of Fugro Consultants, Inc.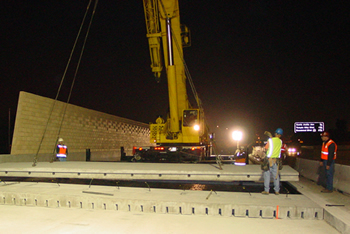 Precast concrete pavements will be among the "hot topics" to be featured at the Ninth International Conference on Concrete Pavements.
The conference will also feature nine "hot topic" workshops on:
Concrete pavement preservation.
100-year concrete pavements.
Continuously reinforced concrete pavements.
Mechanistic-Empirical Pavement Design Guide concrete design implementation.
Alkali-silica reactivity research.
Innovative methods and materials.
Precast pavements (in conjunction with the Federal Highway Administration's (FHWA) Highways for LIFE program).
Advancements in airport pavement research and practices.
Sustainability of concrete pavements.
"The workshop series will provide global perspectives on emerging design, materials, and construction topics; and participants will be provided with hands-on problem solving opportunities where possible," says Sam Tyson of FHWA's Office of Pavement Technology. Workshop attendees are encouraged to bring their own laptop computers to the workshops to participate in hands-on software demonstrations.
"Precast concrete pavement systems are one of the vanguard technologies that we're promoting to transportation agencies around the Nation as a feasible alternative treatment for portland cement concrete repairs, rehabilitation, and construction when work zone lane occupancy requirements drop below 12 hours," says Tim LaCoss of FHWA's Highways for LIFE program. "We will be taking advantage of this opportunity to sponsor the digital videotaping of the Precast Pavements Workshop for wider distribution after the conference."
Organized by the International Society for Concrete Pavements (ISCP), conference sponsors also include FHWA, American Concrete Pavement Association, Transportation Research Board, Portland Cement Association, and the California Department of Transportation.
The conference is aimed at Federal, State, and municipal engineers; consulting engineers; contractors; materials suppliers; and members of academia.
For more information or to register, visit www.concretepavements.org. Information is also available from Tim LaCoss at FHWA, 518-431-4125, ext. 260 (email: timothy.lacoss@fhwa.dot.gov), or Katie Hall at Fugro Consultants, Inc., 847-549-8568 (email: kthall64@comcast.net).