Publication Number: FHWA-HRT-08-014
Date: June 2008

Extending the Life of Roads and Bridges in Louisiana
Recent changes at the Louisiana Department of Transportation and Development (LADOTD) have provided a new emphasis on addressing the preservation needs of Louisiana roads and bridges. In 2005, LADOTD created a Systems Engineering Division, which included a newly formed System Preservation section. This office manages Louisiana's Pavement Preservation Unit, as well as a new Bridge Preventive Maintenance Unit that was formed to meet the equally important need of extending the service life of the State's bridges. The System Preservation office promotes preservation strategies statewide and also provides technical expertise to LADOTD's district offices on plan development and specifications when needed.
"The Pavement Preservation Unit was formed from groups that had previously been housed in the design and maintenance areas. This unit is now in a better position to manage our pavement preservation program and is continuing the pavement preservation work that had been underway in Louisiana for some time," says Janice Williams, Chief of LADOTD's Systems Engineering Division. In addition to its continuing pavement preservation initiatives, LADOTD began developing the new Bridge Preventive Maintenance Program in 2006. "It is our goal to apply a systematic procedure in choosing bridge structures for the program that are in good overall condition but are exhibiting deficient bridge elements," says program manager Danny Tullier of LADOTD. "This initiative allows us to fund bridge preventive maintenance activities and extend the bridge service life."
"This initiative allows us to fund bridge preventive maintenance activities and extend the bridge service life."
One major hurdle LADOTD faced was determining how to fund the new program. For several years, funding for pavement preservation projects in Louisiana had consisted of a combination of State and Federal funds, with the balance shifting as needed depending on budget levels. LADOTD aimed to use Federal-aid Highway Bridge Program funds for the Bridge Preventive Maintenance Program, to take advantage of changes in Federal Highway Administration (FHWA) policies on funding preventive maintenance activities for roads and bridges. To see the current FHWA guidance, visit www.fhwa.dot.gov/preservation/100804.cfm. In addition, the Safe, Accountable, Flexible, Efficient Transportation Equity Act: A Legacy for Users (SAFETEA-LU) Technical Corrections Act, enacted June 6, 2008, changed the Federal Highway Bridge Replacement and Rehabilitation Program to the Highway Bridge Program and places greater emphasis on systematic preventive maintenance.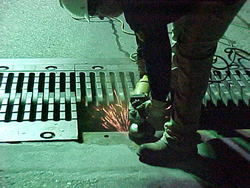 A worker prepares the surface for the placement of new finger joints on the Inner Harbor Canal Bridge in New Orleans, LA.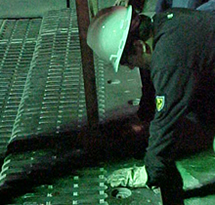 Installation of a new finger joint section on the Inner Harbor Canal Bridge in New Orleans, LA.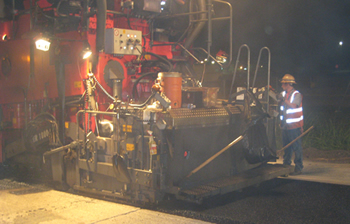 An ultra-thin hot-mix asphalt overlay is applied as a preventive maintenance treatment on I-20 in Louisiana. The Louisiana Department of Transportation and Development's System Preservation office promotes preservation strategies statewide for both roads and bridges.
FHWA's guidance on the eligibility of bridge preventive maintenance activities for Federal-aid funding requires that a systematic process be used to select cost-effective preservation treatments. This was a challenge for LADOTD, as it had started using the Pontis® Bridge Management System, which would meet the FHWA requirements, but the program did not yet contain enough data. To meet the eligibility requirements, the agency developed an interim procedure for systematically selecting projects for the bridge preventive maintenance program while Pontis is being implemented.
Originally developed by FHWA, Pontis is now available from the American Association of State Highway and Transportation Officials as an AASHTOWare® product. Pontis can be used to store highway bridge inventory and inspection data. The software provides a systematic procedure for allocating resources to preserve and improve highway bridges by considering both the costs and benefits of maintenance policies versus investments in improvements or replacements. LADOTD has completed training its bridge inspectors to use Pontis for element-level inspections and expects to have inspection data on all of its bridges entered into the Pontis system over the next 2 years. "We will switch to using Pontis as the 2-year cycle of inspections is completed," says Tullier.
In 2007, FHWA approved the use of Federal-aid Highway Bridge Program funds for the Louisiana Bridge Preventive Maintenance Program. Initial funding for the program was set at $3 million per year. Three pilot projects were selected for fiscal year 2007-2008.
"Starting small allows both the State and FHWA's Louisiana division office to gain valuable experience in using cost-effective preservation techniques and treatments," says Jim Sorenson, FHWA's Construction and System Preservation Team Leader. "For over 100 years, FHWA cofunded bridge construction and the rehabilitation of functionally obsolete or structurally deficient bridges. FHWA could not fund maintenance and preservation activities, however. The 1991 Intermodal Surface Transportation Efficiency Act and subsequent legislation have brought about a significant change in how we fund and manage our transportation infrastructure. It has taken time to create the flexibility for FHWA to partner with the States in using their resources and limited public dollars to provide the traveling public with the safe, efficient transportation network that they expect."
The following preventive maintenance activities are approved under Louisiana's interim program:
Deck joint repair and replacement.
Bearing repair and replacement.
Localized deck repairs.
Spot painting.
Deck sealing.
Grid deck section repair or localized section replacement.
Concrete repair on pedestals, bents, caps, piling, piers, and columns.
Bridge deck drainage.
Candidate structures for preventive maintenance are selected and programmed by applying approved criteria to LADOTD's database of the State's bridges. The agency's interim bridge management program identifies bridges classified in good structural condition that have deficiencies in the deck, deck joints, bridge deck drainage, the superstructure, or the substructure. The deck joints category targets deficient fixed or expansion joints, with the aim of preventing safety issues caused by loose armored plates or contamination of the substructure elements caused by water and chlorides leaking through the joint seals. For bridges with deficient substructures, LADOTD focuses on repairing spalls on common substructure elements. In the deck and superstructure category, the agency concentrates on maintaining the bridge's primary elements in good condition to preserve the structural integrity of the bridge. And in the area of bridge deck drainage, LADOTD addresses water drainage and safety concerns caused by ponding and excessive runoff from restricted drain openings. If a candidate bridge qualifies for preventive maintenance work in numerous categories, LADOTD considers either rehabilitating or replacing the structure, as the scope of work would be beyond the Bridge Preventive Maintenance Program.
LADOTD sends a list of candidate bridges to each of its nine districts. The districts can prioritize projects or activities based on local needs. An LADOTD committee then reviews the recommendations from the districts and selects a final list of projects. "The districts have responded very positively to the program and are in favor of it," says Tullier. He has visited all nine districts to talk about the new program and answer questions. The first projects selected for the program will be let in June 2008. Two deck spall repair projects will be performed, with one on U.S. 90 in the New Orleans area and another on I-10 between Baton Rouge and Lafayette. The third project selected involves expansion joint replacements on I-49, LA 1, and U.S. 71 in Alexandria.
"As the price of materials such as steel continues to increase, it will severely impact our ability to replace bridges. This makes preserving bridges even more important," says Bill Temple, Chief Engineer for LADOTD. "States are now getting serious about bridge preservation."
For more information on Louisiana's Bridge Preventive Maintenance Program, contact Danny Tullier at LADOTD, 225-379-1355 (email: DannyTullier@dotd.la.gov). To learn more about Pontis, visit www.aashtoware.org (choose "Software" and then "Pontis"). An FHWA tutorial on Pontis, "Getting Started with Pontis 4.4," is available online at www.fhwa.dot.gov/infrastructure/asstmgmt/pontis. For more information on bridge preservation, contact your local FHWA division office or Wade F. Casey in FHWA's Office of Asset Management, 202-366-4606 (email: wade.casey@fhwa.dot.gov).