A Composite Solution to Repairing Overhead Sign Structures
States can prolong the life of aluminum overhead sign structures on highways and save money on the cost of repair and replacement with the use of fiber-reinforced polymer (FRP) composite wraps. Many of these structures were built in the 1960s and are now experiencing cracking due to several factors, including wind or vibration induced fatigue and stresses built into the structure during construction. Over the past 15 years, numerous States have launched programs to inventory, inspect, and maintain their overhead sign structures and prevent their potentially catastrophic failure and collapse. FRP composite wraps offer ease of use at a minimal cost, while delaying the need for expensive replacements.
To perform the repair, FRP composites are wrapped around the sign structure's cracked or weakened welded joints at the point where the structure's truss diagonals frame into the primary members. The repair can be performed in a mere 3 hours, with the resulting joint as strong as the original connection. The work can also be performed while only the traffic lanes directly beneath the repair are blocked off, with normal traffic flowing in adjacent lanes.
The American Association of State Highway and Transportation Officials (AASHTO) Technology Implementation Group (TIG) selected FRP composite overhead sign repair as a high priority technology ready for implementation in 2003 and held demonstrations in Connecticut, Iowa, New Jersey, and Quebec, Canada. The Federal Highway Administration's (FHWA) Resource Center Structures Technical Service Team (TST) has since taken over the implementation effort and led a technology transfer initiative to introduce the repair technique to States. In 2007, demonstrations were held in Louisiana, Michigan, and West Virginia, attracting a combined total of more than 50 attendees from the three States.
"The demonstrations went very well. A half-day presentation on using FRP composites was held the day before the demonstration in each State so that attendees could learn more about the technology," says Lou Triandafilou of FHWA's Structures TST. While the various steps in the repair process must be followed carefully, the procedure is easy to learn. Two suppliers currently produce FRP overhead sign structure repair kits that include step-by-step instructions.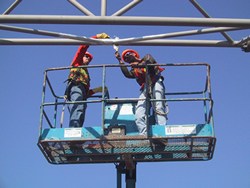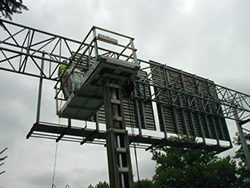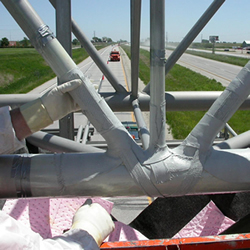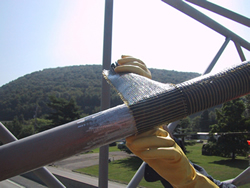 The New York State Department of Transportation has used fiber-reinforced polymer composite wraps to repair more than 30 aluminum overhead sign structures.
The New York State Department of Transportation (NYSDOT) began using FRP composites for overhead sign repair about 5 years ago and served as the lead State for the AASHTO TIG implementation effort. "We use it as a tool. It is probably our first choice for sign structure repair, as each repair can be done by three workers in 3 hours for about $3,000," says Harry White of NYSDOT. This compares to a sign replacement cost of $35,000 to up to $100,000 for large variable message signs. "If you can repair the sign structure and get another 10 to 15 years use out of it for a cost of only $3,000, including labor and materials, it is a huge benefit," says White. Even if a sign replacement is planned, the repair can prolong the life so that NYSDOT can incorporate the cost of the replacement in its regular budget, rather than having to pay for a more expensive emergency replacement. New York has used FRP composites to fix more than 30 sign structures and to date all of the repairs have lasted. NYSDOT inspects the signs each year.
For more information on the FRP composite technology or to schedule a demonstration in your State, contact Lou Triandafilou at the FHWA Resource Center, 410-962-3648 (email: lou.triandafilou@fhwa.dot.gov). To learn more about NYSDOT's use of the technology, contact Harry White at NYSDOT, 518-485-7254 (email: hwhite@dot.state.ny.us).