Publication Number: FHWA-HRT-08-013
Date: May 2008

Advancing the Future of Long-Term Bridge Performance
Step into the future of bridge performance with the Federal Highway Administration's (FHWA) new Long-Term Bridge Performance (LTBP) program. Designated under the 2005 Safe, Accountable, Flexible, Efficient Transportation Equity Act: A Legacy for Users (SAFETEA-LU), the 20-year research effort will inspect, evaluate, and periodically monitor a representative sample of bridges nationwide. These bridges will represent many structural types and materials and a variety of conditions, exposures, and locations. With the contract for the program recently awarded to the Center for Advanced Infrastructure and Transportation (CAIT) at Rutgers University in Piscataway, New Jersey, program activities are now getting underway.
The data collected by the program will be used to develop a high-quality quantitative database for highway bridges. "The results of the program should lead to the development of improved life-cycle cost and performance models, better understanding of bridge deterioration, and improved effectiveness of maintenance and repair strategies," says Hamid Ghasemi, Manager of the LTBP program at FHWA. The collected data will also support improved design methods and bridge preservation practices and facilitate the development of the next generation of bridges and bridge management systems.
CAIT's partners for the LTBP program are Parsons Brinckerhoff, the Utah Transportation Center, the Virginia Transportation Research Center, Bridge Diagnostic, Inc., Siemens America, the Institute for Transportation Studies at the University of California-Berkeley, and Advitam. Initial activities will include developing a program roadmap, the data infrastructure for the program, and sampling and collection protocols for a pilot study. Updates will be available regularly on the program Web site at www.tfhrc.gov/structur/ltbp.htm. A quarterly LTBP program newsletter will also be launched later this year.
For more information on the LTBP program, contact Hamid Ghasemi at FHWA, 202-493-3042 (email: hamid.ghasemi@fhwa.dot.gov)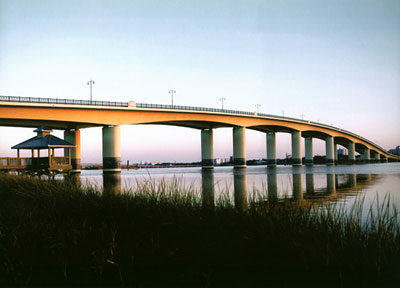 The 20-year Long-Term Bridge Performance program will inspect, evaluate, and periodically monitor a representative sample of bridges nationwide.