Publication Number: FHWA-HRT-08-013
Date: May 2008

In Brief
From studying the complex interaction between wind and bridges to simulating traffic loading on pavement test lanes, the many laboratories at the Federal Highway Administration's (FHWA) Turner-Fairbank Highway Research Center (TFHRC) in McLean, Virginia, carry out a diverse program of innovative technology research and development to address the safety, infrastructure, and operational needs of the Nation's highway system. With laboratories addressing topics from structures and pavements to hydraulics and geotechnical systems, the FHWA research plays a vital role in advancing the durability, efficiency, and effectiveness of roads and bridges across the country.
Learn more about each laboratory with FHWA's new Lab Clips publication. The Lab Clips provide an overview of the TFHRC laboratories and their current activities and also provide contact information for each laboratory manager.
Lab Clips is available online at www.fhwa.dot.gov/publications/research/general/08022/index.cfm . To obtain a printed copy of Lab Clips (Pub. No. FHWA-HRT-08-022), contact the FHWA Research and Technology Product Distribution Center, 301-577-0818 (fax: 301-577-1421; email: report.center@fhwa.dot.gov).
For more information on FHWA's research initiatives, visit www.tfhrc.gov. Links for Web sites for the various laboratories are available at www.fhwa.dot.gov/research/tfhrc/labs/. To schedule a tour of the TFHRC laboratories, send an email to TFHRC.tours@fhwa.dot.gov.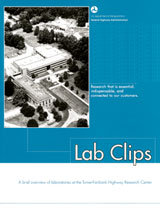 Exchanging information on the use and performance of wide-base tires on heavy trucks was the focus of the International Workshop on the Use of Wide-Base Tires, hosted by FHWA in partnership with the Asphalt Research Consortium (ARC) at the TFHRC in McLean, Virginia, in October 2007. The workshop looked at the effect of wide-base tire use on pavement performance, pavement design, the environment, safety, freight, and highway policy.
Attendees included representatives from Canada, France, the Netherlands, and South Africa, as well as participants from the U.S. Environmental Protection Agency (EPA), FHWA, American Trucking Association, Michelin America, Illinois Department of Transportation, University of Nevada-Reno, University of Illinois, and Michigan State University.
The EPA's Smartway Transport Partnership promotes the use of wide-base tires as a way to improve fuel economy by reducing weight, aerodynamic drag, and rolling resistance. Additional potential benefits promoted by the program include reduced drive-by noise and improved stability.
The use of wide-base tires has been minimal to date in the United States, but is more common in some European countries. Inconsistency in the weight limit laws in States crossed by long-haul trucking routes has likely limited their use in the United States. For example, kg per cm (lb per in) width limitations on tire loads may reduce the economic advantage of using wide-base tires over a dual tire configuration by limiting the payload potential. States may also have varying width restrictions. Another limiting variable is research performed at TFHRC's Accelerated Loading Facility in the early 1990s, which indicated that the wide-base tires in use at the time produced more pavement damage than dual tires. However, these experiments were not repeated as wide-base tire designs evolved.
"A planned outcome of the workshop is to identify research needed to evaluate late model wide-base tires to determine their contribution to pavement strains and damage," says Eric Weaver of FHWA. This research will help quantify the balance between the potential economical and environmental benefits of the technology and any possible pavement damage.
Minutes and presentations from the workshop are available online at www.arc.unr.edu (look under "Workshops").
For more information about the Wide-Base Tires workshop, contact Eric Weaver at FHWA, 202-493-3153 (email: eric.weaver@fhwa.dot.gov).