Publication Number: FHWA-HRT-09-008
Date: November 2008

Excellence in Highway Design 2008
The Federal Highway Administration (FHWA) honored the best in highway design in November 2008 with the announcement of its 2008 Excellence in Highway Design Awards. "From highways and bridges to roadside facilities, the award winners demonstrate how transportation infrastructure can creatively meet safety and mobility needs while also proving to be aesthetically pleasing and environmentally friendly," says Brooke Struve, Design Program Manager in FHWA's Office of Program Administration. The awards were announced at the American Association of State Highway and Transportation Officials' Annual Meeting in Hartford, Connecticut, on October 18, 2008. For more information on the awards program or to download a brochure with details on all of the award winners, including those receiving Honorable Mention, visit www.fhwa.dot.gov/eihd. Information is also available by contacting Brooke Struve at FHWA, 202-366-1317 (email: brooke.struve@fhwa.dot.gov).
Excellence Award Winners
Urban Highways: Freeway or Expressway
State Route 17, Horseheads, New York, New York State Department of Transportation
Carrying nearly 30,000 vehicles per day, with traffic speeds approaching 105 km/h (65 mi/h), the four-lane arterial Route 17 had become more like an Interstate expressway. Building a new elevated expressway on the existing alignment instead of a bypass resulted in fewer environmental impacts and was more cost effective. Project features include a remote weather information system, automatic anti-icing system, and mechanically stabilized earth walls. The project's design also reflects the local architecture, effectively blending the highway with its surroundings.
Urban Highways: Surface Streets
"New" Phalen Boulevard Corridor, St. Paul, Minnesota, City of St. Paul, Minnesota
The "New" Phalen Boulevard project enables multimodal access and mobility while also serving as an economic development tool, providing needed access and the impetus for clean up and redevelopment of an underused industrial site. The 4.2-km (2.6-mi) road accommodates bicycles and also connects to a regional trail system.
Rural Highways: Freeways
U.S. Routes 22/322, Lewistown Narrows Project, Derry Township and Fermanagh Township, Pennsylvania,
Pennsylvania Department of Transportation
This 16.5-km long (10.3-mi) freeway was constructed in the 1930s and had narrow shoulder widths, steep cut and fill slopes, and a lack of drainage facilities, among other problems, resulting in a high crash rate. The two-lane, uncontrolled access roadway was transformed into a four-lane, limited access highway, greatly improving safety. A bifurcated alignment design incorporates nine river walls, reducing impacts to the historic Pennsylvania Canal.
Rural Highways: Highways
East Entrance Road, Sylvan Pass to East Entrance, Yellowstone National Park,
Wyoming, National Park Service
The historic East Entrance Road to Yellowstone National Park was widened to accommodate visitors while protecting the park's natural resources, including wetlands, native vegetation, and bear trails. Special rails and rock sculpting were also used to maintain the area's rustic and natural aesthetics.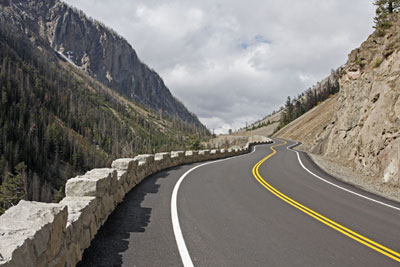 East Entrance Road, Yellowstone National Park,WY.
Structures Costing $10 Million or More
Lee Roy Selmon Crosstown Expressway Expansion, Tampa, Florida, Tampa
Hillsborough Expressway Authority
Traditional expansion of this U.S. 60 expressway, which connects Tampa, Florida, to its rapidly growing eastern suburbs, was not economically feasible. Instead, the designers built up rather than out, using the existing expressway median to house a three-lane elevated cantilever structure. The unique shape of the superstructure provides an attractive visual experience, while the expansion reduces average trip times 20 to 30 minutes during the morning commute.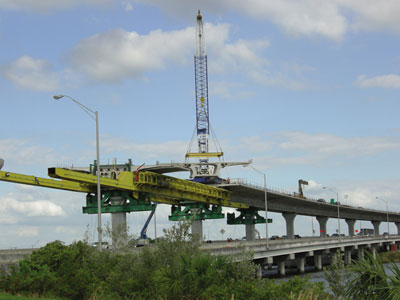 Above: Lee Roy Selmon Crosstown Expressway, Tampa, FL.
Below: Biloxi Bay Bridge, Biloxi, MS.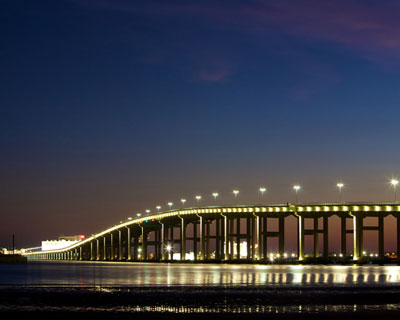 Structures Costing Less Than $10 Million
Thurston Avenue Bridge Over Fall Creek, Ithaca, New York,
City of Ithaca, New York
This bridge on the campus of Cornell University is listed in the New York State Department of Transportation's Inventory of Historic Bridges due to its rare type of existing arches, curved floorbeam ends, and vertical picket bridge railing. Using new induction bent tubular arches, the project successfully widened the bridge to include two sidewalks and two bicycle lanes, while preserving the historic arches. The curvature at the ends of the floorbeams and railing was also replicated.
Intermodal Transportation Facilities
LYNX Blue Line Light Rail Station at I-485/South Boulevard, Charlotte, North Carolina,
Charlotte Area Transit System (CATS),
City of Charlotte, North Carolina
The LYNX Blue Line, North Carolina's first light rail line, opened on November 24, 2007. In a win-win situation for both the rail line and a local school, CATS built a parking deck for an end-of-the-line station on a remnant of land adjacent to Sterling Elementary School, complete with a playing field on the deck's rooftop for the school's students. The deck's design blends into the surrounding environment, while the available parking spaces help encourage rail ridership and ease traffic congestion.
Traveler Services
State Route 58, Lowell Covered Bridge, Lowell, Oregon, Lane County, Oregon
Constructed in 1945, the Lowell Covered Bridge is listed in the National Register of Historic Places. However, the bridge had fallen into disrepair and was closed to traffic in 1980. With increasing tourism in Lane County, Oregon, the site was reconstructed to serve as a gateway facility providing traveler services and information. The covered bridge was turned into a museum, with timbers salvaged from the structure milled on site and used again in the reconstruction.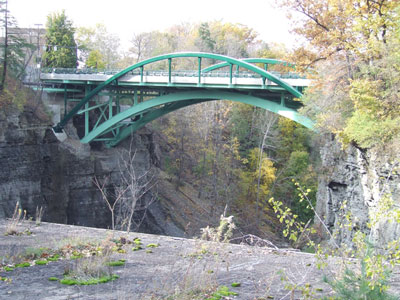 Above: Thurston Avenue Bridge, Ithaca, NY.
Below: State Route 17, Horseheads, NY.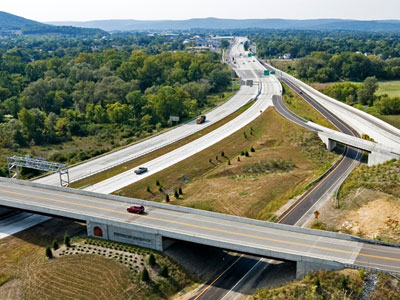 Congestion Mitigation: Bottleneck Reduction
State Route 61, Cameron Bridge Project, City of Shamok in, Coal Township, Pennsylvania,
Pennsylvania Department of Transportation
Originally built in 1851, the Cameron Bridge had been replaced in 1933 with a more modern structure. By the end of the 20th century, however, the two-lane bridge could no longer adequately handle current traffic volumes. The new design provides a wider three-lane bridge with shoulders and sidewalks, removing a major traffic bottleneck and improving traffic flow and safety.
Project Management
U.S. Route 90, Biloxi Bay Bridge, Biloxi, Mississippi,
Mississippi Department of Transportation (MDOT)
To rapidly rebuild the Biloxi Bay Bridge after it was destroyed by Hurricane Katrina in August 2005, MDOT used one of the first design-build contracts in the State. To accomplish the vital reconstruction, the project management depended on continuous communication, fast and effective decisionmaking, and a commitment to "doing it right" the first time.
Program or Project Development Process
Project Planning and Controls Program, FHWA Central Federal Lands Highway Division (CFLHD)
In 2006, CFLHD began implementing a comprehensive Project Planning and Project Controls Program to facilitate proactive project management and fiscal accountability. The new initiative has resulted in a more efficient and effective approach to managing the $750 million CFLHD program.
Minnesota Department of Transportation (Mn/DOT) Historic Roadside Developments Management Program, State of Minnesota
During the Great Depression, Mn/DOT's predecessor agency constructed roadside development facilities, including scenic overlooks, picnic areas, and waysides, to increase the recreational enjoyment of highway travel. However, modern highway projects had often adversely affected the historic integrity of these resources. Mn/DOT's Management Plans for the historic properties now guide project planners, managers, and designers early in the project development process, minimizing adverse impacts and maximizing preservation.