Publication Number: FHWA-HRT-09-008
Date: November 2008

A Core Curriculum for Construction Contract Administration
Learn the basics of contract administration with the Federal Highway Administration's (FHWA) new National Highway Institute (NHI) course, Contract Administration Core Curriculum (Course No. FHWA-NHI-134077). The 1.5-day course will cover such key areas as:
Locating and interpreting policy, procedures, and directives that affect construction contract provisions and contracting procedures.
Using the Web and other resources to research FHWA policy, including statutes, regulations, and directives.
Understanding the five financial steps that follow the contract award.
Interpreting the 13 provisions of FHWA's "Required Contract Provisions for Federal-aid Construction Projects."
Understanding Federal-aid eligibility as it relates to State, Federal, and local procedures.
Interpreting State oversight agreements.
Using fraud indicators to detect the possibility of fraud.
Geared to the beginner level, the course is designed for FHWA division office, State, and local government agency personnel who must interpret and apply Federal regulations affecting the administration of Federal-aid contracts. Attendees will discuss contract provisions, administrative procedures, and policies, with emphasis on the issues addressed in Code of Federal Regulations Title Number 23, Sections 230, 633, and 635.
The minimum class size is 20 participants, with a maximum of 40. Effective January 1, 2009, there is a $3,500 course fee for host agencies. To learn more about the course or how to schedule it in your State, visit www.nhi.fhwa.dot.gov. Information is also available from the NHI scheduler at 703-235-0534 (email: nhitraining@fhwa.dot.gov). For more information on the course content, contact Douglas Townes, Construction and Contract Administration Engineer at the FHWA Resource Center, 404-562-3914 (email: douglas.townes@fhwa.dot.gov).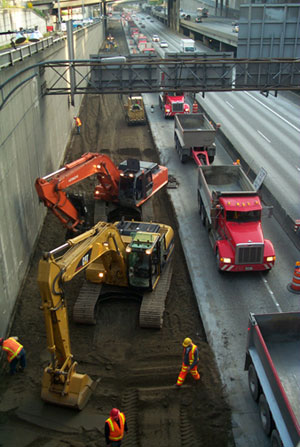 FHWA's new course covers the basics of construction contract provisions and policies.