Publication Number: FHWA-HRT-09-007
Date: October 2008

Earth Retaining Structures: An Essential Part of an Asset Management Program
Earth retaining structures (ERS) are a critical component of America's surface transportation network, with more than 14 million square m (160 million square ft) of permanent ERS constructed in the United States each year, including such structures as cantilever walls and mechanically stabilized earth walls. The use of ERS in highway projects can accelerate construction, reduce project costs, lessen the environmental impacts of highway and bridge construction, and enable the use of complex geometric designs. A new brochure available from the Federal Highway Administration (FHWA), Earth Retaining Structures and Asset Management, highlights how ERS should be included in a transportation asset management program, along with pavements, bridges, and ancillary structures, to help maintain these valuable infrastructure assets and ensure optimal use of available transportation funding.
Permanent ERS, which may vary in height from 1.2 m (4 ft) to more than 30 m (100 ft), are built to withstand significant technical demands. They frequently must be constructed in challenging site conditions, including mountainous terrain, soft ground, and sites that are below water. The safety of the structures is a primary concern, as most ERS installations either directly support bridge components or roadways, or support ground and other transportation features that are immediately adjacent to a bridge or highway. Asset management offers important tools and techniques to assist agencies in collecting and evaluating information on the inventory, condition, maintenance needs, and performance of ERS assets. Some of the questions that can be answered by using asset management techniques and data tools include:
How many ERS does your agency own?
How old are the structures?
What is their condition and what is their remaining service life?
What is the likelihood that one could collapse? What risk or impact would such a collapse present to the traveling public or adjacent property?
As transportation agencies begin to recognize the importance of this asset investment, a few agencies have developed ERS inventories that will allow them to begin systematic evaluations of their ERS networks, develop strategies for maintenance and rehabilitation, and develop appropriate monitoring protocols to assess long-term behavior. For example, the City of Cincinnati, Ohio, has been using a retaining wall inventory and inspection system since 1990. The system tracks 6,796 retaining walls within the right-of-way, allowing the city to maintain a prioritized list of repairs and replacements based on regular inspections.
The Oregon Department of Transportation (ODOT), meanwhile, recently initiated a retaining wall management program to inventory and assess this asset across the State. ODOT estimates that the State has more than 10,000 retaining walls. The National Park Service (NPS) also recently began implementing an ERS asset management program. FHWA's Federal Lands Highway Division office is developing an inventory and condition assessment of all ERS associated with roadways and structures throughout the NPS park road system, including data on location, number, size, condition, consequences of failure, and estimated cost of replacement or repair. To date, 26 parks have been inventoried, with data collected on nearly 3,200 ERS.
To obtain a copy of Earth Retaining Structures and Asset Management (Publication No. FHWA-IF-08-014), contact the Federal Highway Administration R&T Product Distribution Center, HRTM-03 (email: report.center@dot.gov).
The brochure is available online at www.fhwa.dot.gov/asset/if08014. For more information on using asset management to inventory and evaluate ERS, contact Shyan-Yung Pan in FHWA's Office of Asset Management, 202-366-1567 (email: shyan.pan@fhwa.dot.gov).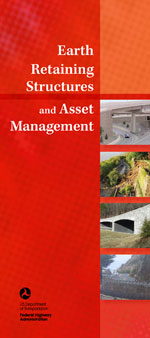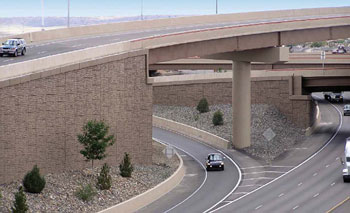 FHWA's new brochure highlights how earth retaining structures, including the mechanically stabilized earth walls shown here, should be included in an asset management program.