Publication Number: FHWA-HRT-09-007
Date: October 2008

FHWA Product Demonstration Showcases: A Hands-On Introduction to New Technologies
The Federal Highway Administration's (FHWA) Product Demonstration Showcases (PDS) are your ticket to the latest in roadway and bridge technologies, providing highway agency decisionmakers with a practical, hands-on introduction to promising new products and processes. "Our showcase portfolio demonstrates a range of technologies, including solutions implemented by enterprising local agencies," says Mark Sandifer of the FHWA Resource Center. "Each 1-day showcase also demonstrates both the realized and future potential for substantial cost savings offered by the technologies." The events provide for interaction among participants as well, offering a valuable information exchange forum.
The showcases focus on new or upgraded solutions to local road and bridge challenges, as well as feature industry demonstrations of technologies currently in field use by the hosting agency. "By showcasing technology in this unique format, transportation professionals gain the insights necessary to evaluate promising products or processes," says Sandifer. Each showcase concludes with an open discussion session for questions and answers.
The FHWA Resource Center recently held showcases on the Maintenance Decision Support System (MDSS) in Omaha, Nebraska, King of Prussia, Pennsylvania, and Boise, Idaho. The MDSS is a computer-based, customizable decision support tool that provides winter maintenance personnel with specific weather forecast information and road treatment recommendations. It has been selected as a focus technology by the American Association of State Highway and Transportation Officials' Technology Implementation Group. To learn more about the MDSS, visit FHWA's Road Weather Management Program Web site at http://ops.fhwa.dot.gov/weather/mitigating_impacts/programs.htm.
At the September 17, 2008, showcase in Boise, Idaho, attendees included representatives from local highway districts, the Idaho Transportation Department, and industry. "We are considering deployment of MDSS, and the showcase was very helpful in learning more about the technology and its requirements," says Bob Koeberlein, Mobility Services Engineer for the Idaho Transportation Department.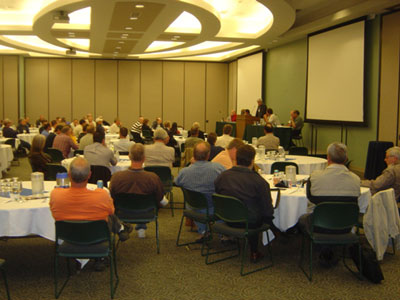 Participants listen to a question and answer session at the Maintenance Decision Support System Showcase in Omaha, NE.
FHWA's next showcase on Roundabout Traffic Improvement will be held December 10, 2008, in La Jolla, California. The showcase will highlight a case study on how roundabouts were used to slow traffic on La Jolla Boulevard, while enhancing the walkability of the boulevard. The showcase will include information on how the local community and businesses provided input into the project. Additional topics will include outreach and community education, funding, construction management, roundabout design improvements, right-of-way issues, and pedestrian crossing safety. To register for this showcase or for more information, visit www.pdshowcase.org.
Topics currently being considered for future showcases include trenchless technologies for culvert linings, FHWA's Adaptive Control System (ACS) Lite software for traffic signal timing solutions, and the USLIMITS software program for identifying appropriate roadway speed limits. Depending on the showcase, there are sometimes associated costs for State sponsors.
For more information on recent and upcoming showcases, visit www.pdshowcase.org. To learn more about holding a PDS event in your State or to suggest a topic for a future showcase, contact your local FHWA division office or Mark Sandifer at the FHWA Resource Center, 708-283-3528 (email: mark.sandifer@fhwa.dot.gov).
Road Safety Audits Webinar
The Federal Highway Administration's (FHWA) Highways for LIFE program is sponsoring a Webinar on Road Safety Audits (RSAs), to be held November 12, 2008, from 2:30 to 4 p.m. (eastern time). The Webinar will highlight the benefits of using RSAs and provide an overview of how to develop an RSA in your agency. State and local case studies will also be featured. For more information or to register, visit www.nhi.fhwa.dot.gov/resources/webconference/viewconference.aspx?WebConfID=15214.