Publication Number: FHWA-HRT-09-007
Date: October 2008

Maintenance Management Course Goes Online
Now you can learn how to use enhanced maintenance management systems (MMS) to better conduct routine highway maintenance and operations without having to leave your office. The Federal Highway Administration's (FHWA) National Highway Institute (NHI) has introduced a new online version of its Principles and Practices for Enhanced Maintenance Management Systems course (Course No. FHWA-NHI-131112). "The online version offers an alternative to the classroom version for transportation agencies that have limited training funds. This course enables participants to advance their agency's maintenance management practices while saving time and money on travel," says Celso Gatchalian of FHWA's Office of Asset Management.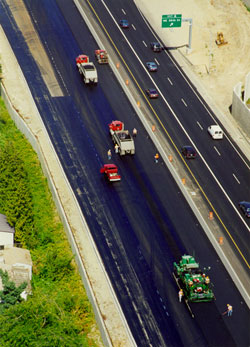 The course looks at how an enhanced maintenance management system can be used to better plan and budget for highway maintenance work.
The online course covers the same content as the classroom version (Course No. FHWA-NHI-131107). The course materials are based on the new Guidelines for Maintenance Management Systems developed by the American Association of State Highway and Transportation Officials. Using the guidelines, the course looks at how an enhanced MMS for highways can be used to plan, budget, schedule, and report on maintenance work. Topics include:
Performance-based budgeting and how to connect an MMS to agency goals and mission statements.
Data management, including how to analyze data, identify gaps, and then proceed according to MMS data requirements. The course also helps participants decide what level of investment is required to meet their data collection and analysis needs.
Analysis of how highway service levels support the programming and budgeting activities incorporated into an MMS, and how to apply a monetary value to current highway condition for presentation to financial directors, senior managers, and legislators.
Details on new technologies that can assist in data collection.
How an MMS can interface with other agency management systems, including financial, bridge information, safety, and environmental management systems, to share data and reduce redundant data collection, storage, and processing costs.
The course consists of three 2-hour Web sessions combined with 9 hours of self-study modules. Examples from State and local highway agencies are used to illustrate the application of principles by transportation agencies. The course is specifically designed for individuals who are responsible for directing and managing maintenance operations and budgets, maintenance project and treatment selection, or the monitoring of system conditions. Tuition is $150 per participant.
To host this course, visit the NHI Web site (www.nhi.fhwa.dot.gov) and submit a completed "Host a Web Conference Training Course" form. After NHI receives the completed form, an instructorwill contact the local coordinator to schedule the session. Scheduling is subject to instructor availability.
For more information on the course content, contact your local FHWA division office or Celso Gatchalian at FHWA, 202-366-1342 (email: celso.gatchalian@fhwa.dot.gov). For more information on scheduling the course, contact the NHI Scheduler, 703-235-0534.
"This course enables participants to advance their agency's maintenance management practices while saving time and money on travel."