Publication Number: FHWA-HRT-09-012
Date: April 2009

Achieving Better Pavement Design with WIM Technologies: FHWA Workshop Offers Step-by-Step Guide
From site selection to data collection and validation, the Federal Highway Administration's (FHWA) comprehensive Weigh-in-Motion (WIM) and Traffic Workshop demonstrates the complete process of using WIM technologies to obtain quality traffic data, with the ultimate goal of using the data as inputs to the Mechanistic-Empirical Pavement Design Guide (M-E PDG) software. WIM equipment can be used to collect data on such factors as vehicle and axle weights, axle spacing, speed, and vehicle class. "It is critical to have reliable WIM data that is accurate when designing new pavements," says David Jones of FHWA.
"The workshop promotes best practices and emphasizes the importance of collecting quality data," says workshop coordinator George Chang of the Transtec Group. The WIM/Traffic workshop was developed through a collaborative effort between FHWA's Office of Infrastructure and Office of Highway Policy Information.
The free 2.5-day event walks participants through each step of the process, starting with an overview of available WIM technologies and equipment that can be used to collect and report on traffic loading data. Guidance is then provided on how to select WIM sites and prepare the pavement at those sites for the WIM equipment. WIM system installation, calibration, validation, and acceptance testing procedures are also covered, as well as data collection, processing, and validation. The workshop concludes with a demonstration of how to produce truck weight groups and traffic input files for use with the M-E PDG software. Participants also receive a 444-page workbook that contains detailed information for future reference.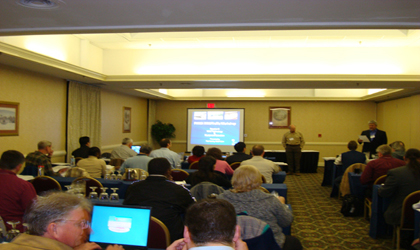 FHWA's WIM/Traffic Workshop, held in Raleigh, NC, in February 2009, emphasized the importance of collecting quality WIM data.
FHWA held the WIM/Traffic Workshop in Raleigh, North Carolina, from February 24-26, 2009. The event drew more than 50 attendees, with representatives from State transportation departments, consulting firms, WIM equipment manufacturers, academia, and FHWA. "Participants from State departments of transportation indicated that the workshop was very timely, as they are now in the midst of transitioning to using the new Mechanistic-Empirical Pavement Design Guide," says Chang. The transportation agency participants represented both traffic and pavement design staff.
"This workshop was ideal for us, as we have a current research project that is defining the data required for traffic inputs to the M-E PDG software in North Carolina. Every topic in the workshop was beneficial to our research," says Kent Taylor of the North Carolina Department of Transportation. "We had the full spectrum of our agency staff participating, from pavement designers to field staff to technicians and researchers."
"In addition to supplying a wealth of technical information, the workshop is designed to improve the coordination and cooperation between traffic and pavement staff who, together, can ensure that quality traffic data is collected to be used in designing predictable long-lasting pavements," says Mike Moravec of FHWA.
Previous versions of the workshop have been held in Las Vegas, Nevada, Ocean City, Maryland, Biloxi, Mississippi, Milwaukee, Wisconsin, Hartford, Connecticut, New Brunswick, New Jersey, and Sacramento, California. The next WIM/ Traffic Workshop is expected to be held sometime this summer in either the Midwest or the Northwest.
For more information about upcoming workshops or hosting a workshop, contact David Jones in FHWA's Office of Highway Information, 202-366-5053 (email: djones@fhwa.dot.gov); Mike Moravec in FHWA's Office of Pavement Technology, 202-366-3982 (email: mike.moravec@fhwa.dot.gov); or George Chang at the Transtec Group, 512-451-6233 (email: gkchang@thetranstecgroup.com).