Publication Number: FHWA-HRT-09-016
Date: August 2009

Conference to Feature Sustainable Technologies for Concrete Pavements
From raw material production to long-term maintenance, the International Conference on Sustainable Concrete Pavements will highlight current practices, challenges, and the future direction of building more sustainable concrete pavements. Scheduled for September 15-17, 2010, in Sacramento, California, the conference is being organized by the Federal Highway Administration (FHWA) and National Concrete Pavement Technology Center as part of the technology transfer efforts of FHWA's Advanced Concrete Pavement Technology Products Program.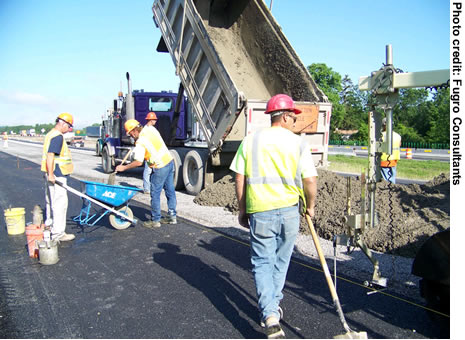 Long-life concrete pavement under construction along a section of I-90 near Syracuse, NY.
With increased attention being paid to the importance of balancing the economical considerations and engineering strategies of infrastructure development with the need for environmental stewardship, the conference will examine how sustainability-related considerations can be integrated throughout the life cycle of a pavement, including design and engineering, material selection, construction, and service life. "This will be a great opportunity to showcase what we can do to be responsible about sustainable construction practices. The adoption of sustainable design, construction, and preservation practices is an important strategy to meet the highway needs of the present without compromising the ability of future generations to meet their needs," says conference co-chair Shiraz Tayabji of Fugro Consultants, Inc.
The conference will feature existing technologies, emerging research, ap-proaches for measuring the energy and environmental impact of construction, user considerations, and international practices and experiences. Topics will include:
Sustainable strategies for concrete pavements.
Sustainable concrete materials.
Optimizing concrete mixture design procedures that result in sustainable concrete pavements.
Optimizing pavement design procedures that result in sustainable concrete pavements.
Construction practices for sustainable concrete pavements.
Sustainable pavement preservation, rehabilitation, and recycling strategies for managing concrete pavement networks.
Adoption and implementation of environmental life-cycle assessments for sustainable concrete pavements.
Identification and quantification of environmental and social considerations for sustainable concrete pavements.
Sustainable concrete pavements in the urban environment.
Next-generation materials and techniques for concrete pavements.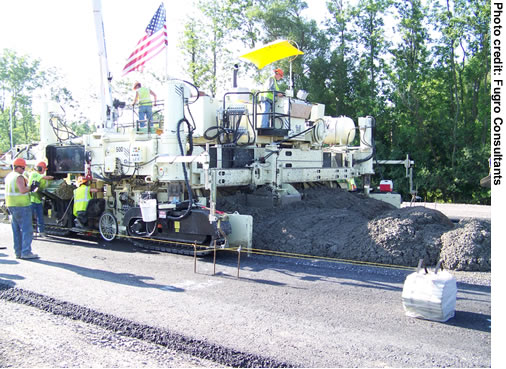 Sustainable strategies applied to the concrete pavement construction on I-90 included the use of fly ash in the concrete.
Papers are currently being solicited on each of the conference topics, as well as emerging issues related to the topics. Abstracts for papers must be submitted by October 1, 2009. For more information on the conference or details on how to submit an abstract, visit www.fhwa.dot.gov/pavement/concrete/2010acptpconf.cfm. Information on the conference is also available from Shiraz Tayabji at Fugro Consultants, Inc., 410-997-9020 (email: stayabji@aol.com), or Sam Tyson at FHWA, 202-366-1326 (email: sam.tyson@fhwa.dot.gov).