Publication Number: FHWA-HRT-10-009
Date: December 2009

Bridge Scour Prediction and Analysis: The Power of FLOP
For analyzing and predicting scour at bridge piers and abutments, FLOP is no fluke. FLOP (Floating-Point Operations Per Second) is a method of encoding, calculating, and handling extremely long numbers. Computers that can work at the speed of multiple teraflops (one trillion FLOP) are often known as super computers. Now, thanks to a partnership between the U.S. Department of Energy's Argonne National Laboratory in Chicago, Illinois, and the U.S. Department of Transportation's Research and Innovative Technology Administration, Federal, State, and local transportation agencies can use the super computer capabilities of Argonne's Transportation Research and Analysis Computer Center (TRACC) at no charge. This partnership is supported by a $4 million annual grant for transportation-related research under the Safe, Accountable, Flexible, Efficient Transportation Equity Act: A Legacy for Users.
In the field of hydraulics and the analysis and prediction of scour at bridge piers and abutments, super computers have proven to be a powerful and valuable tool. "Research and modeling of bridge scour that used to tie up computer resources for weeks or even months can now be accomplished in just a few days with output that can be accessed for analysis almost immediately," says Wendy McAbee of the Federal Highway Administration (FHWA). "This allows the use of computational fluid dynamics or CFD, which more accurately models stream flows, turbulence, and resulting scour."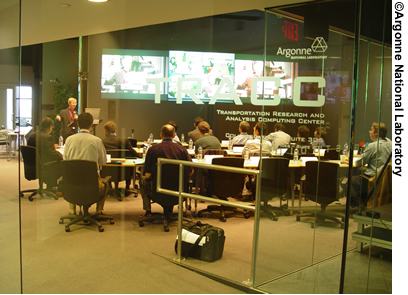 The Transportation Research and Analysis Computer Center at the Argonne National Laboratory in Chicago, IL.
One of the stumbling blocks to using CFD as a mainstream analytical method has been the lack of commercial design software with this type of modeling capability. In an effort to bridge this gap, Kornel Kerenyi of FHWA's Turner-Fairbank Highway Research Center Hydraulics Research Laboratory in McLean, Virginia, organized a workshop that was hosted by TRACC in September 2009. The event brought together engineers from FHWA and university research facilities, as well as hydraulic design software vendors. "The purpose of the workshop was to create partnerships between researchers and software developers and vendors to share codes and computer support, resulting in efficient research, development, and implementation of new commercially available software," says Kerenyi.
To support the partnership effort, Argonne will conduct free hands-on training of CD-adapco's STAR-CD software, which will soon be available in a version with new CFD scour modeling capabilities. The training will be held in TRACC's "collaboratory" facility, which can accommodate 20 students on site, as well as up to 12 remote facilities via videoconferencing and up to 50 additional participants through an online meeting room. This training session is scheduled to be held in March 2010. For more information or to register, contact Steve Lottes at Argonne, 630-578-4251 (email: slottes@anl.gov).
Argonne's TRACC facilities and super computing resources are available to Federal, State, and local transportation agencies at no charge. For more information on using the facility, contact Gail Tate at TRACC, 630-578-4214 (email: get@anl.gov). To learn more about TRACC's super computing resources and account setup and system requirements, contact Jon Bernard, TRACC's Computing System Administrator, at sjbbernar@anl.gov. Information on TRACC is also available at www.anl.gov/TRACC/index.html.
To find out more about the resources of FHWA's Hydraulics Research Laboratory, contact Kornel Kerenyi at FHWA, 202-493-3142 (email: kornel.kerenyi@fhwa.dot.gov), or visit www.fhwa.dot.gov/engineering/hydraulics/research/lab.cfm.