Publication Number: FHWA-HRT-10-009
Date: December 2009

Building Better Concrete Pavements with HIPERPAV III
Meet the new and improved HIPERPAV III. First developed by the Federal Highway Administration (FHWA) in 1996 and then updated with the release of the HIPERPAV II version in 2005, the free High PERformance Concrete PAVing (HIPERPAV) software is a simulation tool for determining the early age behavior of portland cement concrete (PCC) pavement (during the first 3 days after construction). "HIPERPAV enables users to simulate how pavement design features, materials, climate, and construction procedures impact strength and stress development, as well as predict the risk of pavement cracking," says Fred Faridazar of FHWA. The software was designed for use by State and local highway agencies, contractors, suppliers, and members of academia. HIPERPAV III features enhancements aimed at making the software even more effective and user friendly.
Ohio and California are among the States currently using HIPERPAV on their projects to evaluate early-age cracking potential. The Wisconsin Department of Transportation, meanwhile, offers a customized version of the software to potential users statewide. The Wisconsin version includes unique Wisconsin data inputs and locally used terminology.
HIPERPAV can be used to model the impact of specific construction operations, concrete batch proportions, geometric design, concrete properties, and environmental factors on early-age pavement strength and stress development during construction. These combined factors, along with traffic loading, affect the overall long-term performance of the pavement. To run the HIPERPAV program, users enter information on such variables as the pavement width, depth, joint spacing, batch proportioning, cement type, and concrete strength, as well as environmental factors. The environmental factors include hourly air temperature, relative humidity, wind speed, and cloud coverage for the first 72 hours after the concrete placement. These data can be entered based on the 3-day weather forecast or by using a 30-year historical weather database built into the software.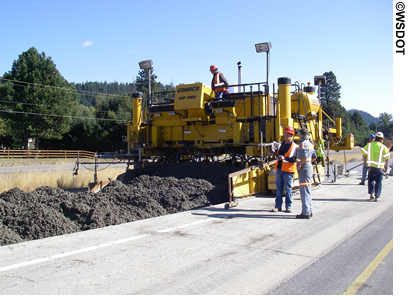 HIPERPAV III can help highway agencies and contractors determine the early age behavior of portland cement concrete.
"As the HIPERPAV software has evolved, it has become complex and sophisticated but maintained its ease of use and user friendliness," says Faridazar. HIPERPAV III features significant improvements, including enhanced temperature predictions for the heat of hydration and an enhanced moisture model. With the new moisture modeling features, users can more realistically compare the effect of various curing strategies and environmental conditions, resulting in improved predictions of critical stresses, material strengths, and drying shrinkage. "This has greatly enhanced the software's ability to predict the potential for early-age portland cement concrete pavement cracking," says Faridazar.
HIPERPAV III also features an improved interface. The new interface incorporates both a "Simple View" and an "Advanced View." The Simple View requires fewer inputs, with the user entering a minimum set of inputs required for an analysis and all other inputs then being estimated by the software. In the Advanced View, users can enter additional inputs for a more refined analysis, including data on axial restraint, PCC stiffness, PCC drying shrinkage, and maturity.
Also newly added are a batch mode that allows the user to analyze several strategies at once, a Quick Compare tool that can be used to view the differences between up to four strategies simultaneously, and a sensitivity comparisons tool. The comparisons tool offers the user an opportunity to quickly discern differences in the effects of environmental, design, materials, and construction variables on strength gain, stress development, and cracking risk.
Looking ahead, potential future HIPERPAV enhancements include the ability to enter the project ZIP Code or geographic coordinates and download local weather data via the Internet, as well as the use of wireless technology to obtain data on site-specific climatic conditions and pavement surface temperatures.
For more information on HIPERPAV III or to obtain a copy on CD, contact Fred Faridazar at FHWA, 202-493-3076 (email: fred.faridazar@fhwa.dot.gov), or Mauricio Ruiz at Transtec, 512-451-6233, ext. 232 (email: mauricio@thetranstecgroup.com). To download the software, visit www.hiperpav.com.