Publication Number: FHWA-HRT-09-010
Date: January/February 2009

Real Solutions to Today's Transportation Challenges
A new monthly seminar series offered online by the Federal Highway Administration's (FHWA) National Highway Institute (NHI) features guest speakers discussing challenges they have faced in the field and the innovative solutions used to address those challenges. The free Real Solutions Seminar Series also offers participants the opportunity to ask questions during the seminars.
Pavement Management That Works: Results of a Peer Exchange.
Use of Self-Propelled Modular Transporters (SPMTs) for Ultra-Rapid Bridge Construction.
Solving Old Traffic Noise Ills-Tennessee Type II Noise Abatement.
I-70 Overpass Beam Failure, Lakeview Drive Bridge (Washington County, Pennsylvania).
Integrating Climate Change Considerations in the Transportation Planning Process.
Troubleshooting Early-Age Cracking of Concrete Pavements.
Overview of New Technologies in Driven Piles.
Intersections and Prioritizing Safety Improvements.
Developing the Training Skills of Technical Experts to Effectively Share Knowledge.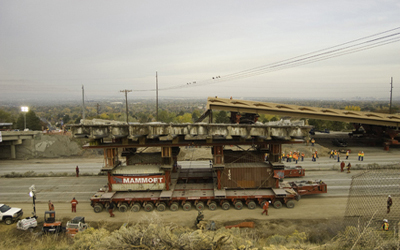 Topics featured in FHWA's Real Solutions Seminar Series include the use of self-propelled modular transporters (SPMTs) for ultra-rapid bridge construction. The SPMTs shown here were used to replace the 4500 South bridge in Salt Lake City, UT, in a single weekend.
For more information about the seminar series, contact Shashi Gowda at NHI, shashi.gowda@fhwa.dot.gov. To be added to the Real Solutions mailing list and receive updates about scheduled seminars, or to volunteer as a guest speaker, send an email to NHImarketing@fhwa.dot.gov.
2009 NHI Training Catalog Available
To download the 2009 National Highway Institute (NHI) Training Catalog, visit <
a href="http://www.nhi.fhwa.dot.gov/training/down_catalog.aspx">>www.nhi.fhwa.dot.gov/training/down_catalog.aspx. Visitors also have the option of downloading the catalog by course category, including structures, pavements and materials, geotechnical, construction and maintenance, hydraulics, environment, and highway safety.

To sign up to receive free email updates from NHI, visit www.nhi.fhwa.dot.gov/esubscribeinfo.aspx.