Publication Number: FHWA-HRT-09-015
Date: July 2009

First International Conference on Transportation Construction Management: New Solutions in Successful Project Delivery
Discussion of new challenges and new solutions in successful transportation project delivery brought nearly 300 attendees to the First International Conference on Transportation Construction Management (TCM), held February 10-12, 2009, in Orlando, Florida. The conference was organized by the Construction Management Expert Task Group (CMETG), which includes representatives from the American Association of State Highway and Transportation Officials (AASHTO), Federal Highway Administration (FHWA), Transportation Research Board, and industry. The American Road and Transportation Builders Association (ARTBA) served as the conference manager.
"The conference reflected the many new directions in transportation construction management," says Rich Juliano of ARTBA. "There is definitely a need for this type of information so that industry can learn and share ideas about deliver-ing projects more quickly while saving money."
The CMETG was formed following a 2004 international scanning team tour to Canada and Europe sponsored by FHWA and AASHTO. Scan team members returned with new perspectives on project delivery and contracting systems. "The countries visited set themselves up for success by using specific project delivery and procurement systems tailored to their individual project goals," notes scan team co-chair Jerry Yakowenko of FHWA.
New perspectives and project delivery systems were also on display at the TCM conference, with sessions covering such topics as quality systems, construction performance specifications, alternative contracting and procurement systems, and performance requirements and warranties. Also featured were accelerated construction technology transfer, public-private partnerships, and contractor prequalification and measurements.
"The conference was a unique opportunity for State transportation departments, industry, FHWA, and members of academia to get together and discuss construction issues and opportunities for innovation and advancement in construction management," says Yakowenko.
"The diversity of the participants was one of the most exciting parts of the conference, with everyone from State highway officials and design consultants to construction contractors and representatives from academia joining in the discussion," adds Keith Molenaar of the University of Colorado at Boulder. "Starting to think about construction management much earlier in the project process will lessen impacts to users. Getting started early allows us to align user goals with project team goals."
David Sadler, Director of the Office of Construction at the Florida Department of Transportation (FDOT) discussed FDOT's use of a prequalification system for contractors to improve project quality. FDOT currently has more than 500 contractors prequalified to perform construction work on its projects. "As work on projects takes place, FDOT will monitor the performance, progress, and workmanship of its contractors," noted Sadler. Problems in performance can result in such agency actions as letters of concern, restricted bid capacity, time off the bidders list, or revocation of qualifications.
Risk management proved to be a popular topic at the conference. "Many different perspectives on risk management were presented, and the sessions were well attended," notes Molenaar. "This is going to continue to be an important topic." Jon Tapping of the California Department of Transportation (Caltrans) and Rein Lemberg of the CALTROP Corporation spoke about the use of risk management for Caltrans' San Francisco-Oakland Bay Bridge project. This $6 billion project has presented many engineering and construction challenges and involved multiple contractors. The risk management approach, including determining risks that might affect the project and developing options to reduce risk threats, has become an integral part of the project management process. For more information, visit baybridgeinfo.org and select "Risk Management."
The discussions of risk assessment and risk management were particularly useful," says Rick Smith of the Washington State Department of Transportation. "The interactions with otherStates were very helpful, as everyone wants to know what everyone else is doing in risk management."
"Another topic of great interest was public-private partnerships," notes Chris Schneider of FHWA. Frank Holzmann of the Texas Department of Transportation (TxDOT) spoke about TxDOT's public-private partnership (PPP) program. Segments 5 and 6 of State Highway (SH) 130 in central Texas is the State's first highway project to be developed under a Comprehensive Development Agreement (CDA). This agreement is with the SH 130 Concession Company, LLC. Similar to a design-build project, the CDA covers design, right-of-way acquisitions, utility adjustments, construction, quality control and quality assurance for design and construction, and public outreach. The CDA also includes financing of the $1.3 billion project and operation and maintenance through a 50-year lease. The SH 130 Concession Company will collect tolls electronically at certain points along the 64 km (40 mi) roadway. To learn more, visit www.mysh130.com.
FHWA's Accelerated Construction Technology Transfer (ACTT) program was another featured topic. John Hunter of the Tennessee Department of Transportation (TDOT) described how an ACTT workshop held in partnership with FHWA helped in devising strategies to accelerate the widening of I-40 through downtown Knoxville. TDOT's "SmartFIX 40" initiative included closing this stretch of I-40 for 14 months during construction to reduce construction time and the long-term inconvenience to motorists. Additional accelerated construction strategies included the use of precast concrete and drilled shaft foundations, as well as a comprehensive public outreach campaign. The roadway reopened to acclaim from city and State officials and residents on June 12, 2009, which was 18 days ahead of an already accelerated schedule.
For more information on the many innovations featured at the TCM conference or to view conference presentations, visit www.tcm-2.org. Information is also available by contacting Jerry Yakowenko at FHWA, 202-366-1562 (email: gerald.yakowenko@fhwa.dot.gov), or Chris Schneider at FHWA, 202-493-0551 (email: christopher.schneider@fhwa.dot.gov).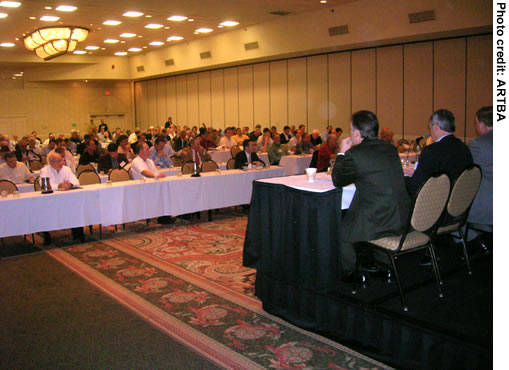 Risk management and public-private partnerships were two of the featured topics at the 2009 Transportation Construction Management Conference, held in February in Orlando, FL.