Publication Number: FHWA-HRT-09-014
Date: June 2009

Excellence in Utility Relocation and Accommodation 2009
Presented in Oklahoma City, Oklahoma, on April 20, 2009, the Federal Highway Administration's (FHWA) 2009 Excellence in Utility Relocation and Accommodation Awards recognize outstanding innovations that have significantly advanced how transportation agencies relocate or accommodate utilities on surface transportation improvement projects.
The biennial awards were announced in the categories of Project Development, Construction Management, Innovation, and Leadership at the American Association of State Highway and Transportation Officials (AASHTO) Subcommittee on Right-of-Way and Utility Conference.
"As the demands on the surface transportation system become increasingly complex, it is extremely important to consider the needs of all stakeholders and continuously coordinate with utility companies," says Jeffrey Zaharewicz of FHWA's Office of Program Administration. "All of this year's award winners and honorable mention recipients have demonstrated consistently high standards in this regard. It is vital to begin this coordination as early as possible and maintain the effort throughout to achieve successful project development and delivery."
The awards will next be presented in spring 2011, with the call for nominations expected to begin in fall 2010. For more information on the awards program, contact Jeffrey Zaharewicz in FHWA's Office of Program Administration, 202-493-0520 (email: jeffrey.zaharewicz@fhwa.dot.gov).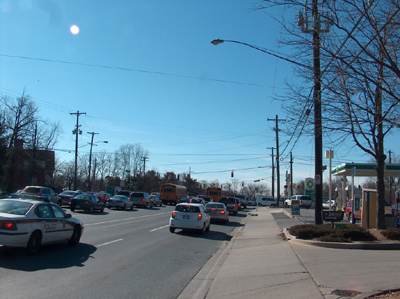 Maryland Route 97 in Montgomery County, MD.
Project Development Award
Maryland Route 97/Randolph Road Intersection, Montgomery County, Maryland
This year's Project Development award recognizes a complex urban project involving a highly congested intersection. The Maryland State Highway Administration (SHA) implemented a plan designed to grade separate Maryland's Route 97 and Randolph Road intersection, using an innovative bridge and tunnel combination to lower Randolph Road by more than 7.6 m (25 ft) and carry it under Route 97. The complexities facing the project team were vast, including a 69,000-volt power line and a significant communications line running beneath the intersection. With a 3-year construction schedule forecast, the project team decided to permanently relocate all utilities beyond the existing footprint. An advance contract was advertised to relocate the utility infrastructure before commencing roadway work. Consultants were also hired to represent each utility in weekly coordination meetings and conduct real-time design sessions. The successful collaboration led to cost reductions and reduced the utility relocation schedule from 5 to 3 years.
Award Recipients and Contacts:
Maryland SHA-John Ney (jney@sha.state.md.us); Nelson Smith (nsmith@sha.state.md.us).
KCI Technologies, Inc.-Scott Riddle (scott.riddle@kci.com).
Johnson, Mirmiran and Thompson-Kenneth McDonald, Jr. (mcdonald@jmt.com).
Project Development Award Honorable Mention
Route 17/Essex Street Interchange Reconstruction, Bergen County, New Jersey
This $68 million project reduced congestion and improved safety by replacing the deteriorating bridge carrying Essex Street over Route 17 with a new six-lane bridge. Through an extensive project development process involving collaboration with 14 utility companies, $10 million in utility relocations were accommodated as part of the project. The use of subsurface utility engineering (SUE), significant preconstruction relocations, and other provisions enabled the construction schedule to be reduced from 32 months to 16 months.
Award Recipients and Contacts:
New Jersey Department of Transportation-Manuel Viteri (manuel.viteri@dot.state.nj.us).
Taylor Wiseman and Taylor-Thomas Costello (costello@taylorwiseman.com); Anthony DiMauro (dimauro@taylorwiseman.com); and Colleen Richwall (richwall@taylorwiseman.com).
Ambassador Caffery Parkway Extension Project, Lafayette Parish, Louisiana
The Ambassador Caffery Parkway Extension Project in Louisiana was designed to ease traffic flow, especially during hurricane evacuations, and to foster economic development in the area. With a total cost of approximately $40 million, including $7 million of utility relocation work involving 16 utility companies and 6 major oil pipelines, the project was a major undertaking. To ensure project success, the Louisiana Department of Transportation and Development's (LADOTD) team employed the "Three C's" (Coordination, Communication, and Cooperation), beginning before final acquisition of right-of-way to ensure all the conflicting utilities would be relocated prior to project advertisement.
Award Recipients and Contacts:
LADOTD-Steven Deville (steven.deville@la.gov); Trey Jesclard (trey.jesclard@la.gov); Randy Richard (randy.richard@la.gov); and Sandra Woolie (sandra.woolie@la.gov).
Construction Management Award
Interstate 35W Bridge Over the Mississippi River, Hennepin County, Minnesota
The 2009 Construction Management award was presented in recognition of the significant utility relocation challenges faced by the Minnesota Department of Transportation (Mn/DOT) as it worked to quickly replace the I-35W bridge over the Mississippi River. As the existing utility procedures would have been prohibitively long, all public and private utilities required to relocate participated in a fast- track schedule. A design engineer with Mn/DOT worked closely with the contractor, serving as a single point of contact in carrying out utility coordination and agreement writing. The unique collaborative approach allowed work to be completed 3 months ahead of schedule.
Award Recipients and Contacts:
Mn/DOT-Mary Lacho (mary.lacho@dot.state.mn.us).
Flatiron Construction Corporation-Matt Semerad (msemerad@flatironcorp.com).
Cardno TBE-Jeff A. Sowers (jeff.sowers@cardnotbe.com).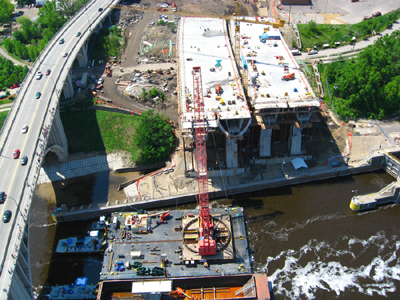 Replacement of the Interstate 35W bridge in Minneapolis, MN.
Innovation Award
Utility Redline Project, Georgia Department of Transportation (GDOT)
GDOT received the 2009 Innovation Award for the development of its Utility Redline Software Application. "Our goal is to provide the tools and training that will significantly help save time and money, not only for GDOT but also for our stakeholders," says Jun Birnkammer of GDOT. The software facilitates the transmittal of utility plan mark-ups in electronic format for construction projects, thereby improving utility coordination efforts, reducing project delivery schedules, significantly increasing plan quality, and reducing printing costs.
Award Recipients and Contacts:
GDOT-Jun Birnkammer (jbirnkammer@dot.ga.gov); Glenn Robertson (grobertson@dot.ga.gov); and Glenn Williams (gwilliams@dot.ga.gov).
Innovation Award Honorable Mention
Florida Department of Transportation's (FDOT) Utility Coordination Web Site (UCW)
The UCW was developed to coordinate utility relocations among all utility companies, FDOT staff, and contractors in Palm Beach County, Florida. "This system has recently spread to cover additional counties," says FDOT Utility Coordinator Johnny Blakeney. "I imagine it could be implemented throughout the State of Florida eventually."
Award Recipients and Contacts:
FDOT-Johnny Blakeney (johnny.blakeney@dot.state.fl.us).
Katy Freeway Reconstruction Program, Harris County, Texas
The Katy Freeway Project involved widening 43 km (27 mi) of heavily traveled urban roadway to accommodate explosive growth and relieve congestion on Houston's West side. The Texas Department of Transportation (TxDOT) used a general engineering consultant (Parsons Brinckerhoff) to coordinate the efforts of 33 utility owners through 4 utility corridors. Relocation efforts involved almost 200 legal agreements and spanned 7 years. The project's processes and tracking elements are now used as a model for other large scale projects in Texas.
Award Recipients and Contacts:
TxDOT-David Roberts; Stephen Stakemiller (sstakem@dot.state.tx.us); and Frances Willison (fwillis@dot.state.tx.us).
Parsons Brinckerhoff-Ken Stayer (stayer@pbworld.com).
Leadership Award
James H. Anspach, J.H. Anspach Consulting, and Nicholas M. Zembillas, Cardno TBE
The Leadership Award for 2009 was presented to Nicholas M. Zembillas and James H. Anspach, who are recognized trailblazers in the highway and utility field and are greatly responsible for the growth in the use of subsurface utility engineering (SUE). Their efforts have contributed to improved construction and millions of dollars in savings on transportation projects nationwide.
Award Recipients and Contacts:
J.H. Anspach Consulting-James H. Anspach (jhanspach@aol.com).
Cardno TBE-Nicholas M. Zembillas (nick.zembillas@cardnotbe.com).
Leadership Award Honorable Mention
Ohio Department of Transportation (ODOT) Utility Plan Reading Training Class
The success of ODOT's Utility Plan Reading Training Class has resulted in more than 300 utility personnel from 15 companies receiving training. The 2-day course was designed to enhance the efficiency and cost effectiveness of the utility relocation process and eliminate delays.
Award Recipients and Contacts:
ODOT-Myra Binns (myra.binns@dot.state.oh.us); G. Raymond Lorello (ray.lorello@dot.state.oh.us); and Mark Manzo (mark.manzo@dot.state.oh.us).
Teresa Loop, Puget Sound Energy (PSE), Washington State
Teresa Loop of PSE has helped successfully coordinate utility relocation along an important State highway corridor, and in the process is helping to change the way utility companies work together in Skagit County, Washington. Loop's proactive approach worked so well that PSE has subsequently initiated a quarterly meeting with other companies that connect to PSE utility poles.
Award Recipients and Contacts:
PSE-Teresa Loop (teresa.loop@pse.com).