Publication Number: FHWA-HRT-09-013
Date: May 2009

Rapid Repair with Precast Concrete Pavement Technology
Two new TechBriefs developed by the Federal Highway Administration's (FHWA) Concrete Pavement Technology Program (CPTP) highlight the innovative use of precast concrete pavement technology to meet the need for rapid pavement repair, rehabilitation, and construction. The precast technology can be used for intermittent repairs or full-scale rehabilitation.
Precast Concrete Panels for Repair and Rehabilitation of Jointed Concrete Pavements (Pub. No. FHWA-HIF-09-003) discusses the use of precast pavement systems that can be fabricated or assembled off site, transported to the project location, and installed on a prepared foundation. The system components require little or no field curing to achieve strength before the road is opened to traffic. As the precast panels are manufactured in a controlled environment off site, they can potentially be more durable than cast-in-place repairs and less susceptible to construction and material variability. The rapid installation also minimizes lane closures and the resulting congestion and increases worker safety. Highlighted in the TechBrief are a field study of the technique conducted in Michigan and a demonstration project carried out by the Ministry of Transport in Ontario, Canada.
Precast Prestressed Concrete Pavement for Reconstruction and Rehabilitation of Existing Pavements (Pub. No. FHWA-HIF-09-008) describes the development of precast prestressed concrete pavement (PPCP) technology and provides recommendations for ensuring the successful installation of a precast system, including design, panel fabrication, and installation considerations. Also featured are PPCP projects in California, Delaware, Iowa, Missouri, and Texas. The TechBrief notes that "the short-term performance of the installed PPCP systems indicates that PPCP systems can provide rapid construction and rehabilitation that will be durable."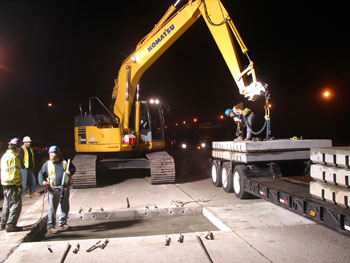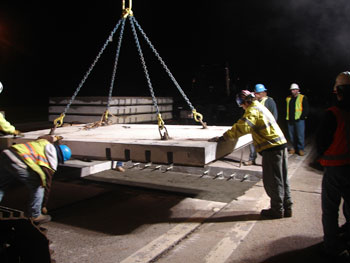 Precast concrete pavement technology was used to repair a section of I-295 in NJ in 2008.
In addition to the FHWA-supported activities, several companies in the United States have initiated independent development activities to refine precast concrete pavement technologies. These technologies have certain proprietary features and require licensing for product use. More information on the various technologies is included in each TechBrief.
The TechBriefs are available online at www.fhwa.dot.gov/pavement/pub_listing.cfm.
Another source of information on precast concrete pavement systems (PCPS) is the American Association of State Highway and Transportation Officials' Technology Implementation Group (TIG) on PCPS. Formed in 2006, the TIG has developed a series of generic specifications for both jointed and PPCP systems that cover design, fabrication, and construction. The TIG has also developed a proposed approach for State transportation departments to use in approving PCPS from any manufacturer prior to final design or construction. These generic specifications are available at www.aashtotig.org (select "Precast Concrete Paving Slabs"). For more information, contact TIG chair Timothy LaCoss at FHWA's New York division office, 518-431-4125, ext. 260 (email: Timothy.LaCoss@fhwa.dot.gov).
CPTP is a national effort to improve the long-term performance and cost-effectiveness of concrete pavements. Primary goals include reducing congestion, improving safety, lowering costs, improving performance, and fostering innovation. The program is managed by FHWA, in partnership with State highway agencies, industry, and academia. For more information about CPTP and the many resources and products it has available, visit www.fhwa.dot.gov/pavement/concrete. For additional information on the TechBriefs or precast concrete pavement technology, contact Shiraz Tayabji at Fugro Consultants, Inc., 410-997-9020 (email: stayabji@aol.com), or Sam Tyson at FHWA, 202-366-1326 (email: sam.tyson@fhwa.dot.gov).
ARRA Updates Available Online
As of May 20, 2009, 50 States and territories have obligated $11,808,759,130 of the $26,810,000,000 of American Recovery and Reinvestment Act of 2009 (ARRA) funding issued for transportation infrastructure. To date, 3,430 transportation projects have been authorized. The latest figures on the obligation of ARRA funds can be found on the Federal Highway Administration's (FHWA) home page at www.fhwa.dot.gov. More information on ARRA is available at the FHWA ARRA Web site (www.fhwa.dot.gov/economicrecovery).
The ARRA site features implementation guidance, an overview of ARRA provisions, apportionment tables for highway infrastructure investment funds, questions and answers on ARRA issues, and steps that State and local agencies can take to expedite the delivery of economic recovery funds. Additional resources include ARRA reporting forms, information on risk management, and details on work zone safety and mobility considerations for ARRA projects. Recordings from FHWA Web conferences on ARRA topics can also be downloaded from the site. FHWA will continue to update the Web site regularly to provide the latest information on ARRA implementation. Questions regarding the material posted on the site can be sent to Bob Bini at FHWA, robert.bini@dot.gov. Additional information on ARRA can be found online at www.recovery.gov.