Publication Number: FHWA-HRT-10-007
Date: October 2009
Printable Version (.pdf, 0.3 mb)
Accelerating Innovation Implementation
Whether your goal is to implement an accelerated bridge construction strategy, a road safety audit, or an asset management system, get ready to "leap not creep." A new course introduced this year by the Federal Highway Administration's (FHWA) National Highway Institute (NHI), Leap Not Creep: Accelerating Innovation Implementation (Course No. FHWA-NHI-134073), provides participants with the tools they need to successfully implement innovations and mainstream those innovations so that they become part of their transportation agency's standard practice.
Developed by FHWA's Highways for LIFE program, the 2-day course highlights
Successful implementation strategies.
Components of an implementation plan.
Techniques for marketing an innovation.
Strategies for handling implementation challenges.
Avenues for identifying innovations.
Resources for locating the necessary funding.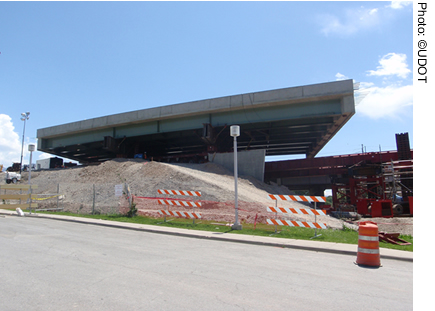 Innovations implemented across the country include the Utah Department of Transportation's use of accelerated construction techniques for bridges, such as for this bridge on I-80 in Salt Lake City.
The course is designed for a range of highway community representatives who may be involved in implementing an innovation, including project managers, engineers, transportation specialists, analysts, senior managers, and marketing and communications specialists. In addition to the 2 days of instructor-led training, attendees participate in 3 hours of online training prior to the start of the course. The course fee is $350 per participant, with a minimum of 15 attendees and a maximum of 30.
From identifying a need and finding an innovation to meet that need to establishing an implementation plan and team, the course walks participants through the steps to success. An implementation team, for example, needs not only technical experts but marketing staff, financial managers, and stakeholder representatives, among others. As highlighted in the course, the Minnesota Department of Transportation (Mn/DOT) assembled a diverse team to implement the new Maintenance Decision Support System (MDSS)/Automated Vehicle Location (AVL) technology. The MDSS is a computer-based, customizable decision support tool that provides winter maintenance personnel with specific weather forecast information and road treatment recommendations. Combined with AVL, the system allows Mn/DOT to more efficiently clear and maintain roads during winter storms. Mn/DOT's implementation of the MDSS/AVL was aided by its creation of four technical development teams, which focused on such issues as mobile equipment and systems information gathering. Each team reported to an overall Strategic Direction Team that included maintenance engineers from all eight of Mn/DOT's district offices. The teams provided an important boost in implementing the new technology.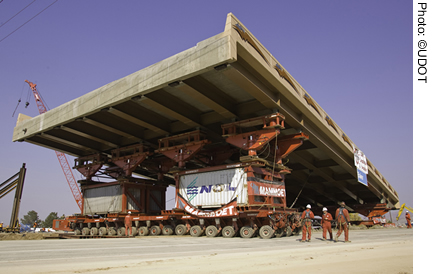 Utah's accelerated bridge construction projects include the 4500 South bridge in Salt Lake City. The prefabricated superstructure was installed using self-propelled modular transporters.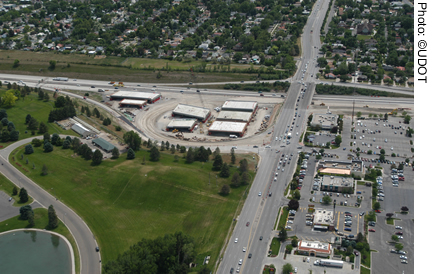 Seven prefabricated bridges are ready for shipping at the Utah Department of Transportation's "bridge farm."
While the course has no prerequisites, participants should be able to identify an innovation that they would like to implement at their agency. At a session of the course held September 15-16, 2009, at FHWA's Turner-Fairbank Highway Research Center in McLean, Virginia, the list of innovations ranged from the use of higher amounts of fly ash in concrete pavements and structures to implementation of hydraulic simulators that can perform erosion modeling to the use of road safety audits in the design phase of projects. Participants then broke into smaller groups to outline goals and develop implementation plans for their technologies, considering such factors as budget, staffing, scope, target audience, and evaluation measures.
"The course provided the tools to move forward in implementing innovations," says participant Trinette Ballard of FHWA's Florida Division office. "Breaking up into groups to work on implementation plans kept people thinking and engaged. I would definitely recommend the course to others."
"The session presented a very organized approach to accelerating innovations," adds participant Rick Meininger of FHWA's Turner-Fairbank Highway Research Center. "It makes you realize how important it is to have champions for innovations."
Course materials provide recommendations for how to successfully execute an implementation plan, as well as recommendations for managing change within an agency and communicating ideas to both implementation team members and senior management staff. Also featured are information on funding resources and examples of innovations implemented recently at transportation agencies across the country, including roundabouts, intelligent compaction for pavements, and accelerated bridge construction. The Utah Department of Transportation, for example, has determined that starting in 2010, the use of accelerated construction techniques such as prefabricated bridge elements and systems will be its standard approach for bridge construction.
"The most useful part of the course was walking out of there with a draft implementation plan that is ready to go. You also learn from the many diverse innovations that are represented and from what others have accomplished," says Becky Crowe of FHWA's Office of Safety.
For more information or to schedule the course, visit www.nhi.fhwa.dot.gov. For more information on the course content, contact Kathleen Bergeron at FHWA, 202-366-5508 (email: kathleen.bergeron@fhwa.dot.gov