Publication Number: FHWA-HRT-10-007
Date: October 2009
Printable Version (.pdf, 0.3 mb)
Data-Driven Decisionmaking Practices: A Case Study
A new case study recently released by the Federal Highway Administration's (FHWA) Office of Asset Management and Office of Planning offers insight into the use of management systems for transportation planning and programming. Management Systems: Driving Performance. A Glance at Data-Driven Decisionmaking Practices (Pub. No. FHWA-HIF-09-021) is the latest publication in FHWA's series of Transportation Asset Management (TAM) case studies.
TAM is a strategic and systematic process of allocating resources for the preservation, operation, management, upgrade, and expansion of the Nation's transportation infrastructure. Using TAM and information from management systems, an agency aims to provide the best return for each dollar invested. "With many issues surrounding infrastructure, congestion, and funding, State departments of transportation are often looking for new ways to manage and maintain their transportation assets," says Nastaran Saadatmand of FHWA's Office of Asset Management.
TAM can include initiatives in the areas of pavement and bridge management, network preservation, economics in asset management, life-cycle cost analysis, and highway safety and operations. Analysis of data from management systems is vital to TAM efforts. "Management systems can provide invaluable information for planning, programming, and overall management of the transportation network. This information is essential in transportation decisionmaking to establish realistic agency goals and set investment levels across assets," notes Saadatmand.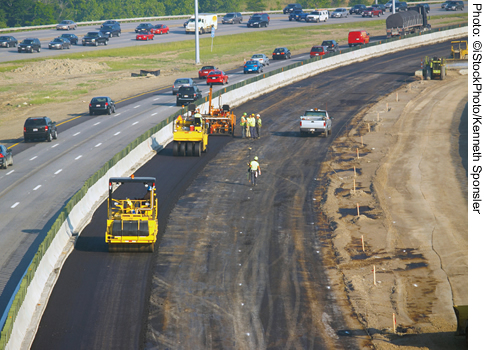 Using transportation asset management and information from management systems, agencies aim to provide the best return for each dollar invested in transportation infrastructure.
The case study highlights management systems being used by six States. The Montana Department of Transportation (MDT), for example, has implemented a Performance Planning Process. This process uses the outputs from MDT's pavement, bridge, and congestion management systems to assess alternative investments and strategies that contribute to system-performance goals. The Vermont Agency of Transportation (VTrans), meanwhile, is one of the few State transportation agencies to have asset management and performance measures written into statute. VTrans has developed a quantifiable project prioritization method that assigns a numeric score to projects listed in the annual budget. These scores help explain why one project is chosen over another.
In New Jersey, a Statewide Capital Investment Strategy is being used to develop investment options for transportation categories based on goals, objectives, and performance measures. It includes transportation investments in common categories across different agencies, rather than developing separate strategies for each agency. This integrated approach allows the public to better understand the total State investment needed for roads, bridges, and public transportation.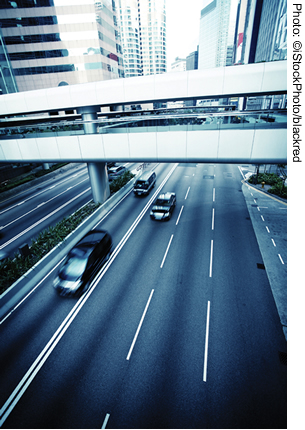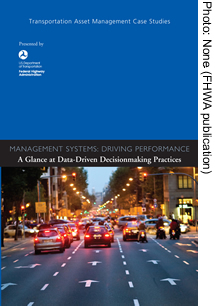 Transportation asset management can include initiatives in such areas as
pavement and bridge management and highway safety and operations.
Across the country in Tucson, Arizona, the Pima Association of Governments is developing a transportation improvement program that makes optimum use of available Federal, State, and local funds to serve the region's multimodal transportation needs. Candidate projects are evaluated using such principal criteria as the project's safety benefits, congestion benefits, and volume of use. And in Seattle, Washington, the Puget Sound Regional Council is looking at data-driven approaches for documenting the condition and investment needs of major routes. The council is creating a database that will help decisionmakers understand the magnitude of investment needed to maintain the region's local arterial network.
Finally, the case study looks at Albany, New York, and its Capital District Transportation Committee. This metropolitan planning organization uses a performance-based management strategy to maintain the region's transportation infrastructure. The strategy includes painting bridges before they corrode, building long-lasting pavements, and matching treatments to road function.
Management Systems: Driving Performance. A Glance at Data-Driven Decisionmaking Practices (Pub. No. FHWA-HIF-09-021) is available online at www.fhwa.dot.gov/asset/if09021/index.cfm. For more information on the case study or to request printed copies, contact Nastaran Saadatmand in FHWA's Office of Asset Management, 202-366-1337 (email: nastaran.saadatmand@fhwa.dot.gov). To learn more about asset management, visit www.fhwa.dot.gov/infrastructure/asstmgmt.