Publication Number: FHWA-HRT-09-017
Date: September 2009

SHRP 2: Advancing the Nation's Highway System
The Strategic Highway Research Program (SHRP) 2 continues to move forward with accelerating solutions for highway safety, renewal, reliability, and capacity. The program's goal is to develop recommended procedures, practices, and applications to advance the Nation's highway system in these four key focus areas. In the renewal area, research addresses the need to complete renewal work quickly and with minimal disruption to the community, as well as to produce facilities that are long lasting. As the SHRP 2 2008 annual report notes, "SHRP 2 research aims to institute a new way of thinking of highway renewal so that the benefits of rapid renewal can be achieved consistently and systematically."
Three renewal projects have been completed to date, R15, "DOT-Utility Coordination: Understanding Key Aspects of the Problem and Opportunities for Improvement," R06, "A Plan for Developing High Speed, Nondestructive Testing Procedures for Both Design Evaluation and Construction Inspection," and R01, "Encouraging Innovation in Locating and Characterizing Underground Utilities." Nineteen projects are in progress, with seven more expected to begin by the end of 2009. To download the final report from Renewal Project R15, Integrating the Priorities of Transportation Agencies and Utility Companies, as well as the final report from Project R06, visit www.trb.org/SHRP2. SHRP 2 has also launched a follow-on project, R15-B, "Identification of Utility Conflicts and Solutions." This project is designed to create tools and methods that public agencies and utilities can use to identify and resolve utility conflicts and improve the overall project development process.
More information on all of the SHRP 2 projects is available in the program's 2008 Annual Report, Building the Vision. The report is available online at onlinepubs.trb.org/onlinepubs/shrp2/SHRP2AnnualReport2008.pdf. For more information on SHRP 2, visit www.trb.org/SHRP2. Information about SHRP 2 is also available by contacting Linda Mason, Communications Officer for SHRP 2 at the Transportation Research Board (TRB), 202-334-3241 (email: SHRP2@nas.edu). SHRP 2 updates are regularly featured in TRB's weekly Transportation Research e-newsletter. To subscribe to the newsletter, send an email with the subject header of "TRB E-Newsletter" to Rhouston@nas.edu. The newsletter is posted online at www.trb.org/Publications/Public/PubsTRBENewsletter.aspx.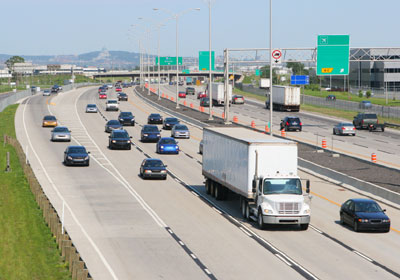 To learn more about SHRP 2's work to advance the Nation's highway system, visit www.trb.org/SHRP2