Publication Number: FHWA-HRT-10-012
Date: April 2010

Paving Smarter with Intelligent Compaction
Paving just got smarter. Get to know the benefits of intelligent compaction (IC) for pavements with two new Tech Briefs available from the Federal Highway Administration (FHWA), Intelligent Compaction for Asphalt Materials and Intelligent Compaction for Soils and Subbase Materials.
Compaction during paving is a critical factor in obtaining long-lasting roadway performance. FHWA has defined IC as a process that includes vibratory rollers equipped with a measurement and control system that can automatically control compaction parameters in response to materials stiffness measured during the compaction process. The roller must also be equipped with global positioning system (GPS) measurements and a documentation system that allows for continuous recordation of the roller location and the corresponding stiffness-related output.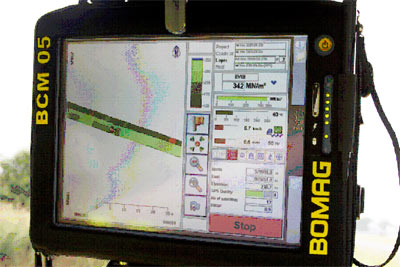 A close-up of a color-coded IC roller display screen.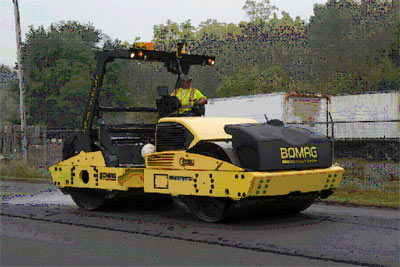 A thin lift of hot-mix asphalt is compacted with an IC roller on U.S. 52 in West Lafayette, IN.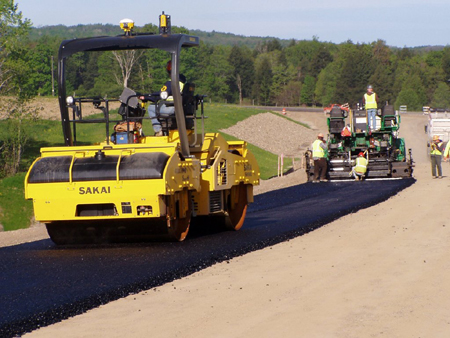 IC roller is used to place a hot-mix asphalt lift on U.S. 219 in Springville, NY.
"IC can provide better control and oversight of the compaction process, resulting in improved and more uniform compaction, increased productivity, and a reduction in highway repair costs," says Lee Gallivan of FHWA.
The Tech Briefs were developed under a 3-year pooled fund study launched by FHWA and the Transportation Pooled Fund (TPF) Program in 2008, "Accelerated Implementation of Intelligent Compaction Technology for Embankment Subgrade Soils, Aggregate Base, and Asphalt Pavement Materials" (Project No. TPF-5(128)). Twelve States are participating in the FHWA/TPF study. As part of the study, IC field demonstrations are being held in each of the participating pooled fund States. These demonstrations are designed to provide States with training and first-hand experience in using IC and assist in the development of best practices and specifications for IC technology.
Intelligent Compaction for Asphalt Materials looks at how asphalt IC rollers can be used to identify soft spots in the asphalt, achieve consistent roller patterns, and monitor asphalt surface temperature and levels of compaction. The resulting benefits include improved asphalt density, increased efficiency, and better quality control and assurance.
The Tech Brief profiles the two asphalt IC rollers currently available in the United States. Also described are in-situ point tests to meet density specifications and the process of mapping pavement support layers using an IC roller prior to paving in order to identify any soft spots. Corrective action can then be taken at these soft spots before paving begins.
Featured in the Tech Brief are case studies describing IC demonstrations held in Georgia, Indiana, Maryland, Minnesota, Mississippi, and New York. In Maryland, the IC rollers were used for a challenging night paving project on Route 340 in Frederick County. The case study noted, "the IC technologies such as tracking roller passes and coverage were exceptionally useful under low visibility. This demonstrates significant benefits for both agencies and contractors in maintaining consistent rolling patterns for night-time paving."
Intelligent Compaction for Soils and Subbase Materials examines the various components of soils and subbase IC, including single-drum IC rollers, a roller measurement system and GPS, and an integrated reporting system. It highlights soils and subbase IC rollers currently available from five vendors in the United States. Also described are in-situ point tests used to obtain the response of the compacted materials under various loading, drainage, and moisture conditions, as well as GPS requirements for IC.
IC demonstrations in Kansas, Mississippi, New York, and Texas are featured as well. In Mississippi, for example, the demonstration investigated the effects of time delay on the compaction of stabilized base materials, with the preliminary results indicating that a delay in compaction may reduce base density.
To download the Tech Briefs or for more information on IC technologies and the IC pooled fund study, visit www.IntelligentCompaction.com. The Web site features an introduction to IC, as well as information on IC equipment, the pooled fund demonstration projects, specifications, and a library of resources. FHWA's IC Team can also provide information and assistance. To learn more, contact Lee Gallivan at FHWA, 317-226-7493 (email: victor.gallivan@fhwa.dot.gov).
To learn more about IC technologies, visit www.IntelligentCompaction.com