Publication Number: FHWA-HRT-10-012
Date: April 2010

FHWA Offers Online Guidance for Unknown Foundations
A new Federal Highway Administration (FHWA) Web site (www.fhwa.dot.gov/unknownfoundations) offers users a quick and easy source of guidance and reference information on bridges with unknown foundations. According to FHWA's National Bridge Inventory, about 65,000 bridges in the United States have been identified as having unknown foundations. The Unknown Foundations Web site's resources for managing these bridges include information on research, training opportunities and materials, reports and other publications, and FHWA guidance documents.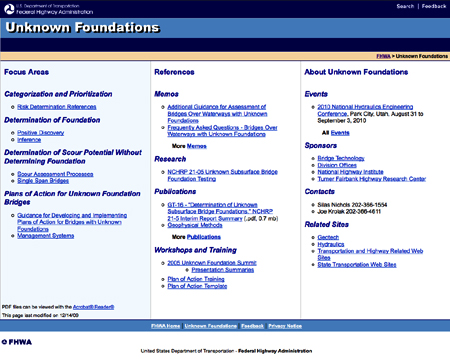 Four focus areas are highlighted, including Categorization and Prioritization, which provides users with references on risk determination. Determination of Foundation offers links to reports and other information on probabilistic foundation determination, including a reverse engineering flow chart, while Determination of Scour Potential Without Determining Foundation looks at scour assessment processes based on hydraulics, historical observation, or structure type. Finally, Plans of Action for Unknown Foundation Bridges provides guidance on monitoring potential deficiencies for bridges with unknown foundations.
The references section includes FHWA memos, such as Additional Guidance for Assessment of Bridges over Waterways with Unknown Foundations, as well as a compilation of frequently asked questions. Also featured are information on research, publications, and useful workshops and training, including links to highlights from the 2005 Unknown Foundation Summit. FHWA and the Environmental and Engineering Geophysical Society sponsored the summit.
Site visitors will find links to upcoming events, including the 2010 National Hydraulic Engineering Conference, to be held in Park City, Utah, from August 31 to September 3. Visitors will also find links to additional Web sites of interest, including those of State transportation agencies and FHWA's Hydraulics and Geotech one-stop informational sites (www.fhwa.dot.gov/engineering/hydraulics and www.fhwa.dot.gov/engineering/geotech).
To learn more about the many resources available, visit the Unknown Foundations Web site at www.fhwa.dot.gov/unknownfoundations. For more information on unknown foundations, contact Silas Nichols at FHWA, 202-366-1554 (email: silas.nichols@fhwa.dot.gov), or Joe Krolak at FHWA, 202-366-4611 (email: joe.krolak@fhwa.dot.gov).