Publication Number: FHWA-HRT-10-012
Date: April 2010

Webinar Explores Optimal Timing of Pavement Preservation Treatments
Learn more about timing pavement preservation treatments to achieve maximum effectiveness with a newly updated Webinar sponsored by the Federal Highway Administration's (FHWA) National Highway Institute (NHI). Pavement Preservation: Optimal Timing of Pavement Preservation Treatments (Course No. FHWA-NHI-131114) is an easy-to-follow online seminar on a topic of increasing importance to transportation agencies, as more and more agencies are using pavement preservation or preventive maintenance strategies to extend the life of their pavements.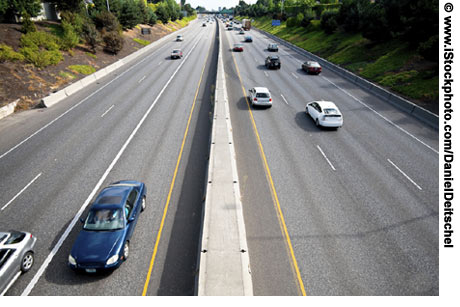 An increasing number of transportation agencies are using pavement
preservation strategies to extend the life of their pavements.
"Applying pavement preservation strategies too soon or too late is not effective from either a cost or performance standpoint. This Webinar helps participants identify the best time to apply a preservation treatment," says Christopher Newman of FHWA.
The 3-hour seminar explores the work performed under National Cooperative Highway Research Program Project 14-14, Guide for Optimal Timing of Pavement Preventive Maintenance Treatment Applications, including the OPTime software tool that was developed as part of the project to help agencies determine the optimal time to apply a treatment. Topics discussed include treatment timing and selection, the collection of treatment performance relationship data, and key cost and benefit considerations.
Recently, the course was updated to offer participants more hands-on activities, such as inputting data and running OPTime reports, adjusting data inputs, and analyzing changes to the OPTime treatment and timing recommendations. The target audience includes upper- and mid-level transportation agency staff members who are responsible for pavement preservation and management. Attendees should have some knowledge of pavement maintenance and preservation, information on the preservation treatments used at their agency, and familiarity with how their agency makes decisions about which treatments to use and when to apply them.
Participants are invited to join the Web conference on one of two dates: Friday, May 21, 2010, from 10 a.m. to 1 p.m., or Friday, June 28, 2010, from 1 p.m. to 4 p.m. The registration fee is $25. To register or for additional information, visit www.nhi.fhwa.dot.gov/training or contact Corey Martin at NHI, 703-235-0540 (email: corey.martin.ctr@fhwa.dot.gov). For more information on pavement preservation, visit www.fhwa.dot.gov/preservation, or contact Christopher Newman at FHWA, 202-366-2023 (email: christopher.newman@fhwa.dot.gov).