Publication Number: FHWA-HRT-10-016
Date: August 2010

FHWA Issues New Guidance on Pavement Friction Management
A new technical advisory issued by the Federal Highway Administration (FHWA) on June 17, 2010, Pavement Friction Management (T 5040.38), provides guidance to State and local highway agencies on managing pavement surface friction on roadways. The new advisory supersedes FHWA Technical Advisory 5040.17, Skid Accident Reduction Program, which was issued on December 23, 1980.
The advisory outlines the purpose of a pavement friction management program, which is to minimize friction-related vehicle crashes by ensuring that new pavement surfaces are designed, constructed, and maintained to provide adequate and durable friction properties, as well as by identifying and correcting sections of roadways that have elevated friction-related crash rates. Pavement friction management also includes collecting and analyzing pavement friction, crash, and traffic data to ensure the effectiveness of the engineering practices being used. Another vital aspect of a friction management program is prioritizing the use of resources so that the program can be carried out cost effectively.
Guidance on constructing pavement surfaces with good friction characteristics, including adequate wet pavement friction, can be found in FHWA Technical Advisory T 5040.36, Surface Texture for Asphalt and Concrete Pavements. This Advisory is available at www.fhwa.dot.gov/pavement/t504036.cfm.
Also covered in the new Technical Advisory are such topics as test equipment for measuring pavement friction, the identification and classification of roadway locations with elevated crash rates, how to prioritize projects for improving pavement friction, the appropriate frequency and extent of friction testing on a highway network, and how to determine a pavement friction management program's effectiveness. Additional reference materials on pavement friction management and measurement are highlighted as well.
FHWA's Pavement Friction Management Technical Advisory is available online at www.fhwa.dot.gov/pavement/t504038.cfm. For more information about pavement friction management, contact Mark Swanlund at FHWA, 202-366-1323 (email: mark.swanlund@fhwa.dot.gov).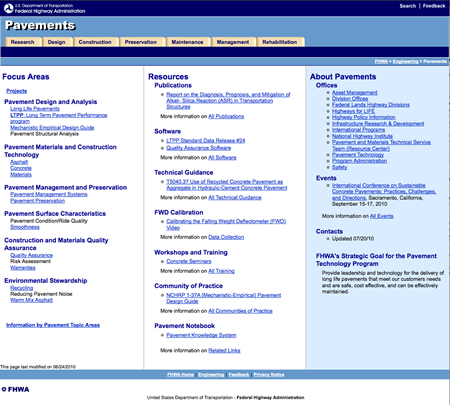 For more pavement resources, visit www.fhwa.dot.gov/pavement.