Publication Number: FHWA-HRT-10-010
Date: January/February 2010

Efficient, Expeditious, and Effective: Best Practices in Project Delivery Management
Traveling the country in 2009 in search of Best Practices in Project Delivery Management, a domestic scan team sponsored by the American Association of State Highway and Transportation Officials (AASHTO), Federal Highway Administration (FHWA), and National Cooperative Highway Research Program (NCHRP) found an array of innovative best practices that are changing the way transportation agencies do business. As agencies work to deliver projects in a high-demand environment, while facing increased congestion, reduced periods of time when construction can be accomplished, and budget pressures, the best practices identified by the scan team are allowing States to complete work more efficiently and expeditiously. "The many diverse practices observed offer valuable lessons in project management and delivery," says scan team member Connie Yew of FHWA.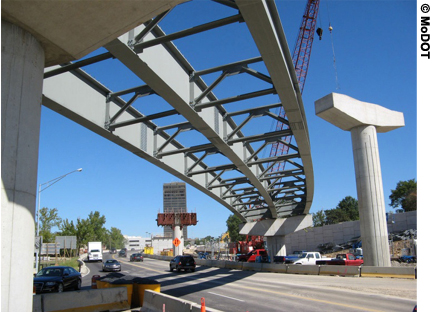 The scan team visited the New I-64 project in St. Louis, MO. The project reconstructed and upgraded the roadway, interchanges, and bridges on I-64.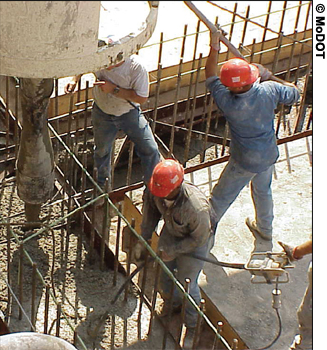 Concrete is poured for the New I-64 project in St. Louis, MO.
From February 22-March 3, 2009, the scan team visited the Arizona, Florida, Missouri, Utah, Virginia, and Washington State departments of transportation, as well as the City of Phoenix. Scan team members included representatives from FHWA and State transportation agencies. The team focused on four areas:
Project management.
Performance measures.
Innovative contracting practices.
Community involvement activities.
In the project management area, the team looked at project management structure, shared leadership, risk management, use of consultants, investment in geographic information system (GIS) and data management tools for project delivery, and maintenance of core competencies. All of the agencies visited made extensive use of a project management structure, with the best systems composed of cohesive, multidisciplinary teams that communicate well among themselves. Leaders at all levels of the organization were key to the successful deployment of best practices.
Best practices relating to risk management include the Washington State Department of Transportation's (WSDOT) Cost Estimate Validation Process, which has helped WSDOT identify and measure risks and manage project costs. The City of Phoenix, meanwhile, uses the Construction Manager at Risk (CMAR) system to mitigate and manage risk. Under this system, the contractor offers a guaranteed maximum price for the project work. Phoenix has used CMAR for $3 billion worth of projects, resulting in only one claim to date.
Use of consultants in the project management process ranged from 20 percent to more than 80 percent. Those States with a high level of consultant use also have defined evaluation procedures to assess the consultants' performance and their suitability for future work. As consultant use has grown, however, a decline in the core competencies of State staff is of continuing concern to the agencies visited.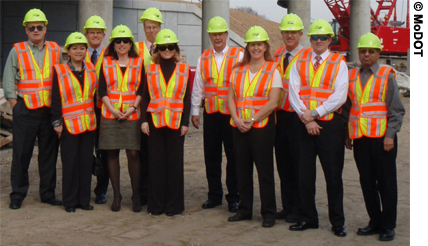 Scan team members traveled to AZ, FL, MO, UT, VA, and WA.
GIS and data management tools are key to enhancing the effectiveness of project management. The Florida Department of Transportation's (FDOT) Efficient Transportation Decision Making (ETDM) program, for example, has enabled the agency to take a tremendous step forward in improving the concurrent project review process and communication between FDOT and stakeholder groups. To learn more, visit etdmpub.fla-etat.org.
All of the agencies visited have implemented some form of a performance management system to measure their work. Following the philosophy of "what gets measured gets done," the Virginia Department of Transportation (VDOT) features a dashboard on its Web site (dashboard.virginiadot.org/default.aspx) to provide current and easily understood information on project status and progress. Missouri, meanwhile, issues a quarterly Tracker report that covers many areas of project performance. The report is available both in printed format and online at www.modot.mo.gov/about/general_info/Tracker.htm.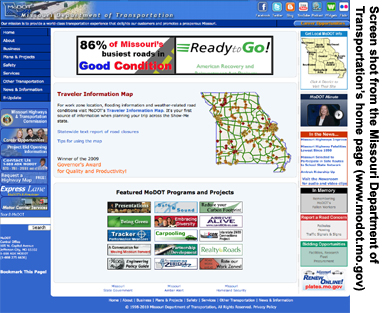 The Missouri Department of Transportation issues a quarterly Tracker report on project performance. To learn more, visit www.modot.mo.gov.
Innovative contracting practices are also widely used, ranging from the Construction Manager General Contractor (CMGC) method in Utah to Phoenix's use of CMAR. Benefits of using these methods include fewer project claims, improved relationships with contractors, faster project delivery, better quality, and improved cost control.
In all of the locations visited, community involvement is key to project success. As the scan team report notes, "Community involvement is not a singular moment but an effort from beginning to end." From the planning and conception of a project through construction and beyond, agencies are proactively reaching out and providing information to the public, using everything from flyers, radio spots, and project-specific Web sites to new media such as YouTube™, Facebook®, and Twitter®. WSDOT, for example, not only has 70 Public Information Officers assigned throughout the State, but offers an online toolbox featuring Twitter, YouTube, Flickr®, and podcasts. In Utah and Missouri, major projects receive their own branding and logos as a way of making vital information on the project more visible to the public.
Best practices in community involvement also include working to enhance relationships with outside stakeholders, including State and Federal agencies, utilities, local governments, contractors, and consultants. The scan team's report, Best Practices in Project Delivery Management, is available online at onlinepubs.trb.org/onlinepubs/nchrp/docs/nchrp20-68A_07-01.pdf. The team's implementation plan for sharing the best practices observed in the scan has included holding a series of five Webinars in September 2009. Among other strategies, the team plans to make presentations to associations, industry groups, AASHTO committees, and others this year, as well as to share best practices through online and social media. For more information on the Best Practices in Project Delivery Management Scan, contact Connie Yew at FHWA, 202-366-1078 (email: connie.yew@fhwa.dot.gov).